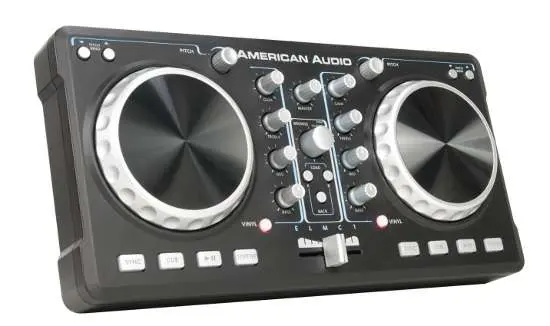 Traditional console versus modern controller
See DJ controllers in the Muzyczny.pl store
For years, the silhouette of a DJ has been associated with a large console. It started with turntables with vinyl records, then the era of CDs with extensive players and now?
Everyone can try their hand at the virtual console, which is possible thanks to many computer programs. The technique has strongly evolved in this direction, the hardware market has significantly expanded, so now everyone will find something for themselves.
It can be jokingly said that a novice who has his first moments with the console grabs his legs and starts to move them. Not always a person knows what these movements are for, but it is very pleasant and you could say that this is where our adventure with mixing begins.
At the beginning, we learn beatmatching (skillfully slowing down or speeding up the track so that its pace matches the pace of the previous one), because it is a key skill that a real DJ should have.
A typical DJ console consists of a mixer and two (or more) decks, CD players or turntables. Due to the popularization of the equipment, it can be clearly stated that turntables are already very cult equipment and few young DJs start their musical adventure with them.
But most of them are faced with a dilemma, choose a console consisting of two CD players and a mixer, or a controller?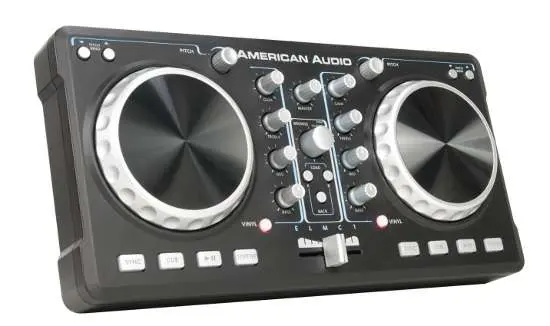 American Audio ELMC 1 digital DJ control, source: muzyczny.pl
The main differences
The data carrier, in our case of music and a traditional console, is a CD or a USB drive with mp3 files (however, not every player has such functions, usually the more expensive and more complex ones).
In the case of the USB controller, the place of the music disc is taken by a notebook with relevant software. So the main difference is the inability to play CDs. Of course, there are few controller models on the market that can play CD media, but due to high production costs, such models are not very popular.
Another difference is the multitude of functions, but this is a downside to the traditional console. Even the most expensive player models do not have as many options as a well-constructed program. What's more, after downloading the test version of such a program with the mouse and keyboard, we can do what on a real console. However, these devices were made for office work, hence mixing becomes cumbersome and we start looking for a DJ keyboard, i.e. a MIDI controller. Thanks to this, we can conveniently operate the program and use a whole host of functions.
It must also be admitted that such a controller costs much less than a typical console, so if you are just starting out and do not know if your musical adventure will last a long time, I recommend buying an inexpensive controller. The aforementioned equipment will meet your expectations for relatively little money, but if you don't like the DJ, you won't lose too much. But if you like it, you can always replace your inexpensive controller with a higher, more expensive model or invest in a traditional console.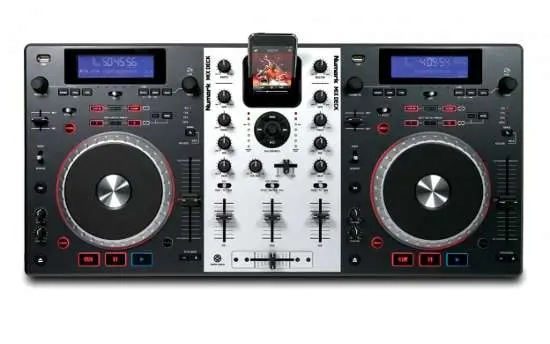 Mixing console Numark Mixdeck, source: Numark
So the conclusion is, since USB controllers offer so much more, why invest in traditional consoles? An advantage (because it is easier at first), but in the future it becomes a problem to develop bad habits. Modern controllers have a bit counter and a tempo sync button, which has a negative impact on developing the ability to properly rip tracks. There is also latency (a delay in the computer's response to our movements).
We didn't tell ourselves one thing either, a controller is much cheaper than a console if you have a well-functioning computer. The smoothness of the program depends on its parameters. If (which I do not wish anyone) the software or, worst of all, the computer crashes during the event, we remain without sound. And here we note the greatest advantage of traditional consoles – reliability. For this reason, we will be watching regular players in clubs for a long time.
The main difference comes from the design of the devices itself. The player was created only for gaming and therefore it is reliable, responds without delay, supports standard media. The computer, as it is commonly known, has universal application.
The controllers are much smaller and lighter than the entire console. Usually the equipment is carried in a suitable case, which additionally increases the weight of the set. Also note that mobile controller sizes have their downside. All buttons are located very close to each other, which is not easy to make a mistake.
Of course, the market also includes controllers with sizes similar to the console, but you have to take into account the considerable price of such a device.
Summation
So let's summarize the advantages and disadvantages of both devices.
USB controller:
– Low price (+)
– A large number of functions (+)
– Mobility (+)
– Simplicity of connection (+)
– Necessity to have a computer with good performance (-)
– Through the emergence of facilities in the form of pace synchronization, forming bad habits (-)
Latency (-)
– CDs cannot be played (+/-)
Traditional console:
– High reliability (+)
– Universality of components (+)
– No latency (+)
– Fewer functions (-)
– High price (-)
Comments
I started my adventure with DJ years ago. I went through very complex sets. Players, mixers, amplifiers, stacks of records. All of this gives really nice results and it's nice to work on it, but lugging all the stuff with you where you need to handle the event … An hour of preparation, and you need to have a large car, and as I'm not a fan of minivans or station wagons, I decided to switch to the USB controller. Compact dimensions and weight, however, convince me more. Latency is not as high as it sounds and it is quite fun to play. The computer does not have to be that strong, although I still recommend macbooks. As for CDs, it is also nicer. We load mp3 and go with the topic. The on-disk song library has the fundamental advantage of speeding up finding and loading tracks.
Yuri.
Currently, consoles that directly support external data carriers are available, so an efficient computer is also eliminated, as a need affecting the relative price …
lightsensitive