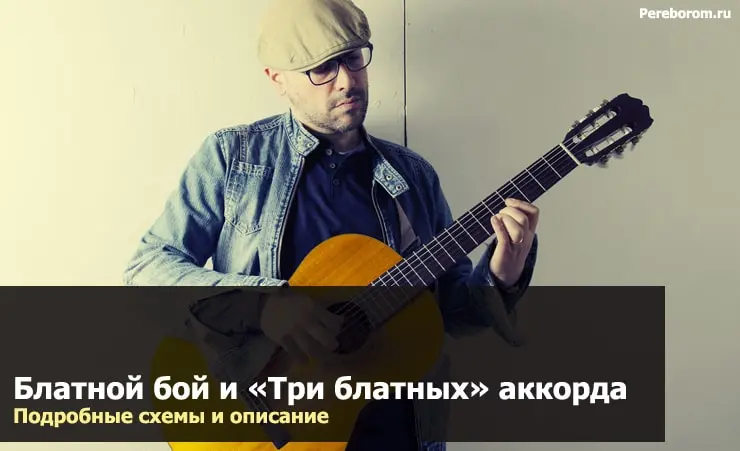 Blatnoy fight and "Three thieves" chords. Detailed diagrams and description.

Description of the battle – introductory part
Thieves fight and thieves chords are legendary terms that even those who are not familiar with the art of guitar playing know. They have long been synonymous with poor craftsmanship and poor compositional skill, however, in reality, this is not at all the case. For any beginner, there is nothing better than first mastering three thieves chords, as well as thug guitar fight – and already build on this in improving your skills. This article is completely devoted to this issue – in it you will find diagrams of several thieves fights, as well as triads, which will help you get into the guitar game without any problems.
How to play thug fight

As with any other types of fights on the guitar,there are several variations of the thieves stroke – they are similar to each other in general, but they have some particular differences that are worth knowing. This will help not only to perform other people's songs, but also significantly diversify your own musical vocabulary.
worth saying about the fact that, in essence, a thug fight is a mixture of enumeration and a regular stroke, and is most easily played with fingers. Therefore, it is also worth paying attention to how to strum chords correctlyso that nothing rattles or buzzes during the game.
1 schema
This is a classic version of a thug fight. It is on it that most of the most famous prison songs are played, the chords for which can be found on the Internet. Its schema looks like this:

Bass on fifth – down with mute – bass on sixth – up and down with mute.
And so on. It is worth saying that the bass notes change depending on the chord, and go down or up the string. For example, if you play the triad Dm in this way, then the bass notes will not be the fifth and sixth strings, but the fourth and fifth – and this should be monitored in order to maintain harmony.
2 schema
Another variant of thug combat, which is often used in various compositions. It is very similar to the first version, however, it has slight differences in its rhythmic component. In its playing style, it is extremely similar to country music – it is there that there is such a characteristic jerky bass that goes into the interval and beats the chords. The diagram looks very simple:

Bass main – down with muting – additional bass – down with muting.
Thanks to this, a familiar dance pulsation appears, which is characteristic of the lion's share of songs played in the genre of prison chanson. It is also worth mentioning that the bass strings change depending on the chord – and you should be careful in this regard.
3 schema
In addition to the fact that this stroke refers to the thieves' battle, it is also called the "Vysotsky's Fight", because it was in this manner that the artist performed his songs. It looks more complicated than the previous two, and it will take some time to master it. The schema looks like this:

Bass on fifth – down with muting – up – down – up – bass on sixth – down with muting – up – down – up.
And once again it is worth noting that bass notes change depending on the chord you play – so you need to be more careful in this matter.
Three thieves chords – the practice of playing thieves fight

In addition, there are three so-called thieves' chords, which are most often used in the construction of chanson song compositions. These are Am, Dm and E chords.. In fact, this choice of triads did not happen because these forms are easier to play, but because they are a classic blues progression I – IV – V – and go back to the time of the first appearance of American music. In the key of Am, in which prison chanson compositions are most often written, Am is the tonic – or the first step; Dm – subdominant – or the fourth step; and E is the dominant, or the fifth step from the tonic.
In fact, if the thieves' songs were played in a different key, then the thieves' chord could be F, and C, and a lot of others. In addition, in such conditions, you can combine their order absolutely as you like – and the melody will still sound good.
Based on the specifics of the thug battle, it is worth saying about how 3 thieves chords are played within all three schemes. In addition, this information and general rules will help you when playing your own invented bust.
– In the Am and E chord, the fifth and sixth strings are most often played in the form of a bass, and the fourth is only occasionally touched. However, this never happens in E, since the fourth string is already related to the texture and voice of the triad itself.
– In a Dm chord, they usually play the fourth and fifth strings, and never use the third and sixth. Again, this is a classic thug fight, in your own searches you can come up with what you want.
Songs by thugs
Below is a list of songs with which you can consolidate the information and work out the knowledge gained in practice.
Petliura – Pigeons are flying over our zone

Murka

A. Rosenbaum – Gop-stop

A. Rosenbaum – "Duck Hunt"

Garik Sukachev – "My grandmother smokes a pipe"

M. Krug – "Girl-Pie"
Tips for beginner guitarists
To begin with, practice playing as cleanly as possible – without string bounce, unnecessary buzz and bad clamping. For this, it is important not only to technically work out every stroke, but also

choose a good sounding guitar– otherwise the instrument can get along regardless of your playing level.

In addition to the three thieves triads, try to learn others

basic chords for beginners,

and try to combine them with other positions. In this way, you will grow significantly as a guitarist and gain more knowledge and understanding of how harmony is built.

Learn how to play chords better. If you are a beginner, then before you start playing, be sure to check how well all the strings sound. Again – avoid rattling and dull notes, everything should sound bright and good.

It is advisable to train all the fighting schemes under a metronome at a slow pace. This way you will immediately accustom yourself to smooth playing, and in the future it will be much easier for you to do various exercises, play complex parts and record your own music.