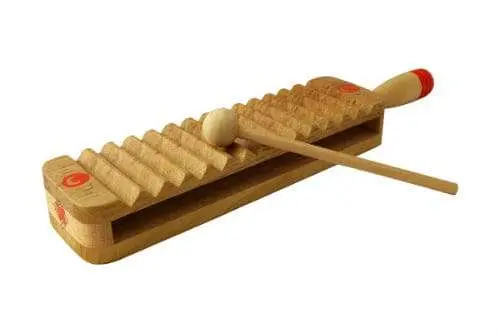 How to choose a radio microphone
Basic principles of operation of radio systems
The main function of a radio or wireless system is to transmit information in a radio signal format. "Information" refers to an audio signal, but radio waves can also transmit video data, digital data, or control signals. The information is first converted into a radio signal. The conversion of the original signal into a radio signal is carried out by changing the radio wave .
Wireless microphone systems typically consist of three main components : an input source, a transmitter, and a receiver. The input source generates the audio signal for the transmitter. The transmitter converts the audio signal into a radio signal and transmits it to the environment. The receiver "picks up" or receives the radio signal and converts it back into an audio signal. In addition, the wireless system also uses components such as antennas, sometimes antenna cables.
Transmitter
Transmitters can be fixed or mobile. Both of these types of transmitters are usually equipped with one audio input, a minimal set of controls and indicators (power and audio sensitivity), and one antenna. Internally, the device and operation are also identical, except that stationary transmitters are powered by the mains, and mobile ones are powered by batteries.
There are three types of mobile transmitters : wearable, handheld and integrated. The choice of a transmitter of one type or another is usually determined by the sound source. If vocals serve as it, as a rule, either hand-held transmitters or integrated ones are chosen, and for almost all the rest, body-worn ones. Bodypack transmitters, sometimes referred to as bodypack transmitters, are standardly sized to fit in clothing pockets.
Hand-held transmitters consist of a hand-held vocal microphone a with a transmitter unit built into its housing. As a result, it looks a bit bigger than a typical wired microphone . The handheld transmitter can be hand held or mounted on a regular microphone stand using the holder. The input source is the microphone element, which is connected to the transmitter via an internal connector or wires.
Integral transmitters are designed to connect to conventional handheld microphones , making them "wireless". The transmitter is housed in a small rectangular or cylindrical case with a built-in female XLR input jack , and the antenna is mostly built into the case.
Although the transmitters are quite different in terms of external design, at their core they are all designed to solve the same problem.
Receiver
Receivers, as well as transmitters, can be portable and stationary. Portable receivers are externally similar to portable transmitters: they have compact dimensions, one or two outputs ( microphone , headphones), a minimum set of controls and indicators, and usually one antenna. The internal structure of portable receivers is similar to that of stationary receivers, except for the power source (batteries for portable transmitters and mains for stationary ones).
Receiver: antenna configuration
Stationary receivers according to the type of antenna configuration can be divided into two groups: with one and two antennas.
Receivers of both types have the same characteristics: they can be installed on any horizontal surface or mounted in a rack ; outputs can be either a microphone or line level, or for headphones; may have indicators for power on and the presence of an audio / radio signal, power and audio output level controls, removable or non-detachable antennas.
Although dual-antenna receivers usually offer more options, the choice is dictated by performance and reliability considerations based on the specific task at hand.
Receivers with two antennas can significantly improve performance by minimizing signal strength variations due to distance transmission or obstructions in the signal path.
Choosing a Wireless System
It should be remembered that although wireless microphone systems cannot provide the same degree of stability and reliability as wired ones, the currently available wireless systems are nevertheless able to offer a fairly high-quality solution to the problem. Following the algorithm described below, you will be able to choose the optimal system (or systems) for a particular application.
Determine the scope of the intended use.




It is necessary to determine the intended source of the sound (voice, instrument, etc.). You also need to analyze the environment (taking into account the architectural and acoustic features). Any specific requirements or restrictions must be considered: finish,

range

, equipment, other sources of RF interference, etc. Finally, the required level of system quality, as well as overall reliability, must be determined.

Select the type of

microphone

(or other signal source).




Scope of application, as a rule, determines the physical design of the

microphone

. handheld microphone – can be used for a vocalist or in cases where it is necessary to transfer the microphone to different speakers; patch cable – if you use electronic musical instruments, the signal of which is not picked up by the microphone . The selection of a microphone for a wireless application should be based on the same criteria as for a wired one.

Select transmitter type.




The choice of transmitter type (handheld, body-worn, or integrated) is largely determined by the type of

microphone

and, again, by the intended application. The main characteristics to consider are: type of antenna (internal or external), control functions (power, sensitivity, tuning), indication (power supply and battery status), batteries (service life, type, availability) and physical parameters (dimensions, shape , weight, finish, materials). For hand-held and integrated transmitters, it may be possible to replace individual

microphone components

a. For bodypack transmitters, the input cable can be either one-piece or detachable. Often the use of multi-purpose inputs is required, which are characterized by the type of connector, electrical circuit and electrical parameters (resistance, level, offset voltage, etc.).

Select the type of receiver.




For the reasons described in the receiver section, dual antenna receivers are recommended for all but the most cost-conscious applications. Such receivers provide a higher degree of reliability in the event of problems associated with multipath reception, which justifies its somewhat higher cost. Other things to consider when choosing a receiver are controls (power, output level, squelch, tuning), indicators (power, RF signal strength, audio signal strength,

frequency

), antennas (type, connectors). In some cases, battery power may be required.

Determine the total number of systems to be used simultaneously.




Here the perspective of system expansion must be taken into account – choosing a system that can use only a few frequencies is likely to limit its capabilities in the future. As a result, wireless

microphone

systems should be included in the package, supporting both existing equipment and new devices that may appear in the future.
Directions for use
The following are some guidelines for selecting wireless microphone systems and using them in specific applications. Each section describes typical selections of microphones , transmitters, and receivers for the respective application, as well as tips on how to use them.
Presentations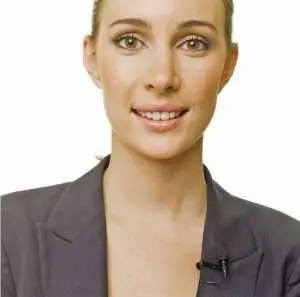 Lavalier/wearable systems are most often chosen for presentations as wireless systems , leaving hands free and allowing the speaker to focus solely on his speech.
It should be noted that the traditional lavalier microphone is often replaced by a compact head microphone as it provides better acoustic performance. In any of the options, the microphone is connected to a bodypack transmitter and this kit is fixed on the speaker. The receiver is permanently installed.
The bodypack transmitter is usually attached to the speaker's belt or belt. It should be located in such a way that you can freely spread the antenna and have easy access to the controls. The transmitter sensitivity is adjusted to the level most suitable for the particular speaker.
The receiver should be positioned so that its antennas are within the line of sight of the transmitter and at an appropriate distance, preferably at least 5 m.
Proper microphone selection and positioning is essential to obtain high sound quality and headroom for a lavalier system . It is best to choose a high quality microphone and position it as close to the speaker's mouth as possible. For better sound pickup, an omnidirectional lavalier microphone should be attached to a tie, lapel or other item of clothing at a distance of 20 to 25 centimeters from the speaker's mouth.
Musical instruments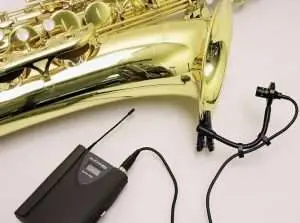 The most suitable choice for a musical instrument is a wireless body-worn system that is capable of receiving audio from a variety of instrument sources.
The transmitter is often attached to the instrument itself or its strap . In any case, it should be located so as not to interfere with the performer and provide easy access to the controls. Instrumental sources include electric guitars, bass guitars, and acoustic instruments such as saxophones and trumpets. An electronic instrument is usually connected directly to the transmitter, while acoustic sources require the use of a microphone or other signal converter.
Vocals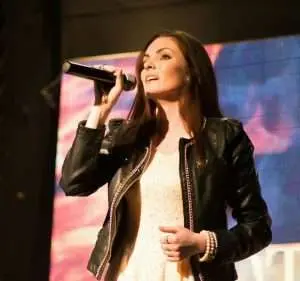 Typically, vocalists use a hand-held wireless microphone system that allows them to pick up the singer's voice from as close as possible. The microphone /transmitter can be hand held or mounted on a microphone stand. Installation requirements for a wireless microphone are similar to those for a wired microphone – close proximity provides optimal gain margin, low noise, and the strongest proximity effect.
If you experience problems with airflow or forced breathing, an optional pop filter can be used. If the transmitter is equipped with an external antenna, try not to cover it with your hand . If the transmitter is equipped with external controls, it is a good idea to cover them with something to avoid accidental change of state during the performance.
If the battery level indicator is covered, check the status of the battery before starting a performance. The transmitter gain level must be adjusted for a specific vocalist in accordance with the levels of other signals.
Conducting aerobic/dance classes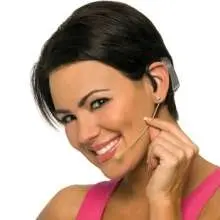 Aerobics and dance classes generally require body-worn microphone systems to keep the instructor's hands free. The most commonly used head microphone .
A lavalier microphone can be used provided that there is no problem with the gain margin, but it must be understood that the sound quality will not be as high as that of a head microphone . The receiver is installed in a fixed position.
The transmitter is worn around the waist and should be attached securely as the user is very active. It is necessary that the antenna unfolds freely, and the regulators are easily accessible. Sensitivity is adjusted according to specific operating conditions.
When installing the receiver, as always, it is necessary to follow the choice of the proper distance and the observance of the condition of its being within the line of sight of the transmitter. In addition, the receiver should not be located in places where it can be blocked from the transmitter by moving people. Since these systems are constantly being installed and removed, the condition of connectors and fasteners must be carefully monitored .
Examples of radio systems
Radio systems with handheld radio microphones
Lavalier radio microphones
Head radio microphones