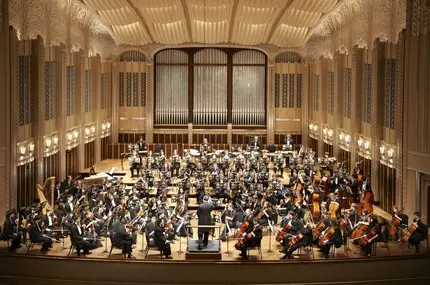 Cleveland Orchestra
City
Cleveland
Year of foundation
1918
A type
orchestra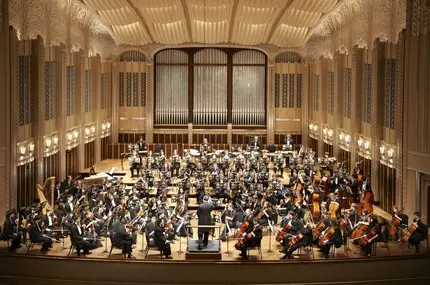 The Cleveland Orchestra is an American symphony orchestra based in Cleveland, Ohio. The orchestra was founded in 1918. The orchestra's home concert venue is the Severance Hall. According to the tradition that has developed in American music criticism, the Cleveland Orchestra belongs to the top five US symphony orchestras (the so-called "Big Five"), and it is the only orchestra from this five from a relatively small American city.
The Cleveland Orchestra was founded in 1918 by pianist Adella Prentice Hughes. Since its founding, the orchestra has been under the special patronage of the Association for the Arts in Music. The first artistic director of the Cleveland Orchestra was Nikolai Sokolov. From the first years of its existence, the orchestra actively toured the eastern part of the United States, participated in radio broadcasts. With the development of the recording industry, the orchestra began to record constantly.
Since 1931, the orchestra has been based in the Severence Hall, built at the expense of the Cleveland music lover and philanthropist John Severance. This 1900-seat concert hall is considered one of the finest in the United States. In 1938, Nikolai Sokolov was replaced at the conductor's stand by Artur Rodzinsky, who had worked with the orchestra for 10 years. After him, the orchestra was directed by Erich Leinsdorf for three years.
The heyday of the Cleveland Orchestra began with the arrival of its leader, conductor George Sell. He began his career in this post in 1946 with a significant re-organization of the orchestra. Some musicians were fired, others, not wanting to work with a new conductor, left the orchestra themselves. In the 1960s, the orchestra consisted of more than 100 musicians who were among the best instrumentalists in America. Due to the high level of individual skill of each of them, critics wrote that the Cleveland Orchestra "plays like the greatest soloist." For more than twenty years of George Sell's leadership, the orchestra, according to critics, has acquired its own unique individual "European sound".
With the arrival of Sell, the orchestra became even more active in concerts and recording. During these years, the annual number of concerts reached 150 per season. Under George Sell, the orchestra began to tour abroad. Including, in 1965, his tour of the USSR took place. Concerts were held in Moscow, Leningrad, Kyiv, Tbilisi, Sochi and Yerevan.
After the death of George Sell in 1970, Pierre Boulez directed the Cleveland Orchestra as musical advisor for 2 years. In the future, the well-known German conductors Lorin Maazel and Christoph von Dohnanyi were the artistic directors of the orchestra. Franz Welser-Möst has been the chief conductor of the orchestra since 2002. Under the terms of the contract, he will remain at the head of the Cleveland Orchestra until 2018.
Music directors:
Nikolai Sokolov (1918—1933) Arthur Rodzinsky (1933-1943) Erich Leinsdorf (1943-1946) George Sell (1946-1970) Pierre Boulez (1970-1972) Lorin Maazel (1972—1982) Christoph von Donany (1984-2002) Franz Welser-Möst (since 2002)