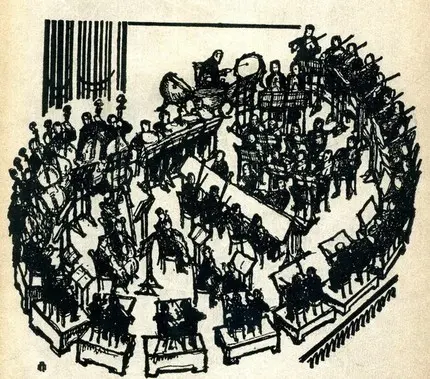 Persimfans
City
Moscow
Year of foundation
1922
A type
orchestra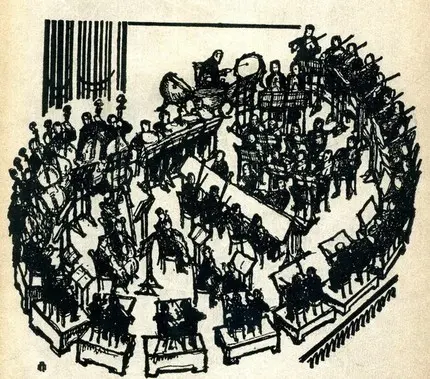 Persimfans – the first symphony ensemble of the Moscow City Council – a symphony orchestra without a conductor. Honored Collective of the Republic (1927).
Organized in 1922 on the initiative of Professor L. M. Zeitlin of the Moscow Conservatory. Persimfans is the first symphony orchestra in the history of musical art without a conductor. The composition of Persimfans included the best artistic forces of the Bolshoi Theater Orchestra, the progressive part of the professorship and students of the orchestral faculty of the Moscow Conservatory. The work of Persimfans was headed by the Artistic Council, which was elected from among its members.
The basis of the orchestra's activities was the renewal of the methods of symphonic performance, based on the creative activity of the ensemble members. The use of chamber-ensemble methods of rehearsal work was also an innovation (at first by groups, and then by the whole orchestra). In the free creative discussions of the Persimfans participants, common aesthetic attitudes were developed, issues of musical interpretation, the development of instrumental playing technique and ensemble performance were touched upon. This had a great influence on the development of the leading Moscow schools of playing string and wind instruments, contributed to raising the level of orchestral playing.
Weekly subscription concerts of Persimfans (since 1925) with a variety of programs (in which a large place was given to the latest in modern music), in which the soloists were the largest foreign and Soviet artists (J. Szigeti, K. Zecchi, V. S. Horowitz, S. S. Prokofiev, A. B. Goldenweiser, K. N. Igumnov, G. G. Neugauz, M. V. Yudina, V. V. Sofronitsky, M. B. Polyakin, A. V. Nezhdanova, N. A. Obukhova, V. V. Barsova and others), have become an important component of the musical and cultural life of Moscow. Persimfans performed in the largest concert halls, also gave concerts in workers' clubs and houses of culture, at plants and factories, and went on tour to other cities of the Soviet Union.
Following the example of Persimfans, orchestras without a conductor were organized in Leningrad, Kyiv, Kharkov, Voronezh, Tbilisi; similar orchestras arose in some foreign countries (Germany, the USA).
Persimfans played a significant role in familiarizing a wide range of listeners with the treasures of world musical culture. Nevertheless, the idea of ​​an orchestra without a conductor did not justify itself. In 1932 Persimfans ceased to exist. Other orchestras without a conductor, created according to his model, also turned out to be short-lived.
Between 1926 and 29 the magazine Persimfans was published in Moscow.
References: Zucker A., ​​Five years of Persimfans, M., 1927.
I. M. Yampolsky