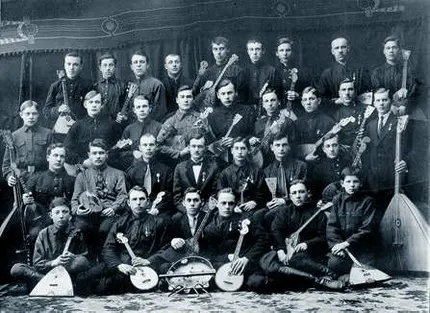 Great Russian Orchestra |
City
St. Petersburg
Year of foundation
1888
A type
orchestra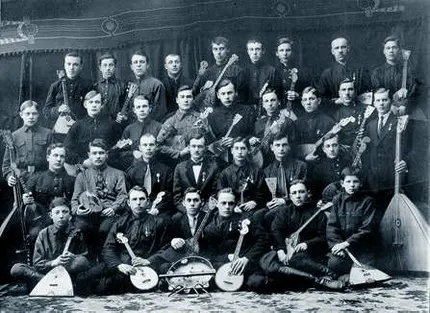 Orchestra of Russian folk instruments. Created in 1887 by V. V. Andreev, originally as a "Circle of Balalaika Fans" (an ensemble of balalaikas consisting of 8 people); the first concert took place on March 20, 1888 in St. Petersburg. The team successfully toured Russia; in 1889, 1892 and 1900 he performed in Paris. In 1896, Andreev and the composer N. P. Fomin introduced domra, psaltery, and somewhat later, wind (pipes, key rings) and percussion (tambourine, nakry) instruments into the ensemble. In the same year, the ensemble was transformed by Andreev into the Great Russian Orchestra (the instruments that were part of it were mainly distributed in central Russia).
The repertoire of the Great Russian Orchestra included arrangements of Russian folk songs made by Fomin, Andreev's compositions (waltzes, mazurkas, polonaises), arrangements of popular works of domestic and foreign musical classics. AK Glazunov dedicated "Russian Fantasy" to the orchestra (performed for the first time in 1906 in St. Petersburg). In 1908-11 the Great Russian Orchestra toured Germany, England, France and the USA.
Despite the attacks of reactionary critics who opposed the revival of folk instruments, their improvement and orchestral use, against the performance of classical music by the Great Russian Orchestra, progressive circles recognized the high artistic value of the Great Russian Orchestra.
After the Great October Socialist Revolution, the Great Russian Orchestra was the first among the creative teams to make a concert tour along the fronts of the Civil War; spoke to soldiers and commanders of the Red Army.
After Andreev's death, in 1918-33 the orchestra was headed by F. A. Niman, in 1933-36 by N. V. Mikhailov, in 1936-41 by E. P. Grikurov. The composition of the orchestra has increased, the repertoire has expanded, the concert activity has become more intense.
In 1923, the Great Russian Orchestra was renamed into the State Great Russian Orchestra. V. V. Andreeva; in 1936 – in the Orchestra of Russian Folk Instruments. V. V. Andreev of the Leningrad State Philharmonic.
At the beginning of the Great Patriotic War of 1941-45, almost all the musicians went to the front. The orchestra has ceased to exist. The name of V. V. Andreev was given in 1951 to the Orchestra of Folk Instruments of the Leningrad Radio (founded in 1925; see V. V. Andreev State Academic Russian Orchestra).