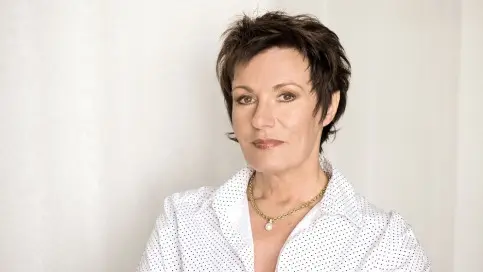 Waltraud Meier
Date of birth
09.01.1956
Profession
singer
Voice type
mezzo-soprano, soprano
Country
Germany
In 1983, joyful news came from Bayreuth: a new Wagnerian "star" had "lit up"! Her name is Waltraud Mayer.
How it all began …
Waltraud was born in Würzburg in 1956. At first she learned to play the recorder, then the piano, but, as the singer herself says, she did not differ in finger fluency. And when she couldn't express her emotions on the keyboard, she slammed the piano lid in full fury and began to sing.
Singing has always been a completely natural way for me to express myself. But I never thought it would become my profession. What for? I would have been playing music all my life.
After leaving school, she entered the university and was going to become a teacher of English and French. She also took vocal lessons privately. By the way, with regard to tastes, her passion in those years was not at all classical composers, but the Bee Gees group and French chansonniers.
And now, after a year of private vocal lessons, my teacher suddenly offered me to audition for a vacant position at the Würzburg Opera House. I thought: why not, I have nothing to lose. I didn't plan it, my life didn't depend on it. I sang and they took me to the theater. I made my debut as Lola in Mascagni's Rural Honor. Later I moved to the Mannheim Opera House, where I began to work on Wagnerian roles. My first part was the part of Erda from the opera "Gold of the Rhine". Mannheim was a kind of factory for me – I did more than 30 roles there. I sang all the mezzo-soprano parts, including those that I was not yet worthy of then.
University, of course, Waltraud Mayer failed to finish. But she also did not receive a musical education, as such. Theaters were her school. After Mannheim followed Dortmund, Hanover, Stuttgart. Then Vienna, Munich, London, Milan, New York, Paris. And, of course, Bayreuth.
Waltraud and Bayreuth
The singer tells about how Waltraud Mayer ended up in Bayreuth.
After I had already worked for several years in various theaters and had already performed Wagnerian parts, it was time to audition in Bayreuth. I called there myself and came to audition. And then the accompanist played a big role in my fate, who, having seen the clavier of Parsifal, offered me to sing Kundry. To which I said: what? here in Bayreuth? Kundry? I? God forbid, never! He said, well, why not? This is where you can show yourself. Then I agreed and sang it at the audition. So in 83, in this role, I made my debut on the stage of Bayreuth.
Bas Hans Zotin recalls his first collaboration with Waltraud Mayer in 1983 in Bayreuth.
We sang in Parsifal. This was her debut as Kundry. It turned out that Waltraud loves to sleep in the morning and at twelve, half past one she came with such a sleepy voice, I thought, God, can you cope with the role today at all. But surprisingly – after half an hour her voice sounded great.
After 17 years of close cooperation between Waltraud Maier and the head of the Bayreuth festival, the grandson of Richard Wagner, Wolfgang Wagner, irreconcilable differences arose, and the singer announced her departure from Bayreuth. It is absolutely clear that the festival, and not the singer, lost because of this. Waltraud Maier with her Wagnerian characters has already gone down in history. The director of the Vienna State Opera, Angela Tsabra, tells.
When I met Waltraud here at the State Opera, she was presented as a Wagnerian singer. Her name was inextricably linked with Kundry. They say Waltraud Mayer – read Kundry. She perfectly masters her craft, her voice given to her by the Lord, she is disciplined, she is still working on her technique, she does not stop learning. This is an essential part of her life, her personality – she always has the feeling that she must continue to work on herself.
Colleagues about Waltraud Maier
But what is the opinion of Waltraud Mayer conductor Daniel Barenboim, with whom she not only made several productions, performed in concerts, but also recorded Der Ring des Nibelungen, Tristan and Isolde, Parsifal, Tannhäuser:
When a singer is young, he can impress with his voice and talent. But over time, a lot depends on how much the artist continues to work on and develop his gift. Waltraud has it all. And one more thing: she never separates the music from the drama, but always connects these components.
Directed by Jurgen Flimm:
Waltraud is said to be a complicated man. However, she is just smart.
Chief Hans Zotin:
Waltraud, as they say, is a workhorse. If you manage to get in touch with her in life, then you will not at all have the impression that you have before you a prima donna with some quirks, whims or changeable mood. She is a perfectly normal girl. But in the evening, when the curtain rises, she is transformed.
Director of the Vienna State Opera Angela Tsabra:
She lives music with her soul. She captivates both viewers and colleagues to follow her path.
What does the singer think about herself:
They think that I want to be perfect in everything, perfect. Maybe it is so. If something doesn't work out for me, then of course I'm dissatisfied. On the other hand, I know that I should spare myself a little and choose what is more important to me – technical perfection or expressiveness? Of course, it would be great to combine the right image with an impeccable, perfect clear sound, fluent coloratura. This is an ideal and, of course, I always strive for this. But if this fails on some evening, I think that it is more important for me to convey to the public the meaning inherent in music and feelings.
Waltraud Mayer – actress
Waltraud was lucky enough to work with outstanding directors of her time (or him with her?) – Jean-Pierre Ponnel, Harry Kupfer, Peter Konwitschny, Jean-Luc Bondi, Franco Zeffirelli and Patrice Chereau, under whose guidance she created the unique image of Mary from Berg's opera " Wozzeck."
One of the journalists called Mayer "Callas of our time." At first, this comparison seemed very far-fetched to me. But then, I realized what my colleague meant. There are not so few singers with a beautiful voice and perfect technique. But there are only a few actresses among them. Masterfully – from a theatrical point of view – the created image is what distinguished Kallas more than 40 years ago, and this is what Waltraud Meyer is valued for today. How much work is behind this – only she knows.
In order for me to say that today the role was successful, a combination of many factors is necessary. Firstly, it is important for me to find the right way to create an image in the process of independent work. Secondly, on stage a lot depends on the partner. Ideally, if we can play with him in pairs, like in ping-pong, throwing a ball with each other.
I really feel the suit – it's soft, whether the fabric flows or it hinders my movements – this changes my game. Wigs, make-up, scenery – all this is important to me, this is what I can include in my game. Light also plays a big role. I always look for lit places and play with light and shadow. Finally, the geometry on the stage, how the characters are located to each other – if parallel to the ramp, facing the audience, as in the Greek theater, then the viewer is involved in what is happening. Another thing is if they are turned to each other, then their dialogue is very personal. This is all very important to me.
Director of the Vienna Opera Joan Holender, who has known Waltraud for 20 years, calls her an actress of the highest class.
From performance to performance, Waltraud Meier has new colors and nuances. Therefore, no performance is similar to another. I love her Carmen very much, but also Santuzza. My favorite role in her performance is Ortrud. She is indescribable!
Waltraud, by her own admission, is ambitious. And every time she sets the bar a little higher.
Sometimes I get scared that I can't do it. This happened with Isolde: I learned it and already sang in Bayreuth, and suddenly realized that, according to my own criteria, I was not mature enough for this role. The same thing happened with the role of Leonora in Fidelio. But still I continued to work. I'm not one of those who gives up. I search until I find.
Waltraud's main role is mezzo-soprano. Beethoven wrote the part of Leonora for dramatic soprano. And this is not the only soprano part in Waltraud's repertoire. In 1993, Waltraud Mayer decided to try herself as a dramatic soprano – and she succeeded. Since then, her Isolde from Wagner's opera has been one of the best in the world.
Director Jürgen Flimm says:
Her Isolde has already become a legend. And it's justified. She brilliantly masters the craft, technology, down to the smallest detail. How she works on text, music, how she combines it – not many can do it. And one more thing: she knows how to get used to the situation on stage. She thinks through what's going on in the character's head and then translates it into movement. And the way she can express her character with her voice is fantastic!
Waltraud Mayer:
On large parts, such as, for example, Isolde, where there is only pure singing for almost 2 hours, I start working in advance. I began to teach her four years before I first went on stage with her, putting down the clavier and starting again.
Her Tristan, tenor Siegfried Yeruzalem, talks about working with Waltraud Mayer in this way.
I have been singing with Waltraud for 20 years with the greatest pleasure. She is a great singer and actress, we all know that. But besides that, we are still great for each other. We have excellent human relations, and, as a rule, similar views on art. It is no coincidence that we are called the perfect couple in Bayreuth.
Why exactly Wagner became its composer, Waltraud Mayer answers this way:
His writings interest me, make me develop and move on. The themes of his operas, only from a psychological point of view, are insanely interesting. You can work on images endlessly if you approach this in detail. For example, now look at this role from the psychological side, now from the philosophical side, or, for example, study only the text. Or watch the orchestration, lead the melody, or see how Wagner uses his vocal abilities. And finally, then combine it all. I can do this endlessly. I don't think I'll ever finish working on this.
Another ideal partner, according to the German press, was Placido Domingo for Waltraud Mayer. He is in the role of Siegmund, she is again in the soprano part of Sieglinde.
Placido Domingo:
Waltraud is today a singer of the highest class, primarily in the German repertoire, but not only. Suffice it to mention her roles in Verdi's Don Carlos or Bizet's Carmen. But her talent is most clearly revealed in the Wagnerian repertoire, where there are parts as if written for her voice, for example, Kundry in Parsifal or Sieglinde in Valkyrie.
Waltraud about personal
Waltraud Maier lives in Munich and considers this city truly "his". She is not married and has no children.
The fact that the profession of an opera singer influenced me is understandable. Constant trips lead to the fact that it is very difficult to maintain friendly ties. But that is probably why I consciously pay more attention to this, because friends mean a lot to me.
Everyone knows about the short professional life of Wagnerian singers. Waltraud has already broken all records in this regard. And yet, speaking of the future, a sad note appears in her voice:
I'm already thinking about how long I'm destined to sing, but this thought does not weigh me down. It is more important for me to know what I need to do now, what my task is now, in the hope that when the day comes and I will be forced to stop – for whatever reason – I will calmly put up with it.
Karina Kardasheva, operanews.ru