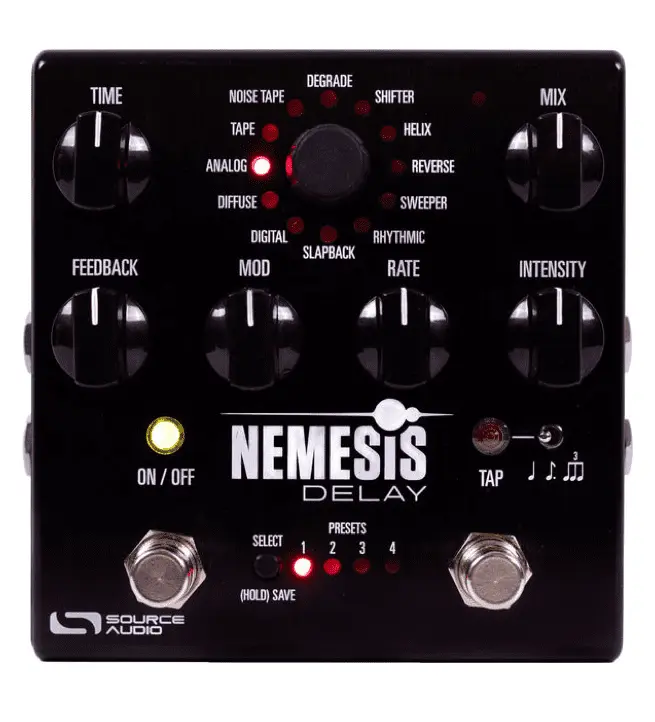 Source Audio One Series Nemesis Delay – service and test!
Delay effects are one of the most used effects by guitarists. It is thanks to them that music takes on space and atmosphere. The first delay effects were nothing more than recording on a tape and playing it back in an echo-like manner. Structures of this type were large, heavy, emergency and fit only for studio applications, while being useless on the stage.
So it's no wonder that the manufacturers of guitar effects have spent a lot of time transferring the reverb effect to small, friendlier pedestals. The seventies and eighties saw the heyday of analog delay lines, whose warm and slightly "dirty" sound is still fashionable today. Over the years, digital effects appeared on the market, which, however, sounded quite artificial. This motivated the designers' hard work to perfect the digital sound.
Today, no one complains about "digital" anymore, and this type of delay effect is the most popular on the market. All thanks to the advanced technology that makes the sound better and better.
Today we would like to present one of the best, compact cubes of this type. I am talking about the Source Audio One Series Nemesis Delay, which despite its small size conceals a real paradise for reverberation lovers under the casing. Countless functions, perfect sounds and ease of use are just some of the advantages of this device.
See for yourself what this miracle can do …
Source Audio One Series Nemesis Delay efekt gitarowy
Test efektu Source Audio Nemesis Delay