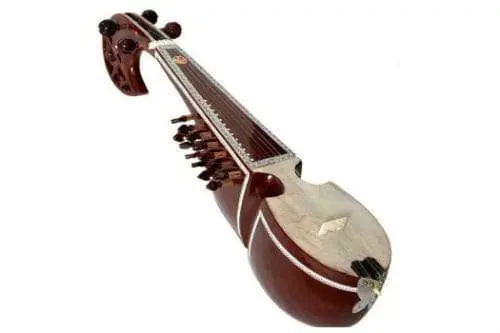 Rubab: description of the instrument, composition, history, use, playing technique
Oriental music is not difficult to guess by its characteristic enchanting sound. Exciting sound does not leave anyone indifferent. And whoever read oriental tales immediately remembers them as soon as a melody is heard. It sounds like an amazing, stringed device – rebab.
What is a rebab
A type of musical instrument of Arabic origin, the earliest known bowed instrument and the parent of the medieval European rebec. Other names: rabab, rabob, rubab, rubob and a number of other names.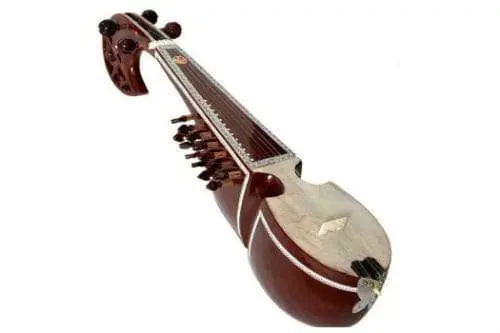 Устройство
The musical instrument consists of a hollowed-out wooden body of various shapes stretched over a hole, buffalo stomach or skin with a membrane (deck). Its continuation is a long pin having one or more strings. The sound depends on their tension. In different countries it differs in structure:
The Afghan rubab has a large deep body with side notches and a short neck.
Uzbek – a wooden convex drum (circle or oval shape) with a leather soundboard, a long neck with 4-6 strings. The sound is extracted by a special mediator.
Kashgar – a small rounded body with two arc-handles connected to the base of a long neck, ending in a "thrown" back head.
Pamir – a log of an apricot tree is processed, then the outline of the rebab is outlined with a pencil and cut out. The workpiece is polished, impregnated with oil and the prepared cowhide is pulled onto the drum.
The Tajik rubob is not much different from the Afghan one, it has a jug-shaped frame made from special strong breeds and dressed leather.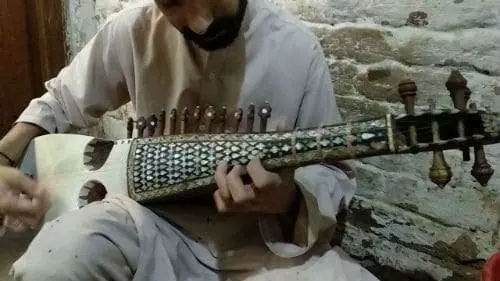 History
Rabab was often mentioned in old texts, and from the middle of the 12th century it was depicted in frescoes and paintings.
The progenitor of the rebab violin is one of the very first bowed instruments. Used in the Middle East, North Africa, Asia. Along the laid Islamic trade routes, he reached Europe and the Far East.
Using
Richly decorated with stones and gems, the instruments painted with national ornaments are used at concerts. When traveling to eastern countries, you can often hear rebab on city streets and squares. An accompaniment for recitations or solos in an ensemble – the rabab adds richness and mood to the performance.
Play technique
Rubab can be placed vertically on the floor, put on the knee or lean on the thigh. In this case, the hand that holds the bow will be directed upwards. The strings should not touch the neck, so you only need to lightly press the strings with the fingers of the other hand, which requires great skill and virtuosity.
Звучание музыкального инструмента Рубаб PRO-PAMIR