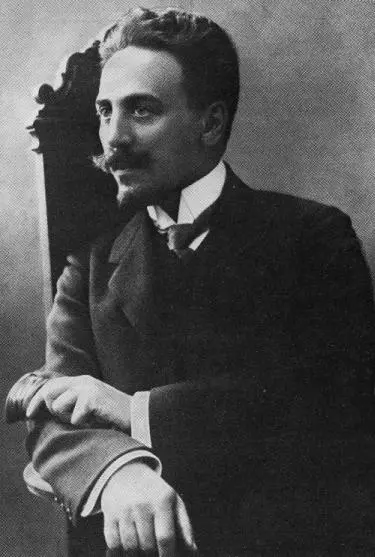 Felix Mikhailovich Blumenfeld |
Felix Blumenfeld
Date of birth
19.04.1863
Date of death
21.01.1931
Profession
composer, conductor, pianist
Country
Russia
Born in the village of Kovalevka (Kherson province) on April 7 (19), 1863 in the family of a music and French teacher. Until the age of 12, he studied with G.V. Neuhaus (father of G.G. Neuhaus), who was a relative of Blumenfeld. In 1881-1885 he studied at the St. Petersburg Conservatory with F.F. Stein (piano) and N.A. Rimsky-Korsakov (composition). From the age of 17 he was a regular participant in the meetings of the Mighty Handful of Composers Association, then he became a member of the Belyaevsky circle (a group of composers led by Rimsky-Korsakov, who gathered at musical evenings in the house of patron M.P. Belyaev).
As a pianist, Blumenfeld was formed under the influence of the art of A.G. Rubinshtein and M.A. Balakirev. Having made his debut in 1887, he actively gave concerts in the cities of Russia, was the first performer of a number of works by A.K. Glazunov, A.K. Lyadov, M.A. Balakirev, P.I. Tchaikovsky, performed in an ensemble with L.S. .V.Verzhbilovich, P.Sarasate, F.I.Chaliapin. In 1895-1911 he worked at the Mariinsky Theater, was an accompanist, and since 1898 – a conductor, led the premieres of the operas "Servilia" and "The Legend of the Invisible City of Kitezh" by Rimsky-Korsakov. He performed in the "Russian Symphony Concerts" in St. Petersburg (in 1906 he conducted the first performance in Russia of A. N. Scriabin's Third Symphony). European fame brought Blumenfeld participation in the "Historical Russian Concerts" (1907) and "Russian Seasons" (1908) S.P. Diaghilev in Paris.
In 1885-1905 and 1911-1918 Blumenfeld taught at the St. Petersburg Conservatory (since 1897 as a professor), in 1920-1922 – at the Kyiv Conservatory; in 1918-1920 he headed the Music and Drama Institute. N.V. Lysenko in Kyiv; from 1922 he taught piano and chamber ensemble classes at the Moscow Conservatory. Blumenfeld's students were pianists S.B. Barer, V.S. Horowitz, M.I. Grinberg, conductor A.V. Gauk. In 1927 he was awarded the title of Honored Artist of the RSFSR.
The legacy of Blumenfeld as a composer includes the symphony "In Memory of the Dearly Departed", the Concert Allegro for piano and orchestra, the suite "Spring" for voice and orchestra, quartet (Belyaev Prize, 1898); a special place is occupied by piano works (about 100 in total, including etudes, preludes, ballads) and romances (about 50), created in line with romantic traditions.
Blumenfeld died in Moscow on January 21, 1931.
Blumenfeld, Sigismund Mikhailovich (1852–1920), brother of Felix, composer, singer, pianist, teacher.
Blumenfeld, Stanislav Mikhailovich (1850–1897), brother of Felix, pianist, teacher, who opened his own music school in Kyiv.