Nowadays, DJs support almost every music event, from discos in clubs to weddings, proms, corporate events, outdoor events and widely understood events. It also makes this profession more and more popular among people who have had little in common with the music industry, but who like music, have a sense of rhythm and want to enter this industry, as well as among active musicians who have changed their branches. from playing in bands to DJ service. Characteristics of a good DJ
The most important feature that a good DJ should have is understanding people and accurately guessing their musical tastes. This is especially important in mass events where different people with different tastes actually meet. It is not an easy task and we will probably not please everyone, but we have to choose the repertoire so as not to alienate anyone and that everyone can find something for themselves. With thematic events, where, for example, a specific music genre plays in a given club, it is easier, but if we do not want to label ourselves and have more orders, we must be more open and flexible. It is also important to be open, sociable, and assertive at the same time. Remember that you are to rule behind the mixing console, not the guests, so here appropriate psychological predispositions with resistance to stress are indicated.
Specialization
As in everything, also in this industry, we can specialize in a specific direction of service. Although, as I mentioned above, it is worth being familiar with various musical directions, because you never really know where we will be hosting the event. We can make such a basic division into a DJ: club, disco, wedding. Each of them plays music, but completely different and most often using different techniques. And so the club DJ mainly mixes the tracks in such a way that the audience could dance with each other without pausing between tracks. On the other hand, the disco DJ plays music at the so-called disco clubs. topie, which is the most popular one, often giving greetings, dedications and announcing new songs. A wedding DJ has duties similar to that of a disco party, but apart from that, he must have traditional waltzes, tangos or obereks in his repertoire, because there must also be something for the grandparents. In addition, it is to conduct competitions, games, and organize other attractions encouraging wedding participants to have fun.
You can also become a top-flight specialist in the DJ world, i.e. be the so-called skreczerem / turntablistą. He uses appropriate specialized turntables, players and devices configured and connected to the software on the computer with which he scratches with sound, i.e. in a dynamic and skillful way manipulates a short fragment of the piece, which he mixes in such a way that they form a coherent whole.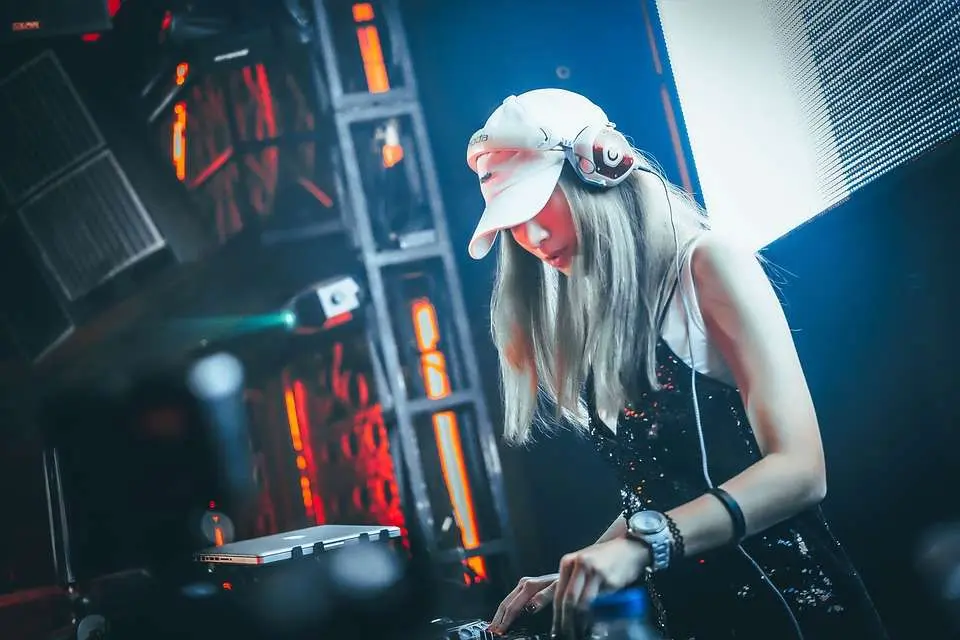 DJ equipment
Without it, unfortunately, we will not start our adventure and here we will have to find adequate financial resources. Of course, with a good business plan, such an investment should return within, say, two seasons, depending on how high the shelf we invest. Our DJ console, which consists of individual elements, will be such basic equipment on which we will work. In the middle, of course, we will have a mixer with button faders, and players on the sides. The mixer consists of, among others from channel faders, usually located at the bottom of the mixer. These are sliders that are used to turn down the volume or to raise the original signal. The faders in DJ mixers are usually short, so that the DJ can quickly mute or increase the volume of the track. Of course, the mixer has a cross fader function that allows you to turn down the music in one channel while amplifying the volume level in the other channel. Thanks to this solution, we will smoothly move from song to song. Players, as the name suggests, will play the sound that is sent to the speakers by the mixer. In the center of the player is a large jog wheel, which is a multifunction device, but its main purpose is to speed up and slow down the pace and scratching, i.e. spinning the recording forward and backward. Of course, for this we will have to equip ourselves with the entire sound system, i.e. loudspeakers, disco lighting and other special effects, i.e. lasers, balls, fumes, etc. Without a laptop, it will also be difficult for us to move, because this is where we can have the entire library of our songs collected. .
Summation
To become a professional DJ we will definitely have to prepare ourselves properly. And it will not only be a matter of purchasing the equipment, although we will not move without it, but most of all we have to learn how to operate everything efficiently. In addition, we must be up to date with the repertoire, know all the news and current trends, and be familiar with the older repertoire at the same time. It is also good to have a DJ course or practice under the supervision of an experienced DJ. Undoubtedly, it is a very interesting and interesting job, but it requires appropriate predispositions. Therefore, it is addressed to real music enthusiasts who not only like parties and loud music, but above all, will be able to musically manage the party and entertain the entertaining audience.