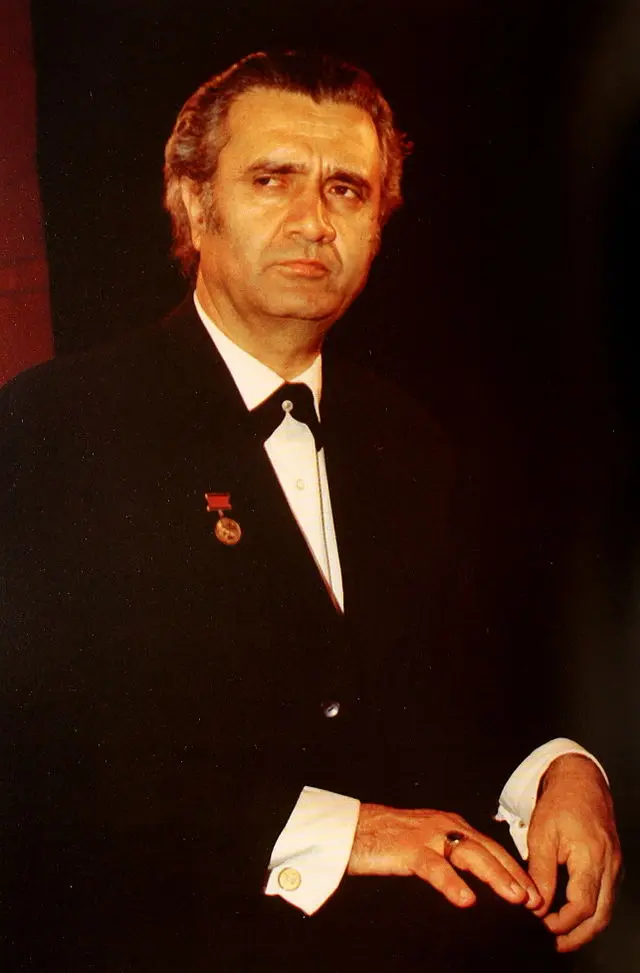 Alexander G. Harutyunyan |
Alexander Arutiunian
Date of birth
23.09.1920
Date of death
28.03.2012
Profession
composer
Country
Armenia, USSR
People's Artist of the USSR (1970). In 1941 he graduated from the Yerevan Conservatory in composition (SV Barkhudaryan) and piano. In 1946-48 he improved his composition with G. I. Litinsky (studio at the House of Culture of the Armenian SSR, Moscow). Since 1954 he has been the artistic director of the Armenian Philharmonic Society.
Harutyunyan's music is characterized by the creative use of the Armenian folk intonation material, its modal and rhythmic features.
Harutyunyan became famous for his Cantata about the Motherland (1948, Stalin Prize, 1949). The symphony (1957), the vocal-symphonic poem The Legend of the Armenian People (1961), the opera Sayat-Nova (1963-67, staged in 1969, the Armenian Opera and Ballet Theater, Yerevan) are distinguished by their bright national originality.
Compositions:
musical comedy – Highly Honored Beggars (1972); cantatas – Ode to Lenin (1967), With my Fatherland (1969), Hymn to Brotherhood (1970); for orchestra – Solemn Ode (1947), Festive Overture (1949), Symphonyette (1966); concerts with orchestra – for piano (1941), voice (1950), trumpet (1950), horn (1962); Theme and six variations for trumpet and orchestra (1972); concertino – for piano (1951), for 5 wind instruments (1964); vocal cycle Mother's Monument (1969), cycle for choir a cappella – My Armenia (1971); chamber instrumental works; songs, music for dramatic performances and films.
G. Sh. Geodakian