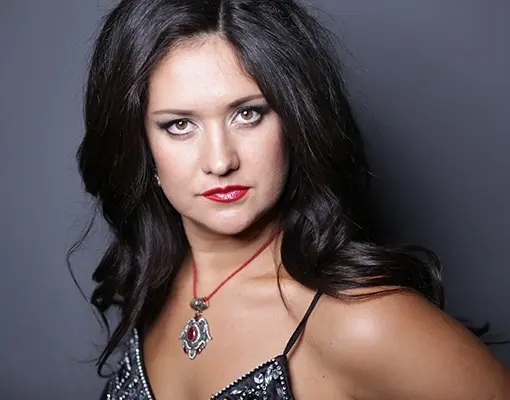 Agunda Elkanovna Kulaeva |
They hit the boat
Profession
singer
Voice type
mezzo-soprano
Country
Russia
Russian opera singer, mezzo-soprano. Graduated from the Rostov Conservatory. S.V. Rachmaninov with a degree in "Choir Conductor" (2000), "Solo Singing" (2005, class of teacher M.N. Khudovertova), until 2005 she studied at the Opera Singing Center under the direction of G.P. Vishnevskaya. Participated in the production of the opera "Faust" by C. Gounod (Siebel), "The Tsar's Bride" by N.A. Rimsky-Korsakov (Lyubasha), Verdi's Rigoletto (Maddalena) and in concerts of the Opera Singing Center.
In the repertoire of the singer of the party: Marina Mniszek (Boris Godunov by M.P. Mussorgsky), Countess, Polina and Governess (The Queen of Spades by P.I. Tchaikovsky), Lyubasha and Dunyasha (The Tsar's Bride by N.A. Rimsky- Korsakov), Zhenya Komelkova ("The Dawns Here Are Quiet" by K. Molchanov), Arzache ("Semiramide" by G. Rossini), Carmen ("Carmen" by G. Bizet), Delilah ("Samson and Delilah" by C. Saint-Saens); mezzo-soprano part in G. Verdi's Requiem.
In 2005, Agunda Kulaeva made her debut at the Bolshoi Theater as Sonya (War and Peace by S.S. Prokofiev, conductor A.A. Vedernikov). Since 2009 she has been a guest soloist of the Novosibirsk Opera and Ballet Theatre, where she takes part in the performances Prince Igor (Konchakovna), Carmen (Carmen), Eugene Onegin (Olga), The Queen of Spades (Polina), The Tsar's Bride "(Lyubasha).
She worked at the Novaya Opera Theater from 2005 to 2014. Since 2014 she has been a soloist of the Bolshoi Theater of Russia.
She participated in concert programs and opera performances in many cities of Russia and abroad, as well as in concert programs in Berlin, Paris, St. Petersburg dedicated to the 60th anniversary of the end of World War II.
At the festival "Varna Summer" – 2012 she sang the part of Carmen in the opera of the same name by G. Bizet and Eboli in the opera "Don Carlos" by G. Verdi. In the same year, she performed the role of Amneris (G. Verdi's Aida) at the Bulgarian National Opera and Ballet Theatre. The year 2013 was marked by the performance of A. Dvorak's Stabat Mater with the Grand Symphony Orchestra conducted by V. Fedoseev, the performance of the cantata "After Reading the Psalm" by S.I. Taneyev with the Academic Chamber Choir led by V. Minin and the Russian National Orchestra led by M. Pletnev; participation in the V International Festival named after. M.P. Mussorgsky (Tver), IV International Festival "Parade of Stars at the Opera" (Krasnoyarsk).
Laureate of the International Competition for Young Opera Singers. Boris Hristov (Sofia, Bulgaria, 2009, III prize).