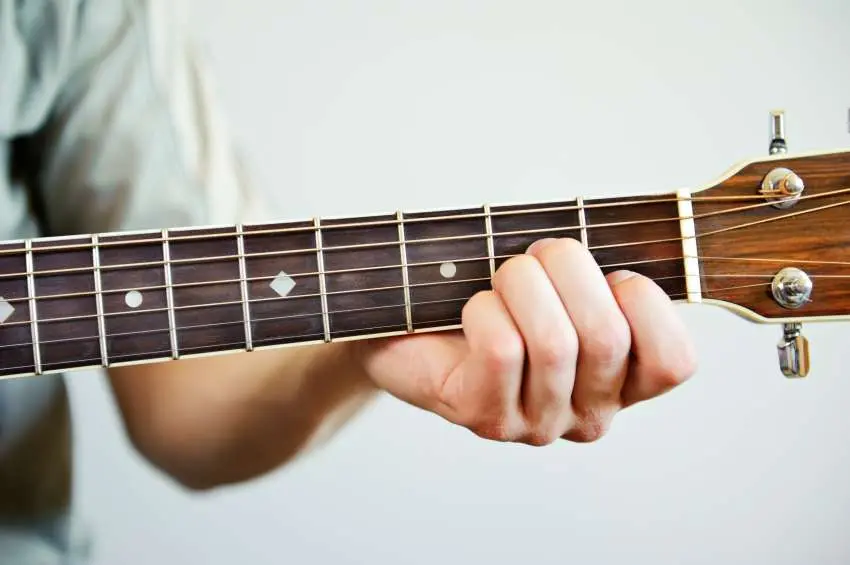 "Three Waltzes for Guitar", sheet music for beginners
"Tutorial" Guitar Lesson No. 13
This lesson presents three waltzes written by famous Italian guitarists, the Neapolitan Ferdinand Carulli and the Florentine Matteo Carcassi, who lived at the same time as Nicolo Paganini at the turn of the XNUMXth – XNUMXth centuries. In addition to the Italian origin of the authors, these waltzes are also united by the fact that they are written in the same time signature of three-eighths. Both Italians created schools of guitar playing, from which these simple waltzes are taken.
– "Senyo" sign refers to the signs of abbreviation of musical notation. It indicates the place from which to start the repetition.
The form of F. Carulli's waltz is very simple, as the reprises with which we got acquainted in the last lesson indicate, each line must be played twice. In the waltz, for the first time, the "senyo" sign appears, indicating that at the end of the third line played twice, you must go to the beginning where the "senyo" sign stands and play until the word Fine (End). Each measure of the waltz is simply counted as one, two, three. A good piece to once again repeat the location of the notes on the guitar neck.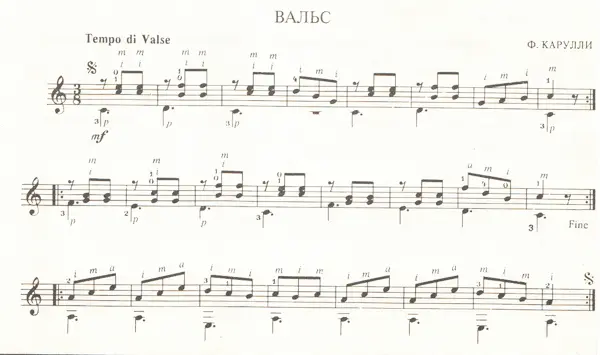 Waltz C – dur (C major) M. Carcassi begins with the bar (three and). I advise you to count each bar in this waltz one and two and three and. In this case, you can easily and accurately change from eighth notes to sixteenth notes in the middle of a piece. There are also signs of abbreviation of musical notation. DC al Fine. Da Capo al Fine, translated from Italian, literally means: From the head to the end, that is, in Russian it sounds – From the beginning to the end. So, we play the second and third parts twice according to the reprises, and then we play the piece first until the word Fine.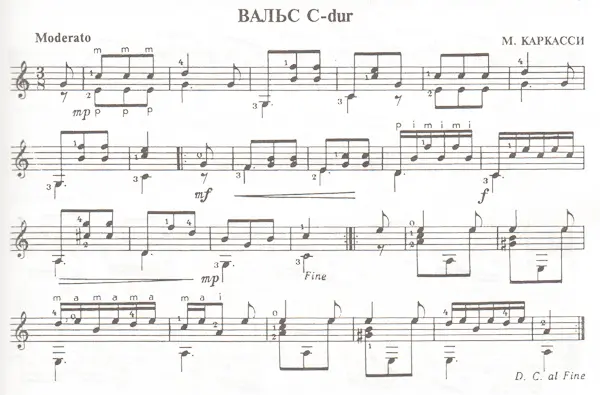 M. Carcassi Waltz (C Major) Video
Guitar exercise-Carcassi,Waltz in C Major
This waltz by M. Carcassi is played according to the reprises twice each part. Here, pay attention to the sharp sign at the key, indicating that all notes of F are played a half tone higher. In addition to adventures, there are also random signs (sharps) that have their effect until the end of the bar.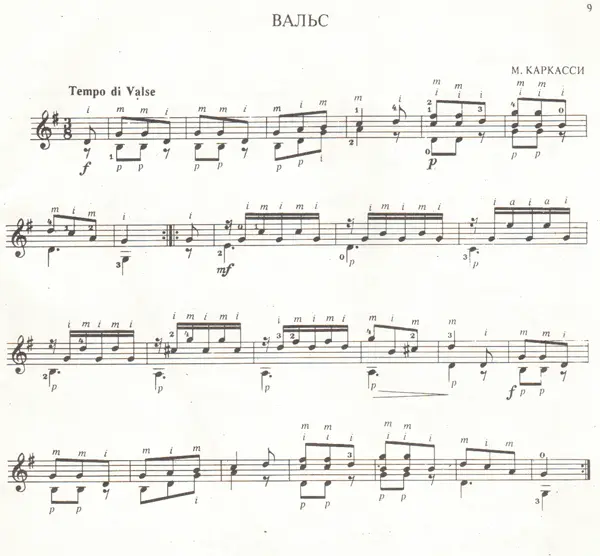 PREVIOUS LESSON #12 NEXT LESSON #14