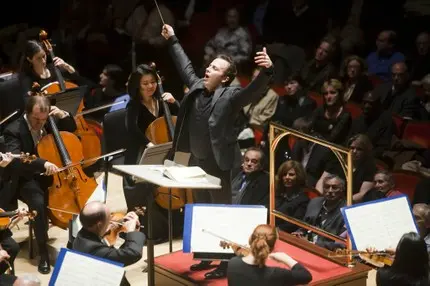 Philadelphia Orchestra
City
Philadelphia
Year of foundation
1900
A type
orchestra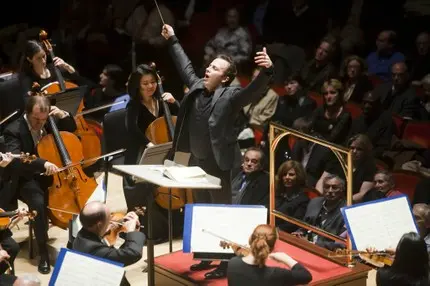 One of the leading symphony orchestras in the United States. Created in 1900 by conductor F. Schel on the basis of semi-professional and amateur ensembles that existed in Philadelphia since the end of the 18th century. The first concert of the Philadelphia Orchestra took place on November 16, 1900 under the direction of Schel with the participation of pianist O. Gabrilovich, who performed Tchaikovsky's First Piano Concerto with Orchestra.
Initially, the Philadelphia Orchestra had about 80 musicians, the team gave 6 concerts a year; over the next few seasons, the orchestra increased to 100 musicians, the number of concerts increased to 44 per year.
In the 1st quarter of the 20th century, the Philadelphia Orchestra was conducted by F. Weingartner, S. V. Rachmaninov, R. Strauss, E. d'Albert, I. Hoffmann, M. Sembrich, S. V. Rachmaninov, K. Sen -Sans, E. Isai, F. Kreisler, J. Thibaut and others. After the death of Shel (1907), the Philadelphia Orchestra was headed by K. Polig.
The rapid growth of the orchestra's performing skills is associated with the name of L. Stokowski, who led it from 1912. Stokowski achieved an expansion of the repertoire and actively promoted modern music. Under his direction, many works were performed in the USA for the first time, including Scriabin's 3rd Symphony (1915). 8th – Mahler (1918), Alpine – R. Strauss (1916), 5th, 6th and 7th symphonies of Sibelius (1926), 1st – Shostakovich (1928), a number of works by I.F. Stravinsky, S. V. Rachmaninov.
The Philadelphia Orchestra has become one of the leading bands in the United States. From 1931 Y. Ormandy performed periodically with the Philadelphia Orchestra, in 1936 he became its permanent conductor, and in the 1938/39 season he replaced Stokowski as chief conductor.
After the 2nd World War 1939-45 the Philadelphia Orchestra gained the reputation of one of the best orchestras in the world. In 1950 the band toured Great Britain, in 1955 made a big tour of Europe, in 1958 gave 12 concerts in the USSR (Moscow, Leningrad, Kyiv), followed by numerous tours in many countries of the world.
Universal recognition of the Philadelphia Orchestra brought the perfection of the game of each musician, ensemble coherence, the widest dynamic range. The largest conductors and soloists of the world, including leading Soviet musicians, collaborated with the orchestra: E. G. Gilels and D. F. Oistrakh made their debuts with it in the USA, L. B. Kogan, Yu. Kh. Temirkanov often performed.
The Philadelphia Orchestra gives about 130 concerts a year; during the winter season they are held in the hall of the Academy of Music (3000 seats), in the summer – in the outdoor amphitheater "Robin Hood Dell".
MM Yakovlev
Music directors:
Fritz Scheel (1900—1907)
Karl Polig (1908-1912)
Leopold Stokowski (1912-1938)
Eugene Ormandy (1936-1980, first two years with Stokowski)
Riccardo Muti (1980-1992)
Wolfgang Sawallisch (1993-2003)
Christoph Eschenbach (2003-2008)
Charles Dutoit (2008—2010)
Yannick Neze-Seguin (since 2010)
Pictured: Philadelphia Orchestra led by Yannick Nézet-Séguin (Ryan Donnell)