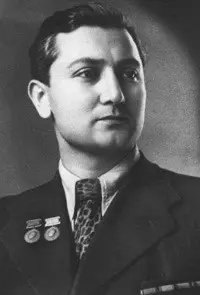 Mukhtar Ashrafovich Ashrafi (Mukhtar Ashrafi) |
Mukhtar Ashrafi
Date of birth
11.06.1912
Date of death
15.12.1975
Profession
composer, conductor
Country
the USSR
Uzbek Soviet composer, conductor, teacher, People's Artist of the USSR (1951), winner of two Stalin Prizes (1943, 1952). One of the founders of modern Uzbek music.
Ashrafi's work developed in two directions: he paid equal attention to composition and conducting. A graduate of the Institute of Uzbek Music and Choreography in Samarkand, Ashrafi studied composition at the Moscow (1934-1936) and Leningrad (1941-1944) conservatories, and in 1948 he graduated from the latter as an external student at the Faculty of Opera and Symphony Conducting. Ashrafi directed the Opera and Ballet Theatre. A. Navoi (until 1962), the Opera and Ballet Theater in Samarkand (1964-1966), and in 1966 he again took the post of chief conductor of the Theater. A. Navoi.
Both on the theater stage and on the concert stage, the conductor presented many examples of modern Uzbek music to the audience. In addition, Professor Ashrafi brought up many conductors within the walls of the Tashkent Conservatory, who are now working in different cities of Central Asia.
In 1975, the book of memoirs of the composer "Music in my life" was published, and a year later, after his death, his name was given to the Tashkent Conservatory.
L. Grigoriev, J. Platek
Compositions:
operas – Buran (jointly with S. N. Vasilenko, 1939, Uzbek Opera and Ballet Theater), Great Canal (jointly with S. N. Vasilenko, 1941, ibid; 3rd edition 1953, ibid. ), Dilorom (1958, ibid.), Poet's Heart (1962, ibid.); musical drama – Mirzo Izzat in India (1964, Bukhara Music and Dramatic Theater); ballets – Muhabbat (Amulet of Love, 1969, ibid., Uzbek Opera and Ballet Theater, State Pr. Uzbek SSR, 1970, pr. J. Nehru, 1970-71), Love and Sword (Timur Malik, Tajik t-r of opera and ballet, 1972); vocal-symphonic poem – In terrible days (1967); cantatas, including – The Song of Happiness (1951, Stalin Prize 1952); for orchestra – 2 symphonies (Heroic – 1942, Stalin Prize 1943; Glory to the winners – 1944), 5 suites, including Fergana (1943), Tajik (1952), rhapsody poem – Timur Malik; works for brass band; suite on Uzbek folk themes for string quartet (1948); works for violin and piano; romances; music for drama performances and films.