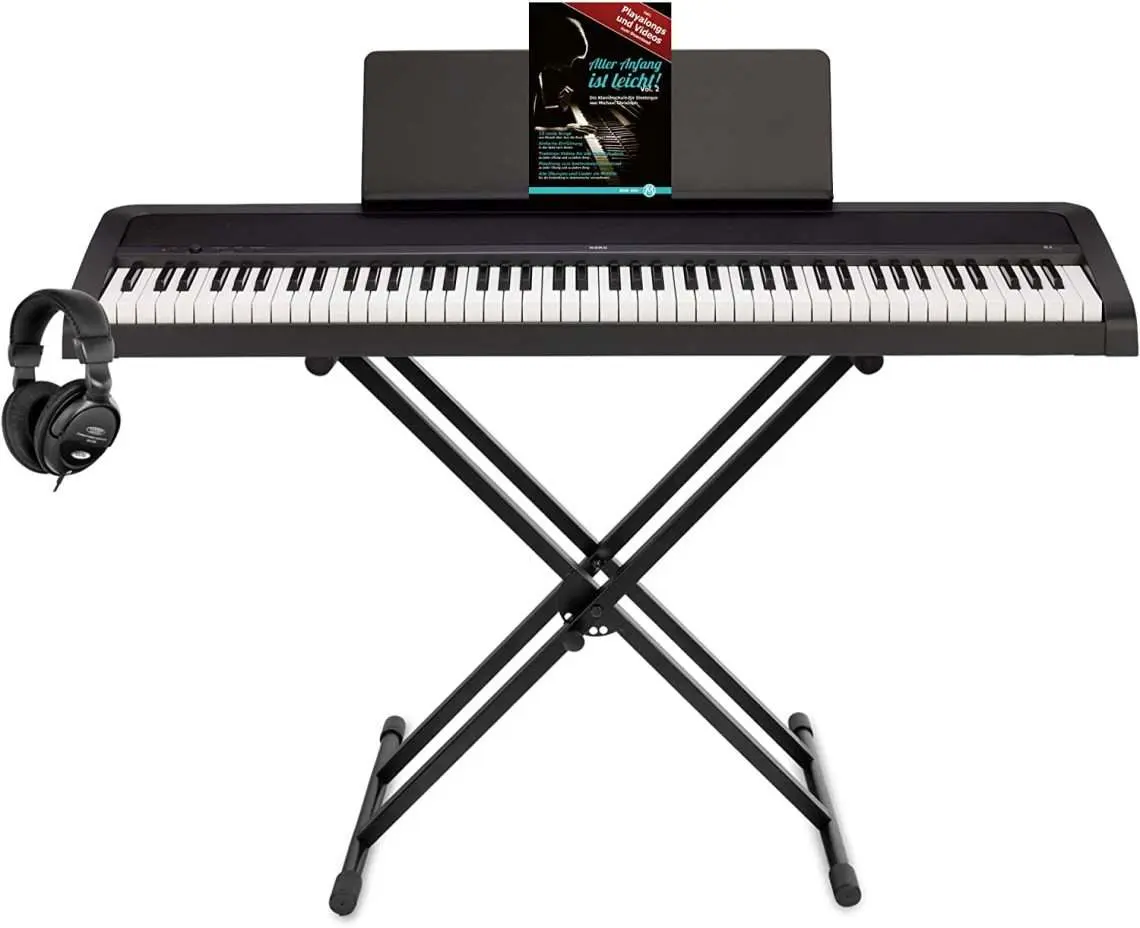 How to choose a digital piano stand
Electronic keyboards do not always come with built-in cabinets. Often, both budget and professional models require a stand, so the musician will have to choose a stand for a digital piano.
It is better to approach the issue of acquiring a stand carefully in order to avoid problems in performance and the course of training in the future, especially if the future pianist is a beginner.
Choosing a Digital Piano Stand
The stands for the instrument have an individual focus on the physical data of the performer, are adjusted to his height and are selected based on the requests for transporting the piano. For example, monolithic stands are common for YAMAHA pianos, which should be taken into account during concert and touring activities.
A competent approach will help to choose such an important accessory for a musical instrument correctly. The stand will bring only comfort to interaction with the piano and allow you to enjoy playing without being distracted by convenience issues.
The Soundking XX-Shaped Keyboard Stand is a great folding digital instrument stand that combines affordability, increased durability, portability and easy storage. The laconic black design will allow you to use the accessory both at home and at performances. The cost is within 3000 rubles.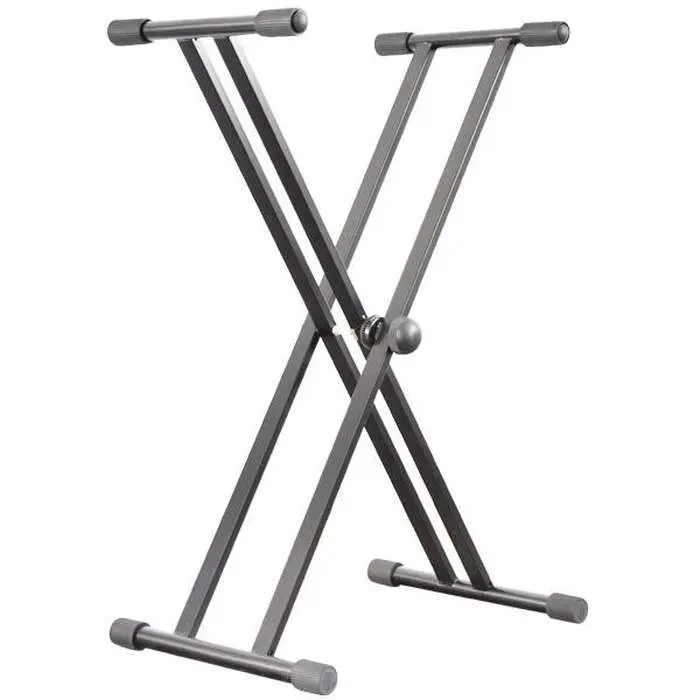 The Soundking DF036 two-level stand is suitable for working on two instruments at the same time, stage and studio performance. It will be a good purchase due to the balance of price and characteristics, as it has high strength and wear resistance. Price up to 5000 rubles.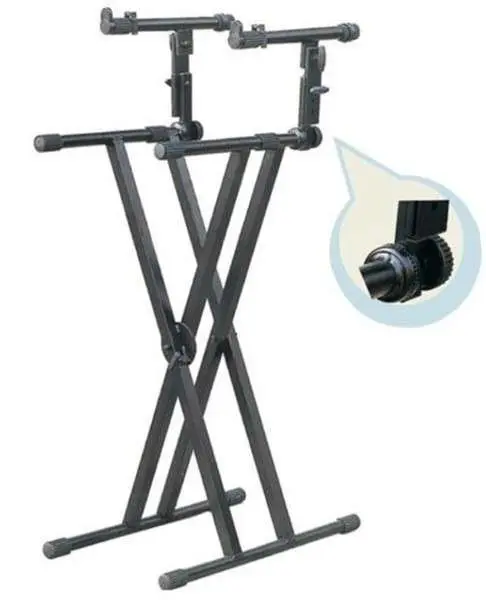 The Stay 1300/02 Tower 46-STAY 2-tier column made of aluminum is oriented to various equipment, equipped with cable clamps, a cover included and a load capacity of up to 120 kg. The black color makes the model universal, and the weight of 5.8 kg makes it mobile. The price tag is about 16,000 rubles.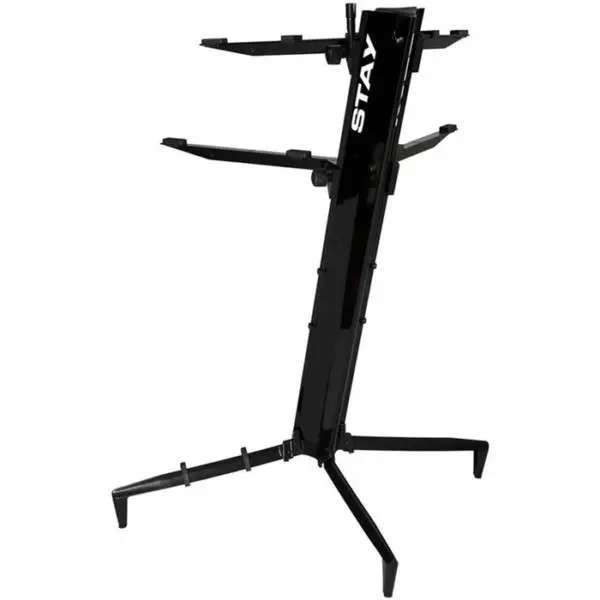 You can also purchase a stand for rare piano models, such as the chic Clavia Nord Wood Keyboard Stand in a mahogany tone with a built-in pedal box for bright Nord brand concert synthesizers .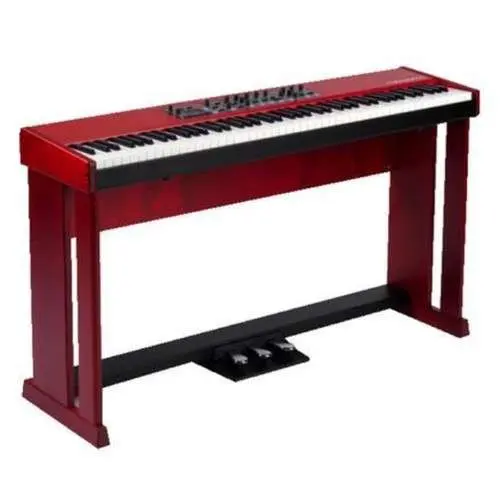 Variants of the classics (wooden stands) are the U-45 digital piano stand of the budget segment (about 3-3.5 thousand) and the more presentable Becker B-Stand-102W model for white digital pianos. At a cost of about 8,000 rubles, this accessory has a classic laconic design, high build quality and a built-in pedal-panel.
Which rack to choose – selection criteria
Stands for digital pianos are presented in a wide range. When choosing an accessory, you should pay attention to the following aspects:
compliance of the rack with the characteristics of the tool (shape, weight limit, style);

area of ​​​​piano use (home performance / concert activity / tour);

convenience and presentable appearance of the equipment (at home/on stage);

mobility (weight, dimensions of the accessory);

strength and reliability (materials, manufacturer, build quality).
Types and shape of racks
By shape
One of the popular options is X-shaped coasters. Among the advantages of racks of this format are:
anti-slip feet;

stability;

mobility;

screw height adjustment;

availability;
The only drawback of such an accessory is the weight limit of the tool up to 55 kg. An alternative is XX – shaped stands with a double frame, which are able to hold a piano weighing up to 80 kg, as they have increased strength.
Z – shaped racks benefit from the original appearance, while being ergonomic and reliable. Such stands are characterized by the presence of up to 6 different positions, some models are able to hold up to 170 kg of weight. Mobile for transportation option.
Rack – the table is distinguished by its versatility, resistance to deformation and the range of height adjustment. In addition to keyboards, it can be used for mixing consoles and controllers.
Two-level stand ideal for studio and live work in professional performance. Allows you to place several tools at once at different heights. The total load is about 100 kg.
Tiered coasters are perfect for saving space in small spaces. However, unlike two-tier ones, they have a lower permissible value for the maximum weight.
According to the materials of manufacture
Racks are divided mainly into those made of metal and wood. It must be borne in mind that the digital piano stand made of wood is oriented for stationary placement of the instrument, as it cannot be disassembled or adjusted. However, the advantages of such an accessory will be presentability, stability and durability.
A metal stand for an electronic piano has greater mobility, endurance, and the ability to accommodate not only keyboards, but also a mixer , so it is a more relevant acquisition for professional musicians.
Rack dimensions and height
Racks and stands vary in terms of their dimensions. The dimensions of the rack and the height of the rack should be selected both based on the convenience of the performer (suitable for his height, build), and with an eye to the purpose of using the instrument. So, when playing while standing on stage, a tall musician needs a piano stand of maximum height. The width of the racks should also be selected according to the equipment you plan to use on them, paying attention to the compatibility of devices in terms of weight.
Can I make my own digital piano stand?
Of course, if you wish, you can build a stand for the synthesizer yourself, but ready-made models are preferable. The stands have already been specially designed taking into account the characteristics of various instruments and many years of experience in the production of musical equipment. It's better to trust professionals.
Answers on questions
Which stand is suitable for the Roland White Digital Piano?
A good option would be the Roland KSC-76 WH
What type of rack is better to buy for a child for training?
For a stationary home location of the instrument, it is better to take a wooden stand, but if you plan to transport the piano with you, then a folding version of the XX type.
Instead of output
Keyboard stands are available on the market in a wide range and it will not be difficult to choose one for yourself. The main thing is to focus on your own comfort and the purpose of using the accessory.