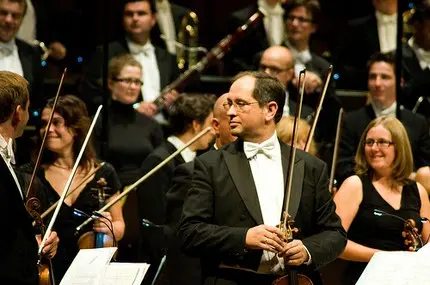 Flanders Symphony Orchestra (Symfonieorkest van Vlaanderen) |
Flanders Symphony Orchestra
City
Bruges
Year of foundation
1960
A type
orchestra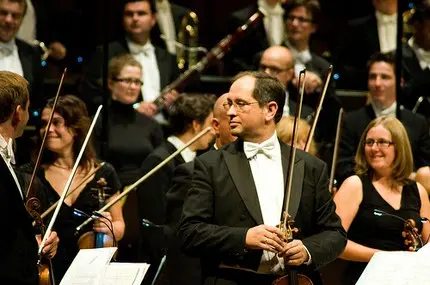 For more than fifty years, the Flanders Symphony Orchestra has been performing in the main cities of the country: Bruges, Brussels, Ghent and Antwerp, as well as in other cities and on tour outside of Belgium with an interesting repertoire and bright soloists.
The orchestra was organized in 1960, its first conductor was Dirk Varendonck. Since 1986, the team has been renamed the New Flanders Orchestra. It was conducted by Patrick Pierre, Robert Groslot and Fabrice Bollon.
Since 1995 and to this day, after a major reorganization and necessary reforms, the orchestra has been under the direction of the quartermaster Dirk Coutigny. During this time, the team received its current name – the Flanders Symphony Orchestra. The principal conductor from 1998 to 2004 was the Englishman David Angus, who greatly enhanced the orchestra's reputation by making its repertoire and sound more fluid, modern and flexible. It was Angus who brought the orchestra to its current level: if not the highest, then quite exemplary.
In 2004, Angus was replaced by the Belgian Etienne Siebens, from 2010 to 2013 the Japanese Seikyo Kim was the chief conductor, since 2013 the orchestra has been led by Jan Latham-Koenig.
Over the past two decades, the orchestra has repeatedly toured Britain, the Netherlands, Germany and France, and has taken part in international music festivals in Italy and Spain.
The orchestra's repertoire is quite large and includes almost all world classics, music of the XNUMXth century, and often performs works by contemporary, living composers. Among the soloists who played with the orchestra are Martha Argerich, Dmitry Bashkirov, Lorenzo Gatto, Nikolai Znaider, Peter Wispelway, Anna Vinnitskaya and others.