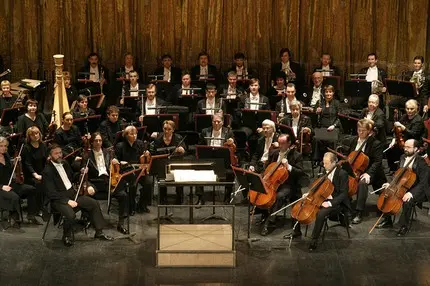 Symphony Orchestra of the Moscow New Opera Theater named after E. V. Kolobov (Kolobov Symphony Orchestra of the New Opera Moscow Theatre) |
Kolobov Symphony Orchestra of the New Opera Moscow Theatre
City
Moscow
Year of foundation
1991
A type
orchestra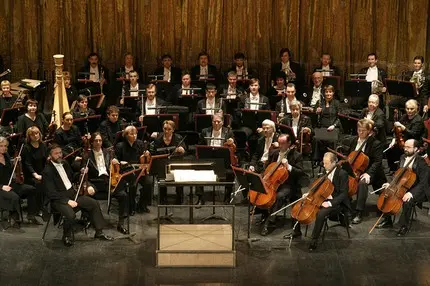 "An excellent sense of taste and proportion", "the bewitching, captivating beauty of the orchestral sound", "truly world-class professionals" – this is how the press characterizes the orchestra of the Moscow theater "Novaya Opera".
The founder of the Novaya Opera Theater, Yevgeny Vladimirovich Kolobov, set a high level of performance for the orchestra. After his death, famous musicians Felix Korobov (2004-2006) and Eri Klas (2006-2010) were the chief conductors of the ensemble. In 2011, maestro Jan Latham-Koenig became its principal conductor. Also performing with the orchestra are the theatre's conductors, Honored Artists of Russia Evgeny Samoilov and Nikolai Sokolov, Vasily Valitov, Dmitry Volosnikov, Valery Kritskov and Andrey Lebedev.
In addition to opera performances, the orchestra participates in concerts of Novaya Opera soloists, performs on the stage of the Theater with symphony programs. The concert repertoire of the orchestra includes the Sixth, Seventh and Thirteenth symphonies by D. Shostakovich, the First, Second, Fourth symphonies and "Songs of a wandering apprentice" by G. Mahler, the orchestral suite "The Tradesman in the Nobility" by R. Strauss, "Dance of Death" for piano and orchestra F. Liszt, symphonic rhapsody "Taras Bulba" by L. Janacek, symphonic fantasies on the themes of R. Wagner's operas: "Tristan and Isolde – orchestral passions", "Meistersinger – orchestral offering" (compilation and arrangement by H. de Vlieger), Adiemus " Songs of Sanctuary" ("Altar Songs") by C. Jenkins, compositions by J. Gershwin – Blues Rhapsody for piano and orchestra, symphonic suite "An American in Paris", symphonic picture "Porgy and Bess" (arranged by R.R. Bennett ), a suite from The Threepenny Opera for brass band by C. Weill, music from the ballet The Bull on the Roof by D. Millau, a suite from the music by W. Walton for L. Olivier's films Henry V (1944) and Hamlet (1948) ) and many other works.
Over the years of the existence of the Novaya Opera theatre, the orchestra has worked with well-known conductors, including Gennady Rozhdestvensky, Vladimir Fedoseyev, Yuri Temirkanov, Alexander Samoile, Gintaras Rinkevičius, Antonello Allemandi, Antonino Fogliani, Fabio Mastrangelo, Laurent Campellone and others. Stars of the world stage performed with the ensemble – singers Olga Borodina, Pretty Yende, Sonya Yoncheva, Jose Cura, Irina Lungu, Lyubov Petrova, Olga Peretyatko, Matti Salminen, Marios Frangulis, Dmitry Hvorostovsky, pianists Eliso Virsaladze, Nikolai Petrov, Nikolai Khozyainov, cellist Natalia Gutman and others. The orchestra actively cooperates with ballet groups: the State Academic Theater of Classical Ballet N. Kasatkina and V. Vasilev, the Imperial Russian Ballet, the Ballet Moscow Theater.
The orchestra of the Novaya Opera Theater was applauded by listeners from almost all continents. An important activity of the group is concerts and performances in the halls of Moscow and other cities of Russia.
Since 2013, the orchestra artists have been actively participating in chamber concerts held in the Mirror Foyer of the Novaya Opera. Programs "Flute jumble", "All songs of Verdi", "My music is my portrait. Francis Poulenc" and others received public and critical acclaim.