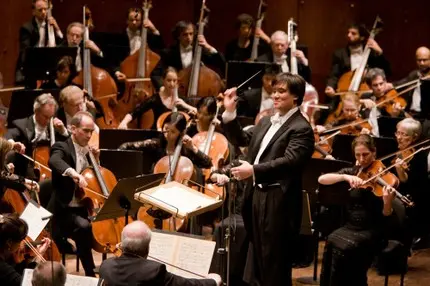 New York Philharmonic
City
New York
Year of foundation
1842
A type
orchestra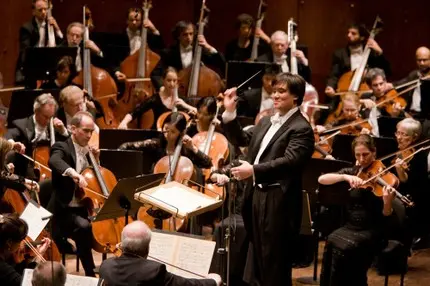 The oldest American symphony orchestra. Founded in New York in 1842 (in 1921 the National Orchestra joined it, in 1928 the New York Symphony Orchestra).
The first leaders of the New York Philharmonic Orchestra were W. K. Hill (founded the New York Philharmonic Society) and E. S. Timm, then conductors – T. Eisfeld (1852-55), K. Bergman (1855-59, 1865- 76), T. Thomas (1877-91, his work contributed to the development of orchestral music in the USA), A. Seidl (1891-98) and E. Paur (1898-1902).
In 1891, P. I. Tchaikovsky conducted the New York Philharmonic Orchestra at the opening of the Carnegie Hall concert hall.
In 1902-06, many famous musicians led the orchestra, including L. Damrosh, V. Mengelberg, F. Weingartner, R. Strauss, E. Colonne, in 1906-09 – a prominent Russian conductor V. I. Safonov, in 1909 – 11 – G. Mahler, who increased the number of concerts in the season, raised the orchestra's performing skills to an even higher level. His successor was J. Stransky (1911-22), then conducted by V. Mengelberg (1922-30), W. Furtwängler (1925-27).
In 1927-36, the orchestra was headed by A. Toscanini, during the years of whose activity the New York Philharmonic Orchestra gained world fame, in 1936-43 G. Barbirolli was the musical director, in 1951-57 – D. Mitropoulos. The orchestra was also conducted by other prominent musicians – B. Walter, E. Kleiber, O. Klemperer, T. Beecham, L. Stokowski, S. Munsch and others. In 1958-69 Ch. the conductor of the New York Philharmonic Orchestra was L. Bernstein, since 1971 – P. Boulez.
G. Mahler, A. Toscanini and L. Bernstein played the main role in the formation of the New York Philharmonic Orchestra as an artistic group, in the formation of its performing style and in its recognition as a symphony orchestra of the highest class.
Composers A. G. Rubinstein, A. Dvorak, R. Strauss, C. Saint-Saens, A. Honegger, I. F. Stravinsky, M. Ravel, J. Enescu, E. Vila Lobos and others conducted the New York Philharmonic orchestra when they perform many of their works.
The largest musicians have repeatedly performed with the orchestra: pianists – I. Paderevsky, A. Schnabel, S. V. Rachmaninov, S. S. Prokofiev, V. S. Horowitz, violinists – J. Heifets, D. F. Oistrakh, J. Szigeti , I. Stern, I. Menuhin and others, singers of world renown.
Many now widely known works were first performed by the New York Philharmonic Orchestra, among them: Dvořák's 9th Symphony ("From the New World"), I. F. Stravinsky's Symphony in 3 parts, Gershwin's Piano Concerto, etc.
The New York Philharmonic Orchestra contributes greatly to the development of musical life in the United States. Only in New York the orchestra annually gives 120 concerts, performs with radio programs for youth. Since 1930, the New York Philharmonic Orchestra has been touring in many countries (in the USSR in 1959, 1976).
From 2002 to 2009 the orchestra was directed by Lorin Maazel. From 2009 to the present – Alan Gilbert.
I. M. Markov
Orchestra leaders:
1842-1849 – Ureli Corelli Hill 1849-1854 – Theodor Eisfeld 1854-1855 – Theodor Eisfeld and Henry Timm 1855-1856 – Carl Bergman 1856-1858 – Theodor Eisfeld 1858-1859 – Carl Bergman 1859-1865 – Carl Bergmann and Theodor Eisfeld 1865-1876 – Carl Bergman 1876-1877 – Leopold Damrosch 1877-1878 — Theodore Thomas 1878-1879 – Adolf Neuendorf 1879-1891 — Theodore Thomas 1891-1898 – Anton Seidl 1898-1902 – Emil Paur 1902-1903 — Walter Damrosch 1906-1909 – Vasily Safonov 1909—1911 — Gustav Mahler 1911-1923 – Josef Stransky 1922-1930 – Willem Mengelberg 1928—1936 — Arturo Toscanini 1936-1941 – John Barbirolli 1943-1947 – Artur Rodzinsky 1947-1949 — Bruno Walter 1949-1950 – Leopold Stokowski 1949-1958 – Dimitris Mitropoulos 1958-1969 — Leonard Bernstein 1969-1970 – George Sell 1971-1977 – Pierre Boulez 1978—1991 — Zubin Meta 1991-2002 – Kurt Masur 2002―2009 — Lorin Maazel since 2009 — Alan Gilbert