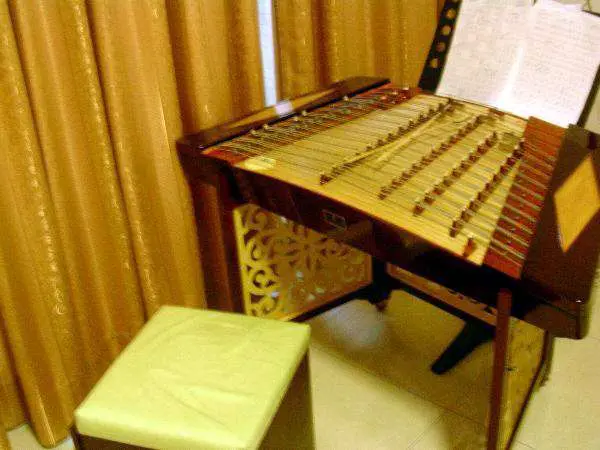 Yangqin: description of the instrument, structure, sound, use
Yangqin is a Chinese stringed musical instrument. The first mentions date back to the XIV-XVII century. It became popular first in the southern provinces, and later throughout China.
The musical instrument has gone through a number of upgrades. At the beginning of the XNUMXth century, it acquired a trapezoidal shape and became one and a half times larger in size. There are additional strings and coasters. The sound became louder, and its range is wider. Yangqin could be used in concert halls.
Modern yangqin consists of four large and nine small coasters, on which 144 steel strings (bass strings with bronze winding) of various sizes are placed. The extracted sound is in the range of 4-6 octaves.
This traditional Chinese musical instrument is made of hard wood and decorated with national patterns. It is played with bamboo sticks with rubber ends, the length of which is 33 cm.
Due to its wide range of sounds, the yangqin can be used as a solo instrument, as well as part of an orchestra or theater production.
Qing hua Ci - Yangqin(full version) 完整版扬琴 青花瓷 华乐国乐民乐