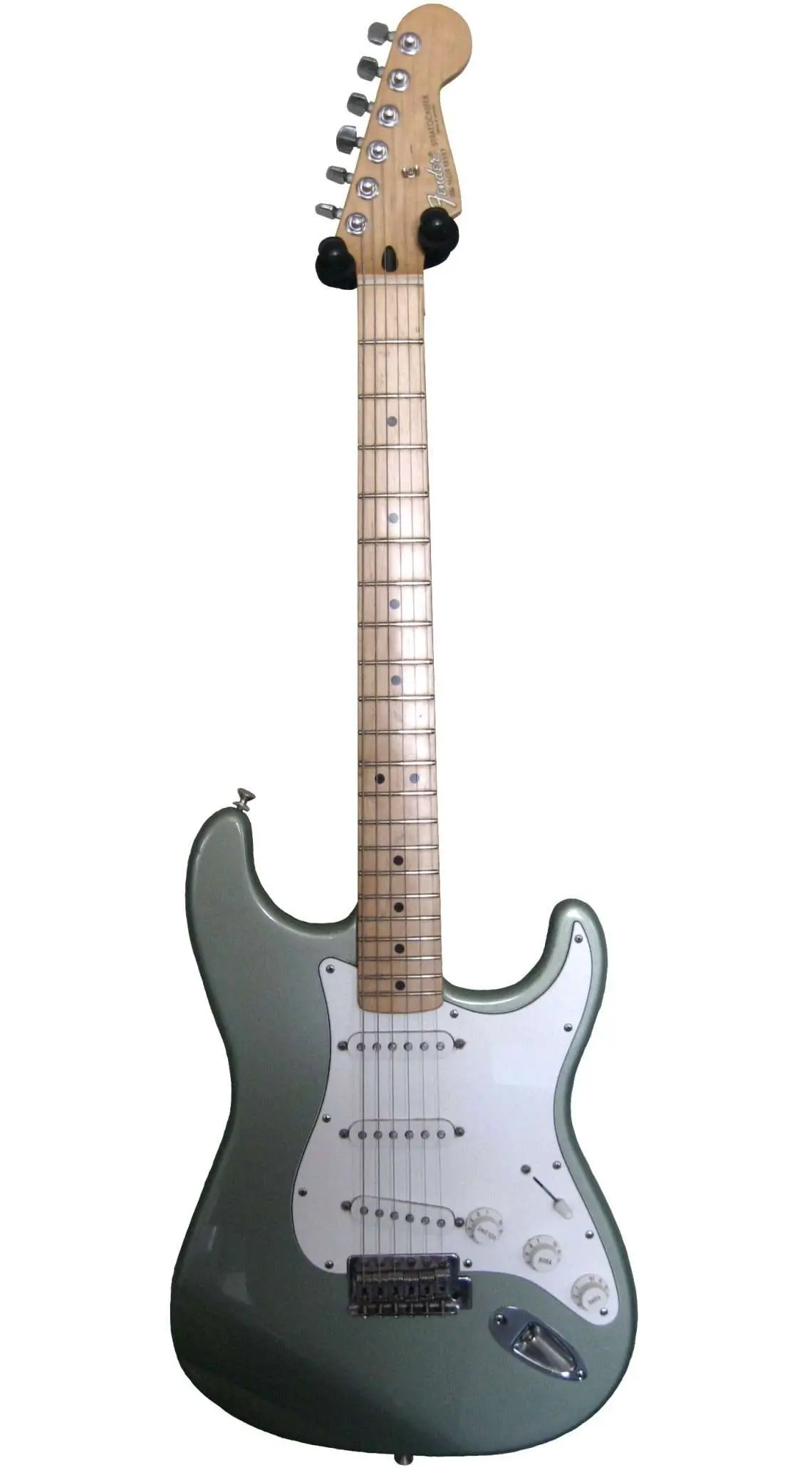 What is the Stratocaster?
If we stop someone on the street and ask them for an example of an electric guitar name, we'll probably hear "Fender Stratocaster". Since its introduction in 1954, Leo Fender's innovative guitar has become a global icon among instruments of this type. This is due to many factors, not to mention the most groundbreaking features of Losses:
– three single-coil pickups – patented tremolo bridge – comfortable body with two indents – possibility of individual adjustment of the length and height of the strings on the bridge – easy repair and adaptation of the guitar to your own needs
Why the Stratocaster?
What makes Strata so popular? First and most importantly – its sound is great. At the same time, it offers excellent playing comfort. Additionally, its appearance is timeless. It has virtually the same advantages. It should also not be forgotten that a whole lot of the absolute best guitarists in the world have made the history of modern music with the help of the Fender Stratocaster. Its history is long and rich. This state of affairs has continued for years.
Whether you're just starting out, have been playing for years or have been a collector, there's sure to be a Strat that's right for you.
How much do you have to pay for it? There are models from every price range, starting from those intended for beginners (cost of several hundred zlotys) to models worth even tens of thousands (mainly for collectors).
What does the classic Stratocaster offer?
Before we go into a detailed overview of the models, let's see what the classic Strat offers:
– body made of ash or alder – two comfortable cuts in the body – screwed maple neck – 3 single-coil pickups – 5-position pickup switch – two tone potentiometers and one volume potentiometer – 21 or 22 frets with a 25-scale "- tremolo bridge
Stratocaster series There are four basic Stratocaster families. The main differences between them result from the place of their production, the quality of the components used and the level of finish. Starting with the least prestigious series, we distinguish:
– Squier by Fender – Fender Stratocaster – Fender American Stratocaster – Fender Custom Shop
Seria Squier by Fender The Sqiuer series is the most basic line, aimed at beginning musicians. These are inexpensive guitars, manufactured in the Far East (most often in China), made to Fender specifications. Still, they offer great value for money. You won't find high-quality pickups or electronics installed in higher models, but they are still relatively good and comfortable instruments. This family includes the following models:
– Bullet (intended for beginners) – Affinity – Standard – Vintage Modified
Squier Bullet – the cheapest licensed Stratocaster, source: muzyczny.pl
In recent years, the quality of the Squiers has increased significantly. It got to a point that some well-known players started using them. It is worth mentioning that since the Squiery began to be produced in accordance with the Fender specification, it is possible to easily replace most parts with those from the Fender American Stratocaster models. We are talking here mainly about electronics and pickups.
Serial Fender Stratocaster Just 200 miles from the Fender California factory, there is another manufactory located in Ensenada, Baja California, Mexico. There is a continuous flow of parts, timber and personnel between the two factories. Both of them produce great quality guitars and amplifiers, but it is the American manufacture that produces guitars from the highest series. On the other hand, the factory located in Mexico produces top Fender instruments at slightly lower prices. Below is a list of models produced there:
– Fender Standard Stratocaster – Fender Blacktop Stratocaster – Fender Deluxe Stratocaster – Fender Road Worn Stratocaster – Fender Classic Series Stratocaster – Fender Classic Players Stratocaster – Fender Player Stratocaster
Fender Player Stratocaster – produced in the Mexican Fender factory, source: muzyczny.pl
Seria Fender American Stratocaster As previously mentioned, the Fender American Stratocaster series is manufactured at Fender's California plant. The best violin makers work here and the most coveted Strata models come from here: – Fender Ultra Stratocaster – American Elite Stratocaster – American Deluxe Stratocaster – American Vintage Stratocaster – American Special Stratocaster – Select Stratocaster – Artist Series Stratocaster
Fender American Elite Stratocaster – limited version, source: muzyczny.pl
Fender Custom Shop Stratocaster Top-class instruments manufactured by Fender, designed and hand-made in the USA, by legendary violin makers. Custom Shop series are usually offered in limited quantities for a limited period of time. Therefore, they are desirable by collectors as their value can constantly increase. In this case, we are not dealing with specific models. Most often these are signatures co-created and dedicated to specific artists or renovated versions of instruments from the past.