An inexpensive piano for practicing at home
The first basic thing is to determine whether it is a new or used piano, and whether we are looking for an acoustic or a digital one.

Both have their advantages and disadvantages. Speaking of an inexpensive one, we must know that a digital piano can already be bought new for about 1700 – 1900 PLN, where the new acoustic piano costs at least several times more.
So if we are thinking about buying a new instrument and we have quite a limited budget, we should concentrate our search and limit it to digital pianos only. On the other hand, among the used ones, we can try to buy an acoustic piano, but even for a used one, if we want it to be in perfect condition, we will have to pay at least two or three thousand. In addition, there will be the cost of tuning and possible renovation, therefore the purchase of a digital piano is much more convenient in this respect, especially since the latest models, even those from the lower price range, are largely very well refined and quite faithfully reflect the acoustic piano both in terms of the articulation of the game and the sound.
An additional advantage in favor of a digital piano is that we have many more possibilities, although the possibility of cooperation with a computer or connecting headphones is useful especially when we do not want to disturb anyone. In addition, it is much less inconvenient to move if necessary. The market offers us a large selection of inexpensive digital devices, and individual companies outdo each other in their technical innovations and each of them tries to encourage us with something, so we can have a lot of trouble choosing the right instrument for ourselves. Let's take a look at what manufacturers offer us and what we should pay attention to, assuming that we have about PLN 2500 – 3000 for the release.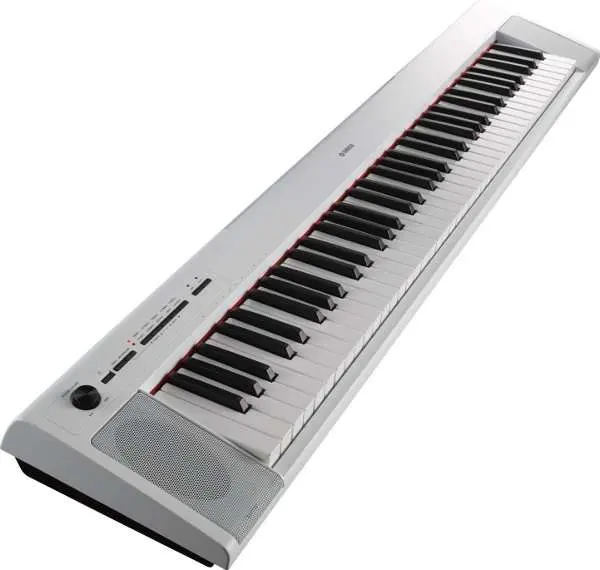 Yamaha NP 32, source: Muzyczny.pl
What we pay special attention to Since it is supposed to be an instrument that will mainly be used for practicing, the most important element that we should pay special attention to is the quality of the keyboard. First of all, it should be full-size weighted and have 88 keys. The hammer mechanism of the instrument is a key issue for every pianist, because it depends on him how we can interpret and perform a given piece.
Let's also pay attention to the number of sensors that a given model has. In this price range, we will have two or three of them. Those with three sensors electronically simulate the so-called key slip. Manufacturers of digital pianos are constantly researching the elements of the keyboard mechanism, trying to match the mechanisms of the best pianos and acoustic grand pianos. Despite more and more modern technological solutions, probably, unfortunately, even the best digital piano will never match the best %% LINK306 %%, both mechanically and sonically.
What we should also pay attention to when choosing a keyboard is its so-called softness. And so we can have a soft, medium or hard keyboard, sometimes called light or heavy. In some models, usually in the more expensive ones, we have the option of adjusting and adapting the instrument to the one that best suits our preferences. You should also pay attention to the seating of the keys themselves, whether they keep the level and do not wobble left and right. When trying out a particular model, it is best to play a piece or an exercise using different articulation and dynamics. We should also pay attention to the key polish itself and remember that it would be best if it was slightly rough, which would prevent the fingers from slipping when playing for a long time.
These keyboards with shiny polish may be more to some people's liking, but when you play for a long time your fingers may simply slip over them. As standard, all new digital pianos are transposed and feature a metronome, headphone output, and USB connection. They have at least some sounds that mirror a concert grand piano and different types of pianos. It is also worth paying attention to the fact that we can attach a pedal strip to the instrument. Some models allow you to connect only a single pedal, but more and more often it is standard that we can connect a triple pedal.
What does the market offer us? We have a choice of several manufacturers who offer us an instrument from the medium segment, including Casio, %% LINK308 %%, Roland, Yamaha, Kurzweil and Korg, who have several inexpensive models in their offer. Let's mainly look at stage pianos and for about PLN 2800 we can buy the Kawai ES-100 with a weighted Advanced Hammer Action IV-F keyboard, Harmonic Imaging sound module and 192 voice polyphony. At a similar price, we get a Roland FP-30 with a PHA-4 keyboard with an escapement mechanism, a SuperNATURAL sound module and 128-voice polyphony.
The exemplary models are an ideal solution both for people starting to learn to play the piano as well as for students or pianists looking for a small, compact instrument with high realism and authenticity of playing at a not too high price. Yamaha in this segment offers us the P-115 model with a Graded Hammer Standard keyboard, a Pure CF Sound Engine and 192-voice polyphony.

Yamaha P-115, source: Muzyczny.pl
The cheapest brand models include the Casio CDP-130, which you will get for about PLN 1700. This model features a hammer weighted dual sensor keyboard, AHL Dual Element sound module, and 48-voice polyphony. The second one of the cheaper brand models is the Yamaha P-45, priced at around PLN 1900. Here we also have a dual sensor weighted hammer keyboard with an AMW Stereo Sampling sound module and 64 voice polyphony. Both instruments come standard with a metronome, the ability to transpose, usb-midi connectors, headphone output and the ability to connect a single sustain pedal.
Of course, before buying, everyone should personally test and compare the individual models. Because what for one can be the so-called a hard keyboard, for another it may turn out to be medium-hard. We must also remember that the prices of the given instruments are approximate and most do not include accessories such as a tripod or a pedal strip