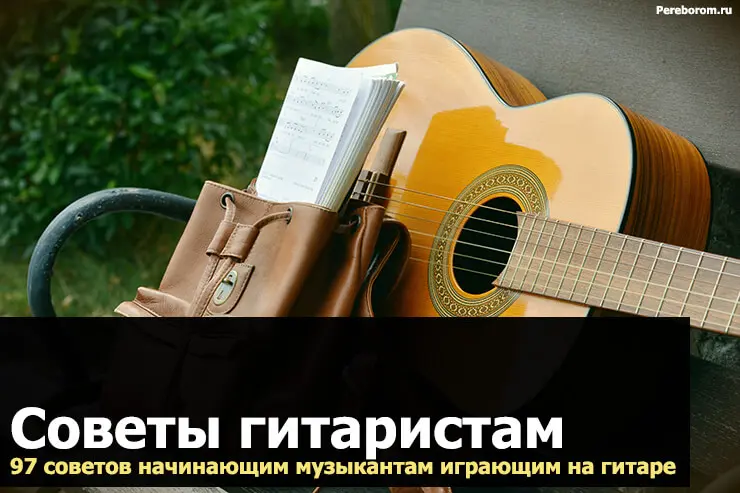 Tips for guitarists. 97 tips for musicians playing the guitar and other stringed instruments

Tips for guitarists. general information
In order to help the young musician, we provide tips for guitarists. They are made to make it easier to get to know the world of the guitar. Music is an infinitely beautiful, but at the same time difficult world. It's easy to get lost in it. Therefore, you can use our tips as a kind of guide.
How to apply advice to musicians correctly

First of all, tips for musicians are designed to interest them. The list is made in such a way that it is perceived not as hard work, but as a quest, a game. You can write out or print individual hints. You can also use this list as notes on your phone.
The main thing is not only to read them, but also to fulfill them. It is not at all necessary to strictly follow all several dozen tips. You can choose the most interesting and convenient for you.
List of tips for guitarists and string players

Never stop there. Learn new techniques, songs, music theory. Improve your old creations. As the musicians say – "there is no limit to perfection."

Get in the habit of learning one chord every day. Moreover, it can be a new form (position) of a well-known harmony. Follow the example of the most famous rock band The Beatles – the musicians constantly experimented with compositions and sometimes inserted amazing chords that they had just recently learned.

The book is your true friend. Buy, rent or download a self-help, harmony/theory textbook.

Love the guitar, but don't obsess over it. You can always try playing keyboards or harmonica. This will expand the horizons of music making.

Try dancing to your favorite songs! For example, the ones you are currently learning. It doesn't matter if it's rock, pop or classical – move to the rhythm as your body tells you.

Take a player with dance music on 4/4 with you to training. The so-called straight barrel forces the brain to perform exercises rhythmically to the suggested rhythm. It is especially interesting to tune in to a dynamic song while jogging.

Before looking for chords and tabs for a song you like, try to pick it up by ear or using your theoretical knowledge. Then you can always check with the correct option and understand where there were inaccuracies in the selection.

Try to relax your joints while playing. The hand and fingers should not be strained.

Train your finger strength. Of course, this is not a sport and you don't need to strain until your joints turn white.

Try playing different guitars. Even guitars of the same style (say, Western) will have their own nuances of clamping and sound production from different brands and models.

Do not shy away from classics with nylon (if you are an avid rocker) or old Soviet acoustics. Don't be afraid of an electric guitar if you've never played one before. On each of them you can gain experience.

Look at the thematic forums and ask your questions.
Learn new songs for guitar. Don't stop at 5-6 songs that you do best.

Watch tutorial videos on YouTube. Choose the most interesting and entertaining channels or individual videos for you. Use both Russian-language channels and English-speaking (or other languages) online teachers. This will greatly expand the use of chips in completely different music.

Take care of your guitar. Change strings in a timely manner.

Get guitar tips from more experienced guitarists. It is also useful to communicate with the same beginners. Together you will be able to understand incomprehensible moments.

Find a teacher. He will help you correct a mistake that you have never seen from the outside. An experienced teacher will be able to answer a question that is simply difficult to formulate in the form of text on the forum. In addition, he will be able to give regular tasks according to the plan.

Listen to new music. Don't limit yourself to one genre. All styles have something to learn.

Review what you have learned. You will be surprised when you notice that a song or technical exercise is forgotten over time (even though you played it perfectly a month ago). Also, the composition will sparkle with new colors when you gain experience.

If you can't memorize a certain song with your head, then memorize it with your muscles. Thanks to such mechanical cramming, there is gradually musical memory development. Piece by piece is deposited in the fingers, and soon you will be able to remember the whole work without peeping into the sheet.

If you can't seem to play one song, ask a more experienced friend for help. Perhaps he will find the reason for your failure and help correct the mistake and facilitate learning.

Permanent lessons. Conduct an experiment and study at least 5 days in a row for 45 minutes (similar to a school lesson). You can allocate a very specific time for your lessons. The main thing is not just to strum the guitar, but to set yourself a task for this period of time. For example, slowly work out a difficult section of a new solo.

To practice the guitar, just like in sports, you need a warm-up. Don't jump right into playing a sweeping, high-speed solo with two-tone braces. To get started, play the scale at a slow tempo or warm up by strumming your favorite song.

Learn not only music, but also your instrument. Do you like the string height that exists now? What will be the sound if you put the strings of a different gauge or manufacturer? You can also change guitar tuning and try to play completely different music.

Do not make a decision to buy a guitar hastily. If you decide to change the instrument to a more expensive and high-quality one, do not rush to go to the store. Ask your fellow guitarists for advice, look at reviews on the Internet. The main thing is to decide what styles of music you want to perform. From this you can already "dance".

Work out under metronome online. This will help develop not only the right sense of rhythm, but also teamwork with the group. If there is no metronome at the moment, use your inner sense of rhythm and tap with your foot. True, this is much more difficult, since the hands will constantly bring down the correct pace.

Make sure that your hand does not strain. All kinds of games "from the elbow", tension in the hand lead to clamps, difficulty in sound production and even pain in the joints.

Find a seat that is comfortable for you. Some chairs make it difficult to extend your arm freely or, on the contrary, push the guitar in front of you. It is better to use a chair with a back, and you should not bend over the guitar and spoil your posture.

Don't try to jump straight into difficult material. If you learned "Grasshopper" yesterday, and today the solo from "Highway Star" caught fire, then failures can be repulsive and disappointing. Take a lighter song from an artist or genre you like.

Learn new chord progression. This will help you get comfortable in completely unfamiliar works.

Learn to play both with your fingers and with a pick.

Watch professional guitarists in videos, concerts. Pay attention not only to their hands, but also to other body movements.

Store your guitar in a safe place. So that her younger brother does not step on her or the cat does not overturn. A stand will do, a case is also good. Also try to protect it from sudden changes in temperature.

Play with other musicians. They will be able to look at your playing from the outside and give advice to guitarists or point out mistakes.

If you're tired or in a bad mood, take a break. Do not torture yourself with constant training.

Record yourself on audio or video. Look, and most importantly, listen to your mistakes not only in the game, but also in hand placement or sound production.

If you have learned a song or an exercise, don't abandon it. Come back and repeat from time to time.

Try starting your own blog or YouTube channel. Many beginners are helped by advice to musicians from the public from outside. Adequate criticism will improve some aspects of the game.

Exchange with your friends chord books, sheet music and other books about guitar playing.

Try creating your own exercises. You can also change the ones that you found in the tutorial or the Internet.

If you happen to be in another city, visit your local music store. Perhaps you will purchase a useful book or simply familiarize yourself with the variety of tools for sale.

If you don't have enough money for new books, then use ad sites like Avito or Yula – everything can be found there much cheaper.

Learn music theory and harmony.

If you don't already know, then find out how to read tabs.

Get acquainted with the history of the guitar, musical genres. Read the biographies of your favorite artists.

Gradually learn to read from a sheet. If you're not a classical musician, this advice for guitarists might not be for you. But learning the basics of musical notation will never be superfluous.

Develop an ear for music. There are many courses and applications for this.

Enrich your repertoire. Feel free to learn a song with unfamiliar harmonies and rhythmic figures.

Start at a slow pace. Gradually increase it while playing cleanly.

Learn the blues scale and try to improvise in it.

Memorize fingering chords. Try to put your options, choose whichever is more convenient for you.

Get to know different rhythms.

Try palm mute even if you play acoustic.

Don't be afraid to barre. The main thing is to find a position in which it is convenient to clamp it.

Learn and practice the hammer-on technique.

Learn a song that is played with a capo. (for example, Lumen – "Burn").

Indulge in songs in non-standard tuning.

Always tune your instrument before practicing.

Play the song being learned under the plus. You can turn down the volume in the headphones/speakers and add yourself.

Do not blindly trust all the selections and advice on the Internet. Many songs are sorted "on the knee".

Get inspired by interviews with your favorite musicians.

If possible, go to concerts. It doesn't have to be your favorite world stars.

Relax on a hike or on the beach in the company of a guitar.

In some libraries, you can find books and magazines that are difficult to get on the Internet.

Try to relax before class. You can take a walk.

Wash your hands before playing and wipe down the guitar with a cloth.

Trim your nails promptly.

Try to learn the song as a whole, and not a separate fragment you like.

Listen to a lot of different music.

Take musical cues from genres you don't particularly like.

If the noise from the amplifier disturbs others, you can wear headphones. And you can find the balance of sound and gain on different pickups.

In the store, play instruments of different price categories.

When buying from the hands, compare the price from different sellers and different brands.

Download DVD courses from world-famous guitarists.

For a more accurate recording of the song, download the performance of the guitarist and slow down the desired fragments.

Try playing a familiar song in a different key.

Give advice to musicians. Sometimes you can help them, sometimes they can help you.

Don't go into technical/harmonic details that you can't handle yet. Do not try to thoroughly study all the articles on the network.

Do not "stuff" yourself with activities. An hour is enough for a beginner.

If your fingers hurt and "burn" out of habit, do not hesitate to take a 1-2-day break.

Don't beat yourself up if something doesn't work out for a long time.

Feel free to post your covers and analyzes on the Internet.

If possible, get a guitar of a radically different plan (acoustic – electric).

Try playing classical guitar.

Try to imitate your favorite guitarist.

Get a carrying case.

Read inspirational quotes from great guitarists.

If you don't get a speed passage, take it apart very slowly.

If you play with a group, try to choose a repertoire that is within the power of each participant.

Try to look for prefabricated hodgepodges for unknown bands in local clubs.

Familiarize yourself with chromatic scales.

Before buying a guitar, study what types are

Play Guitar Hero. This game can inspire.

Jam with other musicians.

Learn chords.

Anyone can play – there would be a desire and diligence.

Play to the best of your ability, the main thing is quality, not quantity.
Conclusion
Such tips for a beginner guitarist are good because they are not all related to the guitar. Some of them are calmly performed without an instrument – at sports training, on a walk, at home on vacation. If you are interested in such a form of presentation of educational material, then you are still closer to mastering such a diverse guitar.