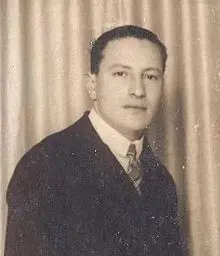 Pancho Vladigerov (Pancho Vladigerov) |
Pancho Vladigerov
Date of birth
13.03.1899
Date of death
08.09.1978
Profession
composer
Country
Bulgaria
Born March 18, 1899 in the city of Shumen (Bulgaria). In 1909 he entered the Sofia Academy of Music and studied there until 1911. Soon after, he moved to Berlin, where he studied composition under the guidance of Professor P. Yuon, a student of S. I. Taneyev. Here began the creative activity of Vladigerov. From 1921 to 1932 he was in charge of the musical part of the Max Reinhardt Theatre, writing music for many performances. In 1933, after the Nazis came to power, Vladigerov left for Bulgaria. All his further activities take place in Sofia. He creates his most significant works, including the opera "Tsar Kaloyan", the ballet "Legend of the Lake", a symphony, three concertos for piano and orchestra, a violin concerto, a number of pieces for orchestra, of which the rhapsody "Vardar" is widely known, many chamber works.
Pancho Vladigerov is the leading composer of Bulgaria, a major public figure and teacher. He was awarded the high title of People's Artist of the Bulgarian People's Republic, he is a laureate of the Dmitrov Prize.
In his work, Vladigerov follows the principles of realism and folk, his music is distinguished by a bright national character, intelligibility, it is dominated by a song, melodic beginning.
In his only opera, Tsar Kaloyan, which was performed in Bulgaria with great success, the composer sought to reflect the glorious historical past of the Bulgarian people. The opera is characterized by the nationality of the musical language, the brightness of musical stage images.