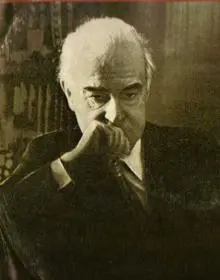 Vladimir Aleksandrovich Vlasov (Vladimir Vlasov) |
Vladimir Vlasov
Date of birth
07.01.1903
Date of death
1986
Profession
composer
Country
the USSR
Born December 25, 1902 (January 7, 1903) in Moscow. In 1929 he graduated from the Moscow Conservatory in the violin class of A. Yampolsky, in the composition class of G. Catoire and N. Zhilyaev.
In 1926-1936. worked as a composer and conductor of the Moscow Art Theater-2, in 1936-1942 – in Kyrgyzstan, where, together with V. Fere and A. Maldybaev, he became the creator of the Kyrgyz professional musical theater.
In 1943-1949 he was director and artistic director of the Moscow Philharmonic.
Author of the first Kyrgyz operas: "Moon Beauty" (1939), "For the Happiness of the People" (1941), "Son of the People" (1947), "On the Banks of Issyk-Kul" (1951), "Toktogul" (1958, all – jointly with A. Maldybaev and V. Fere), as well as the first Kyrgyz national ballets: Anar (1940), Selkinchek (Swing, 1943), Spring in Ala-Too (1955, all – together with V Feret), "Assel" (based on the story "My Poplar in a Red Scarf" by Ch. Aitmatov, 1967), "The Creation of Eve" (1968), "The Princess and the Shoemaker" (1970). His work includes the operas The Witch (1965), An Hour Before Dawn (1967), The Golden Girl (1972), Frulue (1984), the operetta Five Million Francs (1965), symphonic works, oratorios .
Among the works written for the musical theater, Anar occupies a special place – the first Kyrgyz ballet, in which folk songs, dances, and games are widely used.
Unlike Anar, in the ballet Asel the composer did not set himself the task of directly addressing folklore, but turned to ethnographic materials and folk music, in his words, "only hints." Nevertheless, the music of "Aseli" bears a distinct stamp of national identity.