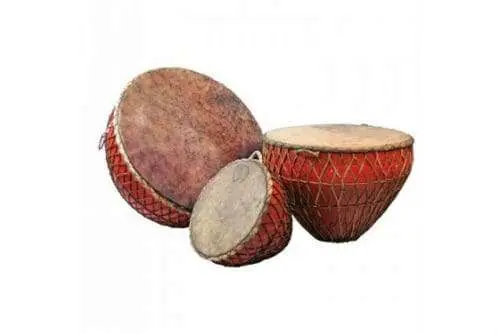 Nagara: description of the instrument, composition, sound, types, use
One of the most popular national musical instruments of Azerbaijan is the nagara (Qoltuq nagara). The first mention of it is found in the epic "Dede Gorgud", which dates back to the XNUMXth century.
Translated from Arabic, its name means "tapping" or "beating". Nagara belongs to the percussion category, being a type of drum. This ancient musical instrument was also widely used in India and the Middle East.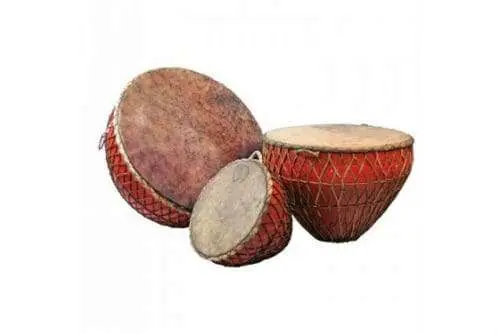 The body is made of wood – apricot, walnut or other species. For the manufacture of the membrane, stretched with ropes through metal rings, sheep skin is used.
There are several types of tools, depending on the size:
Large – boyuk or kyos;
Medium – bala or goltug;
Small – kichik or jura.
The most popular soot is medium in size, with a diameter of about 330 mm and a height of about 360 mm. The shape is cauldron-shaped or cylindrical, which is typical for the axillary version. There is also a paired version of the instrument called gosha-nagara.
The Azerbaijani drum can be used both as a solo instrument and as an accompanist. On a large soot, you should play with large-sized drumsticks. On small and medium – with one or two hands, although some folklore samples also require sticks. One of them, hooked, is put on the right hand with a strap. And the second, straight, is similarly fixed on the left hand.
The Nagara has powerful sonic dynamics, allowing it to produce a wide variety of tones and is suitable for playing outdoors. It is indispensable in theatrical Plays, folk dances, folklore rituals and weddings.
The Azerbaijan musical instruments - Goltug naghara ( http://atlas.musigi-dunya.az/ )