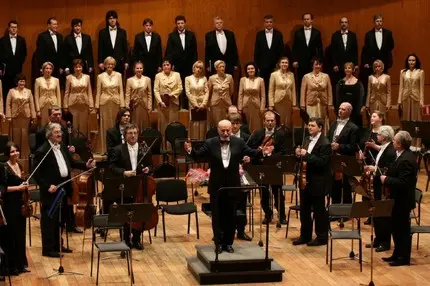 Moscow State Chamber Choir |
Moscow State Chamber Choir
City
Moscow
Year of foundation
1972
A type
choirs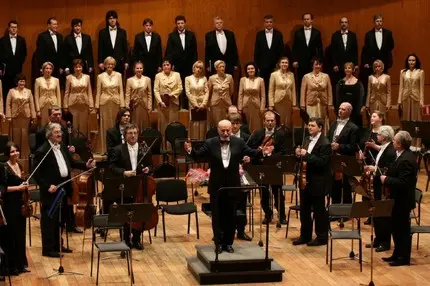 Artistic director and conductor – Vladimir Minin.
The Moscow State Academic Chamber Choir was founded in 1972 by an outstanding conductor, Professor Vladimir Minin.
Even in the Soviet period, the choir revived the spiritual works of Rachmaninov, Tchaikovsky, Chesnokov, Grechaninov, Kastalsky at the world level.
Both in Russia and on its foreign tours, the choir always performs with the best ensembles of Russia: the Grand Symphony Orchestra (conductor V. Fedoseev), the Russian National Orchestra (conductor M. Pletnev), the State Academic Symphony Orchestra. E. Svetlanova (conductor M. Gorenstein), the Moscow State Academic Symphony Orchestra (conductor P. Kogan), the Moscow Soloists Chamber Ensemble (conductor Y. Bashmet), the Moscow Virtuosi Chamber Orchestra (conductor V. Spivakov).
Thanks to the tours of the choir, foreign listeners have the opportunity to listen to rarely performed works by Russian composers: the choir participated in the S.I. Taneyev festival in England, in Italy, and was the first choir to visit Singapore. The state Japanese corporation NHK has recorded the Liturgy of St. John Chrysostom by S. Rachmaninov, which was performed in Japan for the first time. As part of the Russian Week at the Vancouver Olympics, the choir performed a program of Russian music in St. Andrew's Cathedral, and at the closing ceremony of the Olympics, the Anthem of the Russian Federation was performed with great success for the first time a capella.
For 10 years, the choir has taken part in opera productions at the Bregenz Festival (Austria): Un ballo in maschera and Il trovatore by G. Verdi, La Boheme by G. Puccini, The Golden Cockerel by N. Rimsky-Korsakov, Adventures cheating foxes" by L. Janacek, "West Side Story" by L. Bernstein, "Masquerade" by K. Nielsen, "Royal Palace" by K. Weill; performed on the stage of the Zurich Opera "Khovanshchina" by M. Mussorgsky and "The Demon" by N. Rubinstein.
A monographic concert by G.V. Sviridov was held with great triumph in the concert hall of the Mariinsky Theater on February 13, 2011. The rarely performed concert "In Memory of A.A. Russian artist Alexander Filippenko and the Mariinsky Theater Orchestra.
The discography of the choir includes more than 34 discs, including those recorded on Deutsche Gramophone. The Kultura channel made films about the choir – Russian Shrines and Russian Orthodox Music. The recording of a new disc – "Russian Spirit" – has just been completed, which includes Russian folk songs and "Three Old Songs of the Kursk Province" by G. Sviridov.
Source: Moscow Philharmonic website Photo from the official website of the choir