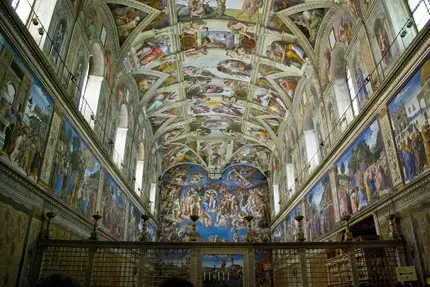 Sistine Chapel (Cappella Sistina) |
Sistine Chapel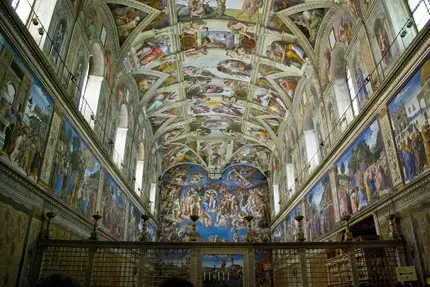 The Sistine Chapel is the common name for the papal chapel in the Vatican Palace in Rome. It happened on behalf of Pope Sixtus IV (1471-84), under which the building of the chapel was built (designed by the architect Giovanni de Dolci; decorated with frescoes by prominent masters – P. Perugino, B. Pinturicchio, S. Botticelli, Piero di Cosimo, C. Rosselli, L. Signorelli, B. della Gatta, Michelangelo Buonarroti).
The history of the Sistine Chapel dates back to the 6th-7th centuries. n. e., when the singing school at the papal court was born in Rome. The school of singers was finally formed in 604 under Pope Gregory I. In the Middle Ages, the tradition of choral singing at the court continued to develop, but only at the end of the 14th century. the chapel took shape as an independent institution – the papal (Vatican) chapel. In the 15th century the chapel consisted of 14-24 singers of Italian and Franco-Flemish origin. During the construction of the chapel building, Sixtus IV reorganized and strengthened the Sistine Chapel, which reached its peak under Julius II. The number of members of the chapel in the 16th century. increased to 30 (the charter allowed to accept new members after appropriate tests). Singers who served 25 years remained in the Sistine Chapel as honorary members. From 1588, castrati were invited to perform soprano parts.
For several centuries the Sistine Chapel was one of the leading sacred choirs in Italy; the largest composers of the Renaissance worked here, including G. Dufay, Josquin Despres.
The Sistine Chapel was famous as an exemplary performer of Gregorian chants (see Gregorian chant), the keeper of the traditions of classical vocal polyphony. In the 19th century The Sistine Chapel experienced a period of decline, but later the reforms of Pope Pius X again strengthened the choir and raised its artistic level.
Today, the Sistine Chapel has more than 30 singers, who in rare cases participate in secular concerts.
MM Yakovlev