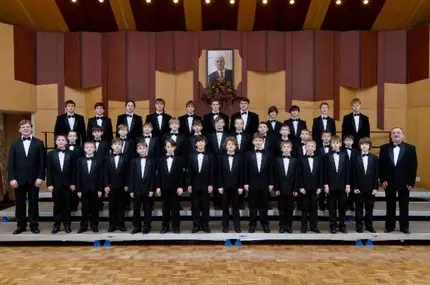 Choir of Boys of Sveshnikov Choir College |
Choir of Boys of Sveshnikov Choir College
City
Moscow
Year of foundation
1944
A type
choirs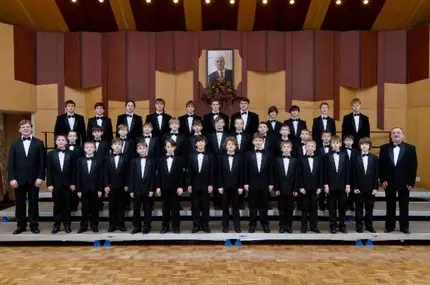 Well-known in Russia and abroad, this children's choir was founded in 1944 on the basis of the Moscow Choral School by one of the most respected Russian choir conductors, professor at the Moscow State Conservatory, head of the famous Russian Folk Choir Alexander Vasilyevich Sveshnikov (1890-1980).
Today, the Boys Choir of the Choir School named after A.V. Sveshnikov is the bearer of a unique vocal school, based on the revived traditions of ancient Russian singing culture and musical education. The level of professional performance training of young singers is so high that it allows them to cover the entire genre palette of world choral music: from ancient sacred Russian and Western European chants to works by composers of the XNUMXth-XNUMXst centuries. The permanent repertoire of the Choir includes works by A. Arkhangelsky, D. Bortnyansky, M. Glinka, E. Denisov, M. Mussorgsky, S. Rachmaninov, G. Sviridov, I. Stravinsky, S. Taneyev, P. Tchaikovsky, P. Chesnokov, R. Shchedrin, J. S. Bach, G. Berlioz, L. Bernstein, I. Brahms, B. Britten, G. Verdi, I. Haydn, A. Dvorak, G. Dmitriev, F. Liszt, G. Mahler, W. A. ​​Mozart, K. Penderecki, J. Pergolesi, F. Schubert and many others. The greatest Russian composers of the XNUMXth century, Sergei Prokofiev and Dmitri Shostakovich, wrote music specially for the Boys' Choir.
Happy was the fate of the Choir in creative collaboration with outstanding musicians of our time: conductors – R. Barshai, Y. Bashmet, I. Bezrodny, E. Mravinsky, Dm. Kitaenko, J. Cliff, K. Kondrashin, J. Conlon, T. Currentzis, J. Latham-Koenig, K. Penderetsky, M. Pletnev, E. Svetlanov, E. Serov, S. Sondeckis, V. Spivakov, G. Rozhdestvensky, M. Rostropovich, V. Fedoseev, H.-R. Fliersbach, Yu Temirkanov, N. Yarvi; singers – I. Arkhipova, R. Alanya, C. Bartoli, P. Burchuladze, A. Georgiou, H. Gerzmava, M. Guleghina, J. van Dam, Z. Dolukhanova, M. Caballe, L. Kazarnovskaya, J. Carreras , M. Kasrashvili, I. Kozlovsky, D. Kübler, S. Leiferkus, A. Netrebko, E. Obraztsova, H. Palacios, S. Sissel, R. Fleming, Dm. Hvorostovsky …
Many famous musicians graduated from the Moscow Choral School in different years and were members of this unique choral group: composers V. Agafonnikov, E. Artemiev, R. Boyko, V. Kikta, R. Shchedrin, A. Flyarkovsky; conductors L. Gershkovich, L. Kontorovich, B. Kulikov, V. Minin, V. Popov, E. Serov, E. Tytyanko, A. Yurlov; singers V. Grivnov, N. Didenko, O. Didenko, P. Kolgatin, D. Korchak, V. Ladyuk, M. Nikiforov, A. Yakimov and many others.
Today the Boys Choir of the A. V. Sveshnikov Choir School is a cultural heritage and pride of Russia. Performances by young musicians bring glory to the Russian vocal school. The choir regularly performs solo programs in Moscow and St. Petersburg, other cities of Russia, abroad – in Austria, England, Belgium, the Netherlands, Greece, Canada, Spain, Italy, the USA, gives concerts as part of the joint choir of the V. S. Popova at international festivals in France, Germany, Switzerland, Japan.
The head of the boys' choir is Alexander Shishonkov, Professor of the Academy of Choral Art, Honored Artist of the Russian Federation.
Source: Moscow Philharmonic website