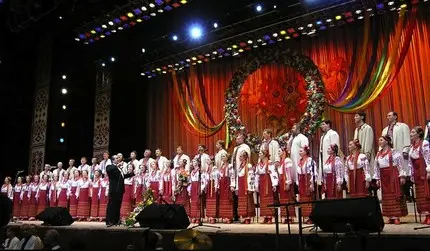 People's Choir of Ukraine |
City
Kiev
Year of foundation
1943
A type
choirs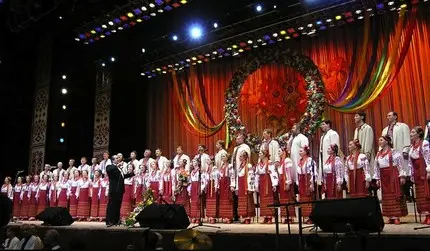 National Honored Academic Folk Choir of Ukraine. G. G. Veryovki. Created in 1943 in Kharkov, since 1944 has been working in Kyiv; since 1970 – academic. The organizer and artistic director (until 1964) was the conductor and composer, People's Artist of the Ukrainian SSR G. G. Veryovka (since 1965, the choir named after him); Since 1966, the team has been headed by People's Artist of the USSR (1983), Laureate of the State Prize of the USSR (1978) A. T. Avdievsky (born 1933).
The group consists of a choir (mixed), an orchestra (mainly Ukrainian folk instruments – banduras, cymbals, sopilki, tambourines, etc.) and a dance group. At the heart of creative activity is the revival of Ukrainian musical folklore in a new artistic interpretation and its wide propaganda. A significant place in the repertoire is occupied by songs and dances of the peoples of the USSR and foreign countries, much attention is paid to the works of Soviet composers. In the performance of the Ukrainian Folk Choir, "The Thought of Lenin" (for soloist, choir and orchestra of folk instruments; words and melody by the kobzar E. Movchan; arrangement by G. G. Veryovka), "My Forge Our Shares" ("We are the blacksmiths of our fate ", cantata, music by Veryovka, lyrics by P. Tychyna), "Zaporozhians" (vocal-choreographic composition), "Aragvi rushes into the distance" (Georgian folk song), "Lullaby" (music by Avdievsky, lyrics by Lesya Ukrainka ), "Shchedryk", "Dudaryk", "Oh, I'm spinning, I'm spinning" (choirs a cappella by H. D. Leontovich), a cycle of Ukrainian. stoneflies, Ukrainian cycle. ritual songs – generous and carols. The choir also performs classical Ukrainian choral works by Leontovich and N. V. Lysenko.
The ballet group of the Ukrainian Folk Choir enjoys popularity, its folk and modern dances attract with colorfulness, technical sophistication, and artistic skill.
The performing style of the Ukrainian Folk Choir is an organic combination of the traditions of Ukrainian folk choral singing with the characteristic features of academic choral performing art. The Ukrainian folk choir preserves and develops the traditions of folk improvisational group singing, in which the entire choir sings the main melody in unison or in two voices, and the soloist or group of soloists perform an undertone against the background of the choral sound – often the upper one. The collective of the Ukrainian Folk Choir performed in various cities of the USSR and abroad (Romania, Poland, Finland, Belgium, East Germany, Germany, Yugoslavia, Korea, Mexico, Canada, Czechoslovakia, France, Portugal, Spain, etc.).
H. K. Andrievskaya