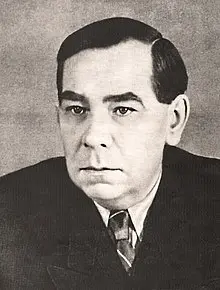 Mikhail Ivanovich Krasev |
Mikhail Krasev
Date of birth
16.03.1897
Date of death
24.01.1954
Profession
composer
Country
the USSR
Born March 16, 1897 in Moscow. From the beginning of his creative activity, the composer was closely associated with numerous amateur groups. He acts as a songwriter on current topics, writes music for club amateur performances, for ensembles of folk instruments.
Along with this, Krasev is actively working on creating music for children. He wrote a large number of children's operas: The Tale of the Dead Princess and the Seven Bogatyrs (1924), Toptygin and the Fox (1943), Masha and the Bear (1946), Nesmeyana the Princess (1947), The Fly "Based on the fairy tale by K. Chukovsky (1948), "Terem-Teremok" (1948), "Morozko" (1949), and many children's songs were also created.
For the opera "Morozko" and children's songs – "About Lenin", "Song of Moscow Children about Stalin", "Festive Morning", "Cuckoo", "Uncle Yegor" – Mikhail Ivanovich Krasev was awarded the Stalin Prize.