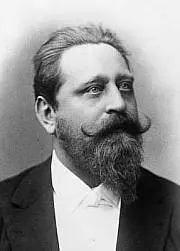 Josef Bayer (Josef Bayer) |
Joseph Bayer
Date of birth
06.03.1852
Date of death
13.03.1913
Profession
composers
Country
Austria
Born March 6, 1852 in Vienna. Austrian composer, violinist and conductor. After graduating from the Vienna Conservatory (1870), he worked as a violinist in the opera house orchestra. Since 1885 he has been chief conductor and musical director of the ballet of the Vienna Theatre.
He is the author of 22 ballets, many of which were staged by I. Hasreiter at the Vienna Opera, including: "Viennese Waltz" (1885), "Puppet Fairy" (1888), "Sun and Earth" (1889), "Dance Tale" (1890), "Red and Black" (1891), "Love Burshey" and "Around Vienna" (both – 1894), "Small World" (1904), "Porcelain trinkets" (1908).
From the creative heritage of the composer in the repertoire of many theaters around the world, there remains "The Fairy of Dolls" – a ballet in the music of which echoes of the Viennese musical life of the XNUMXth century are heard, melodies reminiscent of the works of F. Schubert and I. Strauss.
Josef Bayer died on March 12, 1913 in Vienna.