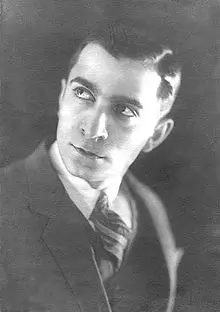 Afrasiyab Badalbek ogly Badalbeyli (Afrasiyab Badalbeyli) |
Afrasiab Badalbeyli
Date of birth
1907
Date of death
1976
Profession
composer, conductor
Country
the USSR
Azerbaijani Soviet composer, conductor, musicologist and publicist, People's Artist of the Azerbaijan SSR.
Badalbeyli's conducting activity began even before he completed his musical education. Since 1930 he has been working at the Opera and Ballet Theatre. M.F. Akhundov in Baku, and since 1931 he has been performing in symphony concerts. Like many of his peers, Badalbeyli went to improve himself at the oldest conservatories in the country – first to Moscow, where K. Saradzhev was his conducting teacher, then to Leningrad. Studying composition in Leningrad with B. Zeidman, he simultaneously led performances at the Kirov Theatre. After that, the musician returned to his hometown.
Over the long years of work at the Baku Theater, Badalbeyli staged many classical and modern operas. Under the direction of the author, the premieres of Badalbeyli's works were also held here. An important place in the conductor's opera and concert repertoire was occupied by works by Azerbaijani composers.
Author of the first Azerbaijani national ballet "The Maiden's Tower" (1940). He owns the libretto of the opera "Bagadur and Sona" by Aleskerov, the ballets "The Golden Key" and "The Man Who Laughs" by Zeidman, "Nigerushka" by Abbasov, as well as equirhythmic translations into Azerbaijani of the texts of a number of operas by Russian, Georgian, Armenian and other authors .
Compositions:
operas – People's Anger (together with B. I. Zeidman, 1941, Azerbaijani Opera and Ballet Theater), Nizami (1948, ibid.), Willows Will Not Cry (on their own lib., 1971, ibid.); ballet – Giz galasy (Maiden Tower, 1940, ibid; 2nd edition 1959), children's ballet – Terlan (1941, ibid); for orchestra – symphonic poem All Power to the Soviets (1930), Miniatures (1931); for orchestra of folk instruments – symphonietta (1950); music for dramatic performances, songs.