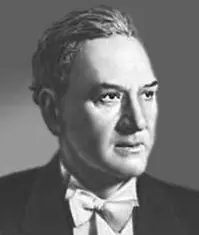 Mark Travel
Date of birth
03.07.1895
Date of death
25.11.1992
Profession
singer
Voice type
bass
Country
the USSR
People's Artist of the USSR (1937), winner of three Stalin Prizes of the first degree (1941, 1949, 1951). From 1921 he sang at the Kharkov Opera House (debut as Pimen). In 1925-30 he was a soloist at the Mariinsky Theatre. Here he performed the role of Boris Godunov with great success.
In 1930-54 he performed on the stage of the Bolshoi Theatre. Other parts include Dosifei, Ivan Susanin, Farlaf, Konchak, Mephistopheles, Basilio and others. On his 90th birthday, he sang the part of Gremin at the Bolshoi Theater.
Since 1967 professor at the Moscow Conservatory. Repeatedly toured abroad (1929, Monte Carlo, Berlin, Paris, London).
From the recordings, we note the parts of Boris Godunov (conducted by Golovanov, Arlecchino), Konchak (conducted by Melik-Pashaev, Le Chant du Monde), Dosifey (conducted by Khaykin, Arlecchino).
E. Tsodokov
Mark Reisen. To the 125th anniversary of the birth →