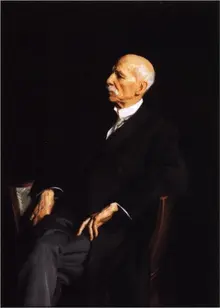 Manuel García (voice) (Manuel (baritone) García) |
Manuel (baritone) Garcia
Date of birth
17.03.1805
Date of death
01.07.1906
Profession
singer, teacher
Voice type
baritone, bass
Country
Spain
Son and student of M. del P. V. Garcia. He made his debut as an opera singer in the part of Figaro (The Barber of Seville, 1825, New York, Park Theater) during a tour with his father through the cities of the USA (1825-27) and Mexico City (1828). He began his teaching career in Paris at his father's vocal school (1829). In 1842-50 he taught singing at the Paris Conservatory, in 1848-95 – at the Royal Muses. academy in London.
Of great importance for the development of vocal pedagogy were Garcia's instructive works – Notes on the Human Voice, approved by the French Academy of Sciences, and especially – The Complete Guide to the Art of Singing, translated into many languages. Garcia also made valuable contributions to the study of the physiology of the human voice. For the invention of the laryngoscope, he was awarded the degree of Doctor of Medicine from the University of Königsberg (1855).
The pedagogical principles of Garcia had a significant influence on the development of the vocal art of the 19th century, having also become widespread through his many students, among whom the most famous singers are E. Lind, E. Frezzolini, M. Marchesi, G. Nissen-Saloman, singers – Yu Stockhausen, C. Everardi and G. Garcia (son of Garcia).
Lit. cit.: Memoires sur la voix humaine, P., 1840; Traite complet de l'art du chant, Mayence-Anvers-Brux., 1847; Hints of singing, L., 1895; Garcia Schule…, German. trans., [W.], 1899 (Russian trans. – School of singing, parts 1-2, M., 1956).