Educational keyboards – which for 7 and which for a 12-year-old?
The market has a very wide selection of keyboards, both professional arranger and the so-called. educational courses that are intended for beginners.

The market has a very wide selection of keyboards, both professional arranger and the so-called. educational courses that are intended for beginners. Therefore, it is very important that the instrument is correctly selected for the age and skills of the learner. There is no point in buying a 6 or 7 year old arranger for a dozen or so thousand, where it is rather certain that most of the functions will not be able to handle itself. In addition, we must also remember that a child may simply lose interest in the instrument after a few weeks and we will be left with an expensive whim. Therefore, at the beginning it is best to buy an instrument that will not overwhelm our budget. This does not mean, of course, that we have to buy some cheap goods, because only we can discourage our children with such a decision. However, for just a few hundred zlotys, we can buy a branded educational keyboard thanks to which our child will be able to get to know the instrument and take the first steps in their music education.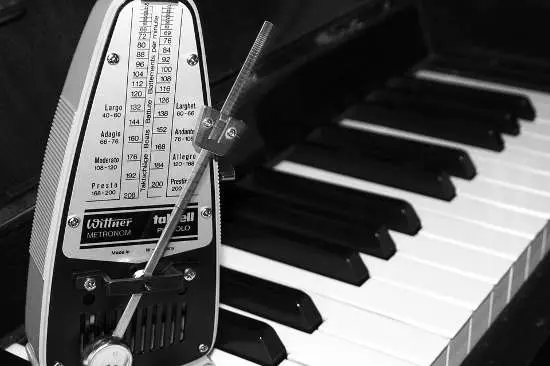 When choosing a keyboard, first of all, try to choose among brand-name instruments. Also, do not buy the simplest and cheapest ones, because not much a child will be able to do on them. It would be good if the first instrument was equipped with a minimum of a five-octave dynamic keyboard and a usb-midi connector that, if necessary, would allow us to freely communicate with a computer or other peripheral device. Most beginner keyboards have a so-called a lesson function that will help the child overcome the first difficulties in an accessible way. Lessons are graded from the easiest to the more difficult. The display shows, among others which key should be pressed at a given moment and with which to do it with the finger. The name of the sound and its position on the staff are displayed. All keyboards come with a metronome and transpose as standard. It would be good if it had a headphone output and the ability to connect a sound extension pedal.

Yamaha PSR E 253, source: Muzyczny.pl
Yamaha and Casio are the leaders among inexpensive educational keyboards on our market. Both manufacturers offer similar functions in their products with minor differences. Our basic requirements will be met by the CTK-3200 Casio models at the price of about PLN 700 and the Yamaha PSR E-353, which we will buy for about PLN 900. Both models have a dynamic keyboard, a USB-midi connector, and a headphone output and a sustain pedal connector to extend the sound. In Casio we have a bit more polyphony than in Yamaha and the possibility of short sampling, but our PSR is a bit better sonically, although these are models that do not have too developed sound modules. In our offer for the youngest, both manufacturers also have keyboards with a backlit keyboard, the Casio LK series, and Yamaha the EZ series. Certainly, models with this function will attract the youngest group of children. For a similar price of about PLN 900, we will buy the LK-247 and EZ-220 models. However, if the backlit keys are not a very important element for us, it is definitely better to consider the CTK-4400 Casio model at this price. It is a very successful educational keyboard that already has, among others, 6-track sequencer, arpeggiator, auto-harmonizer, layering, registration memory. The above-mentioned instruments are an excellent choice for children from 6 to 10 years of age.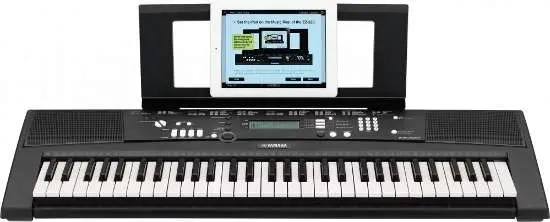 Yamaha EZ 220, source: Muzyczny.pl
For older children, between the ages of 11 and 15, we have a segment of more complex and technologically advanced instruments. Here, Yamaha has a much better-sounding model than its predecessors, the PSR E-453, for which we will have to pay about PLN 1400. On board this instrument, we have, among others, 734 voices, 194 styles, the ability to save new styles, 6-track sequencer, arpeggiator, well-developed effects processor. People who want to play on a slightly longer keyboard can purchase the flagship model of this series, the PSR-EW400, for about PLN 1900. This model is equipped with a 78-key keyboard, other functions are the same as in the E-453 model. Cheaper than Yamaha, but quite well developed keyboard is the Casio model CTK-6200, the price of which is around PLN 1200. This instrument also sounds much better than the lower models in this series. We already have a full-fledged 17-track sequencer that allows you to create very complex arrangements, we have 700 sounds and 210 factory styles, which we can of course edit as we wish. The instrument is also equipped with an arpeggiator, registration memory, autoharmonizer, USB port for a computer and a slot for an SD memory card.
The flagship Casio keyboard, which has aspirations to the group of semi-professional arrangers, is the WK-7600 model for about PLN 1900. It is a really well developed workstation and undoubtedly this instrument is dedicated to older children. Our WK, like the EW400, has 76 keys, 96 positions of registration memory, organ functions with the possibility of editing sounds via 9 pipes, 17-track sequencer, pattern sequencer, 820 factory sounds including 50 organ and 100 user sounds, 260 styles, system Bass-Reflex and the largest of the keyboards discussed in this article with 64-voice polyphony.