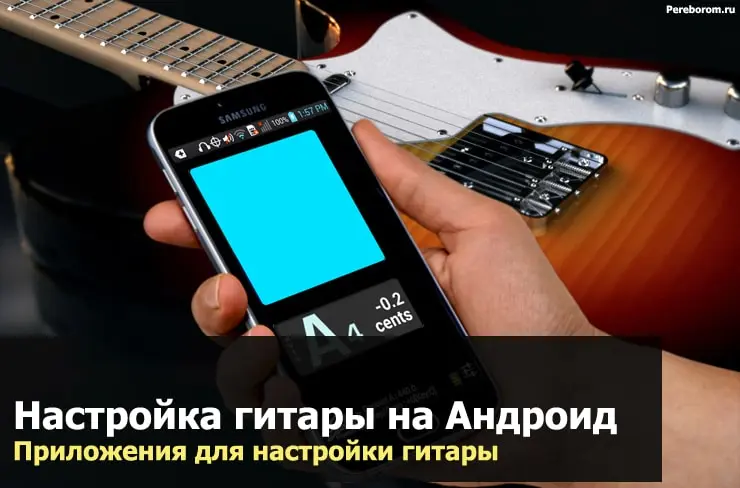 Guitar Tuning for Android. Guitar Tuning Apps

Tuning a guitar on android. general information
A tuner app for your phone is an indispensable thing for any guitarist. It allows you not only to spend money on this device, but also to always carry it in your pocket – and if you suddenly want to play a song on the guitar, then you just get your phone out of your pocket with the device already on. In this article, we'll take a look at the most popular variations of these apps, and you can choose the one that suits you best.
A selection of popular tuners for tuning a guitar on Android
Guitar tuna

This is the most popular application. Of all the functionality inside it is only, in fact, a tuner, which can be rebuilt as you wish. It supports changing tunings, so if you need to lower the guitar a semitone or a step lower, then you can do it without problems.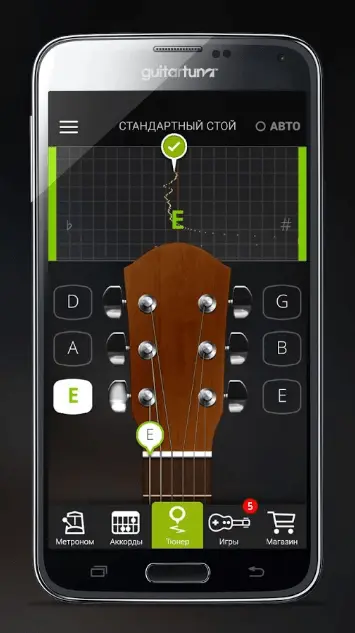 DaTuner

Another application that, of all its functions, has only a tuner. It is less variable than the one above, but still quite suitable for every guitarist. In addition, it requires and spends much less resources from your device than the first tuner.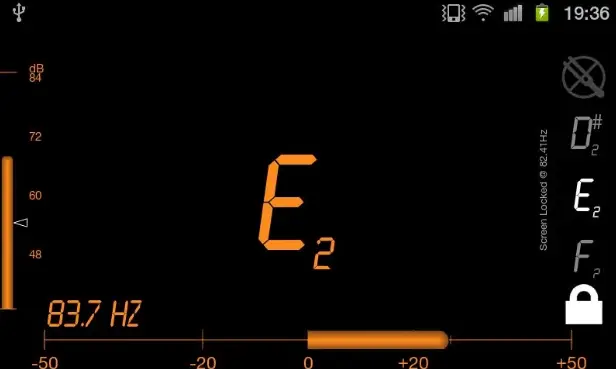 ProGuitar

This tuner has several modes of operation, and can be used not only for 6 string guitar tunings,but also balalaika, domra, ukulele and even violins. At the same time, in the library of the application itself, you can find a huge number of different tuning options for each instrument. At the moment, this is the most variable tuner that not only guitarists may need.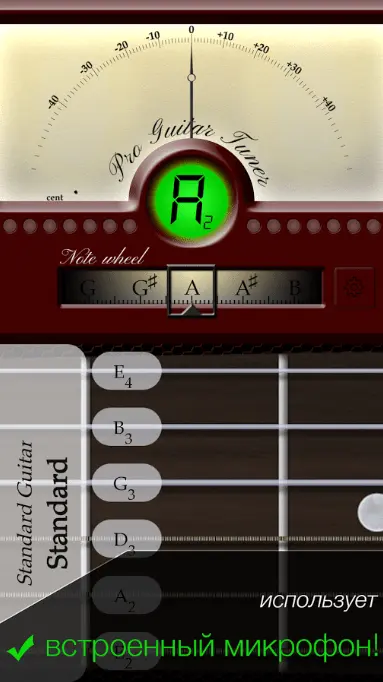 guitar tuner

As the name suggests, this is the main function of this application. You can find both standard guitar tuning and lowered options – for example, Drop D, and other, more exotic tunings. In addition, a tuning fork is built into the program for finer and more precise tuning by ear.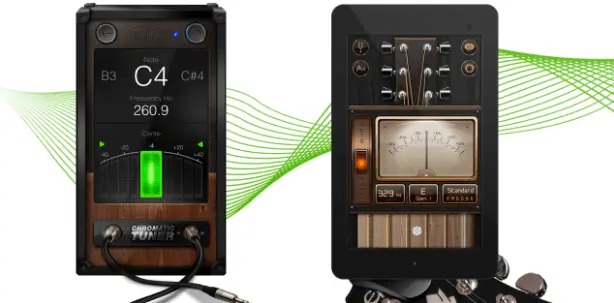 sStrings Free

An extremely flexible tuner that, in addition to classical tunings, allows you to customize your own tuning options – this is extremely important for musical experimenters who are tired of standard tuning methods. In addition, this application is suitable not only for the guitar, but also for other stringed instruments.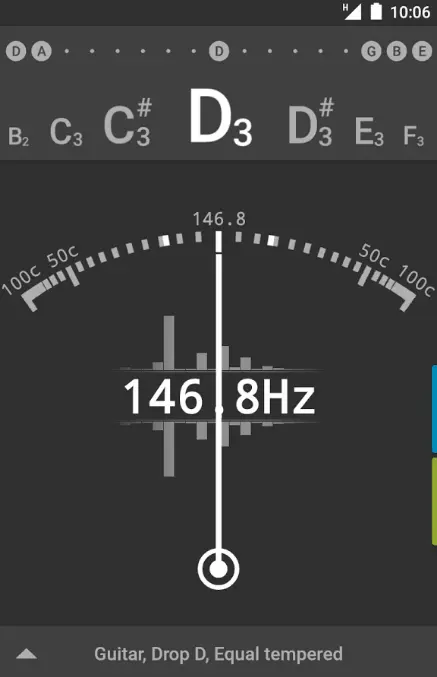 Free universal tuner

A Russian-language application that allows you to tune not only your guitar, but also other stringed instruments. At the same time, it has a simple interface and very high tuning accuracy. In the library you can find not only the classic version of the tuning, but also other, less popular ones, such as gypsy, Open-versions, and so on.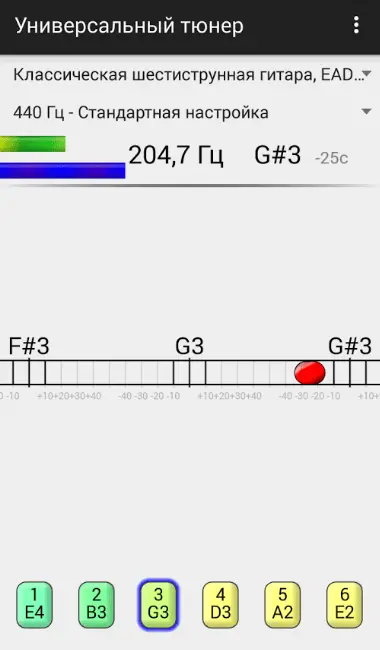 Free guitar tuner

The most compact application that also allows you to tune string instruments using your phone. In the program's library, you can find tuning options for bass, ukulele and other string options. Moreover, in addition to standard tuning guitar there are many other tunings that can also be used in your music.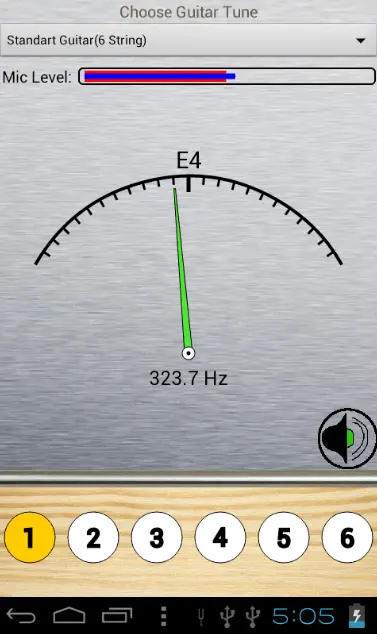 See also – tuning 12 string guitar online
Tuning your guitar with your phone. Instructions for using the application
Download the application to your phone;
Click on its icon and run it;
Put the phone on any more or less stable surface and pick up the guitar;
Select the system you are interested in;
The sods open string and twist the tuning pegs, loosening or tightening the tension, until the arrow on the screen is in the middle and the application marks the correct setting.
It's universal rules for working with any tuners and applications that were included in our list.
Pros of Guitar Tuning Apps

They are completely free. You will have a good guitar tuner at hand that you have not spent a dime on – and for a beginner, this is especially true.

You can forget a regular tuner at home, or not take it at all, and accidentally realize that there is a guitar in the place where you spend time. The phone is always with you – which means that the tuner app too. This is extremely convenient, especially if you were not going to play music and went to visit, and there was a guitar.

App tuners are very easy to use and are no different from regular devices. However, inside them there are options for correctly tuning other tunings, which is not in simple tuners, because of which you would have to memorize which notes the open strings should give.

The tuner app is a good option for beginners who have just started playing and don't know if they'll keep playing at all. So instead of spending money on additional accessories, just download the app on your phone and experience no inconvenience.
Cons of a guitar tuner for android

At a concert, it is very problematic to tune a guitar using a phone, especially when it comes to electric instruments. Therefore, in this case, you will definitely need at least a clothespin tuner, and the best option is a pedal tuner.

The phone will perform very poorly in a noisy environment, as the microphone will not only pick up the sound of the string, but other people as well. This will greatly hinder the setup, or even make it impossible.

In addition, the phone's microphone will not pick up sound well if your strings rattle or have some other overtones. Therefore, this tuning method will be inconvenient for those who do not monitor the condition of their instrument.

In general, a phone speaker is less suited to picking up the sound of guitars, and can distort it quite a lot. This will significantly affect the operation of the tuner and the sound pickup on it.

In order to properly tune your instrument, you need to put the phone on a flat surface. This may require a stand, or someone to hold it – which is often extremely inconvenient.

In addition, the phone may suddenly run out of power, and then you will no longer have a tuner at hand. However, the same can be said about conventional devices, which most often operate on batteries.