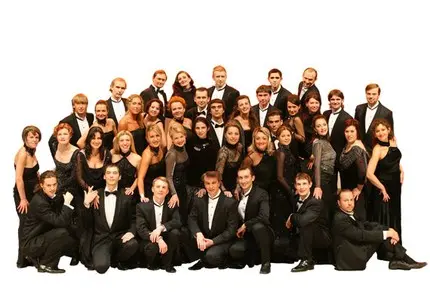 Choir of the Helikon Opera Moscow Musical Theater |
Choir of the Helikon Opera Moscow Musical Theatre
City
Moscow
Year of foundation
1991
A type
choirs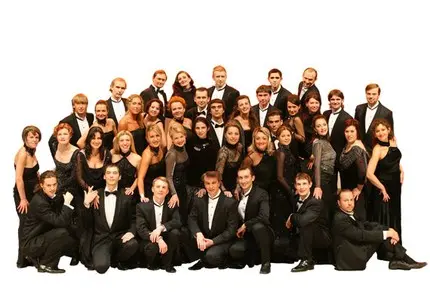 The choir of the Moscow Musical Theater "Helikon-Opera" was created in 1991 by Tatyana Gromova, a graduate of the Gnessin Russian Academy of Music. It included graduates of the Gnessin Russian Academy of Music and the Moscow State Tchaikovsky Conservatory. The appearance of a highly professional choir in the creative team of the theater, then numbering twenty people, played a huge role in its fate, making it possible to move from chamber opera productions to large-scale ones.
Today the choir has 60 artists aged 20 to 35. The extensive operatic repertoire of the choir includes more than 30 works, including "Eugene Onegin", "Mazepa", "The Queen of Spades" and "Ondine" by P. Tchaikovsky, "The Tsar's Bride", "Mozart and Salieri", "The Golden Cockerel", "Kashchei immortal" by N. Rimsky-Korsakov, "Carmen" by J. Bizet, "Aida", "La Traviata", "Macbeth" and "Un ballo in masquerade" by G. Verdi, "Tales of Hoffmann" and "Beautiful Elena" by J. Offenbach, " Bat" by I. Strauss, "Lady Macbeth of the Mtsensk District" by D. Shostakovich, "Dialogues of the Carmelites" by F. Poulenc and others.
The concert programs of the "Helikon-Opera" choir include secular and spiritual compositions of different centuries and musical trends, from baroque to modern times – works by Alyabyev, Dargomyzhsky, Tchaikovsky, Rachmaninov, Sviridov, Shchedrin, Sidelnikov, Pergolesi, Vivaldi, Mozart, Verdi, Fauré and others.
Outstanding singers and conductors work with the theater choir: Roberto Alagna, Dmitry Hvorostovsky, Anna Netrebko, Maria Gulegina, Jose Cura, Gennady Rozhdestvensky, Vladimir Ponkin, Evgeny Brazhnik, Sergei Stadler, Richard Bradshaw, Enrique Mazzola and others.
Chief choirmaster – Evgeny Ilyin.
Source: Moscow Philharmonic website