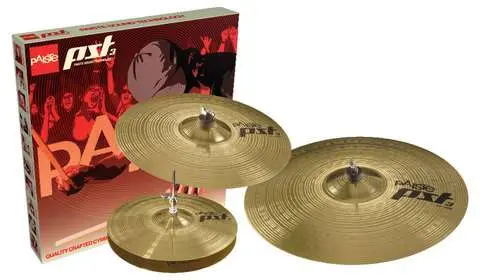 The best drum cymbals for beginners – how much should you spend on them?
The best drum cymbals for beginners – how much should you spend on them?
Finding the best cymbals for beginners can be tricky because everyone has different tastes and opinions.
There is one important question that determines how much you, as a beginner, should spend on cymbals and what type of cymbals you should choose:
How seriously do you take drumming and how long do you think you will continue to do so?
If you're a beginner drummer and you're not sure if this is something you'll be doing for years to come, I would suggest getting an inexpensive cymbal set. However, low cost does not necessarily mean poor quality. There are some good inexpensive options that still sound good, and there are other options that you should avoid, I'll tell you more.
In my opinion, the best value for money cymbal set is the Paiste PST 3 Essential Set 14/18″ Cymbal Set . They are affordable, sound great and are very durable.
If you're a beginner with little experience playing a drum kit, you probably don't have a preference for the sound characteristics and style of cymbals. Buying really expensive cymbals is usually not justified in this case, because after a year or two you may find that your cymbals don't sound quite the way you want them to. Also, your initial playing technique may not be suitable for high-end cymbals, which can break if played incorrectly.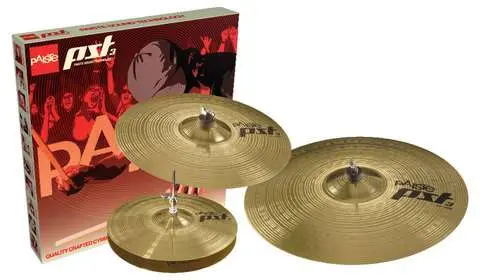 Be sure to check out our article for beginner drummers on cymbal and drum placement.
If your heart is really in drumming and you want to keep playing drums for the long term, I highly recommend spending a little more on high end cymbals – even if it's just one or two cymbals in the beginning . They will sound significantly better, and most importantly, it will save you a lot of money down the road.
You may pay less than half for an inexpensive plate compared to a high quality one, but if you decide to upgrade it, you will spend 150% to end up with a high quality model. Also, cheap plates have very little resale value, so don't expect to get a lot of money back when you decide to sell them.
Thus, answering the question, what type of newbie are you, should help you make a better buying decision.
Copper or bronze plates
Even as a beginner, you'll want to stay away from brass cymbals. They won't have the tone, sustain or playability needed for any style of music.
They usually come with inexpensive drum kits, but should be replaced as soon as possible with quality bronze cymbals .
When it comes to bronze, you will see B20 and B8 alloys. B20 is a bronze alloy with 20% tin content. These cymbals produce a warm, soft sound, while the B8, containing only 8% tin, produces a cleaner and brighter sound.
For beginners looking for quality inexpensive cymbals
​PAISTE 101 BRASS UNIVERSAL SET
The Sabian PAISTE 101 BRASS UNIVERSAL SET series is by far the best value for money when it comes to good value cymbals for beginners. While not perfect, they are vastly superior to most other entry-level cymbals. They have excellent sound projection, they sound bright and fit into almost any style of music.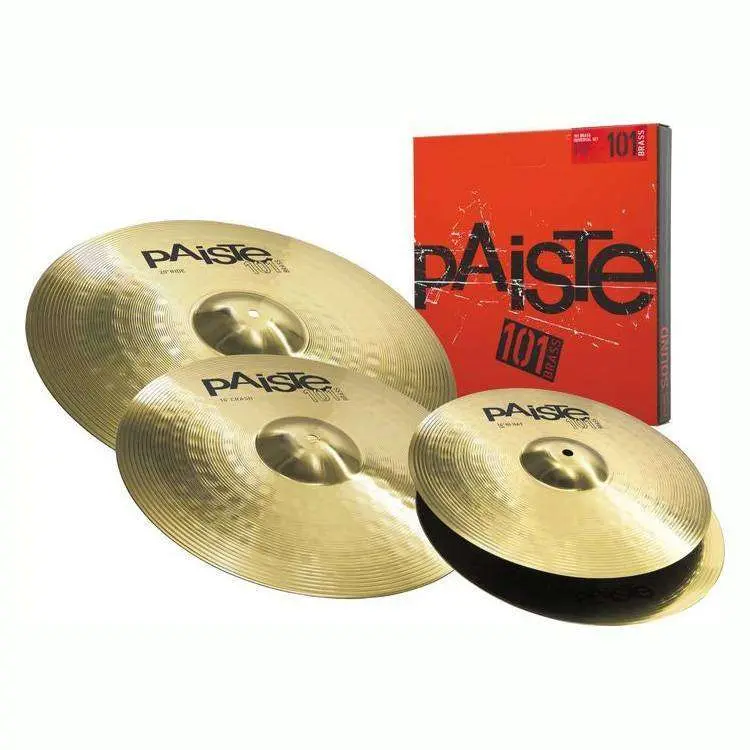 Although these cymbals sound bright, they don't sound too harsh when you really lean on them.
Ride is especially good. It has a clean, bright cutting sound, and it has a really punchy attack that gives it crisp articulation so every hit is heard. This is especially true when using certain effects in sound processing, such as chorus.
If you're looking for an inexpensive starter and replacement cymbal set, the PAISTE 101 BRASS UNIVERSAL SET gets my vote for the best starter cymbals and the best budget cymbal set.
Wuhan WUTBSU Western Style Cymbal Set
Plates can be expensive. Luckily, Wuhan takes care of your wallet by making these wonderful and affordable cymbals . They are trying to compete with the big guys in the market, but Wuhan also strives to produce quality budget cymbals as well .
All of their cymbals are cast from high quality B20 alloy and hand forged in China according to 2,000 year old traditional methods.
There are famous drummers who use Wuhan in their kits – Neil Peart, Jeff Hamilton, Chad Sexton, Mike Terrana and many more.
While they don't sound as good to my ears as the Sabian B8X cymbals, they are a great alternative .
Serious newcomer, focused on growth
If you feel that drumming is your calling and you plan to develop in this direction, you should invest in high quality cymbals from the very beginning if you can afford it. You can drastically change the sound of drums by changing the head, tuning and damping it, however, you cannot greatly affect the sound of the cymbals.
Cheap cymbals will sound cheap and expensive cymbals will sound great. Great sounding cymbals will inspire you to play more and in the long run it will just be more fun.
Since their cost can be somewhat high, I suggest sticking to tradition when buying. A ride , a crash or two and a couple of hi-hats is all you need for the first few years of your drumming. High quality cymbals will last a lifetime if you have the right playing technique.
You can always expand as needed in the future, but if you start with poor quality cymbals, they will almost certainly be replaced once you get fed up with how bad they sound.
It's also worth noting that the very high quality cymbals listed below are highly respected and great for any style of music you entrust them with.
Zildjian A Custom cymbal set
Working alongside legendary drummer Vinnie Colaiuta, Zildjian released the first A Custom cymbals around 2004 and they have since found their way into the hands of countless iconic drummers around the world.
The A Custom series can be thought of as a brighter and warmer version of the classic Zildjian A series cymbals. They are more even and smooth and have a shiny surface.
Zildjian cymbals are some of the finest you can get, and this is in large part due to the fact that they have been around for centuries. In fact, Zildjian is the oldest family business in American history, founded in 1623, before the US even existed.
Avedis Ziljian I was an Armenian alchemist in the city of Constantinople. While trying to create gold, he came across a certain mixture of metals that had unique sonic characteristics. He was then invited to live in the palace to earn money by making musical cymbals . He was later granted permission to leave and start his own company, which he named "Zildjian" after himself. His legacy continued to be passed on to his descendants until they eventually made their way to America.
Zildjian A Series Cymbal Set
The Zildjian A Series cymbals have a traditional finish and a more classic old school sound compared to the A Custom Series. They are one of Zildjian's best-selling kits, and for good reason – they are versatile and sound incredible.
If you don't want your plate to be too bright or sleek, then the A series is for you.
Sabian HHX Evolution Performance Cymbal Set
Dave Weckl needs a little introduction. He is one of the most iconic and influential jazz fusion drummers of all time, having played with many great musicians and was inducted into the Modern Drummer Hall of Fame.
In 2001, Weckl teamed up with Sabian to expand the range of HHX cymbals and create something special. The resulting series is known as HHX Evolution and features exactly the sounds Dave Weckl intended.
Weckl wanted to create the tightest cymbals ever made, and he wanted them to offer no resistance while playing bright, airy and atmospheric. Manufacturers did not want to limit themselves to classifying cymbals by weight (thin, medium, heavy). Instead, Dave spent countless hours going through various prototypes until he was happy with every cymbal.
The result is a beautiful series of cymbals that can last a lifetime and suit any style of music.
I would say that the Sabian HHX Evolution series is similar to the Zildjian A Custom series, but a little less sonorous, a little darker and touch sensitive.
Conclusion – the best plates for beginners
If you're looking for the most affordable cymbal set that doesn't sound completely awful or crush your desire to play, the Sabian B8X series is the one for you. In the end, you'll want to upgrade if you decide to play seriously and upgrade to a higher level of gear, but I'd say these are the best cymbals for beginners.
If you're just starting out but want to invest in your future and save some money in the long run, I think it's worth shelling out for better quality Zildjian or Sabian cymbals . If you want a nice bright sound go with the A Custom or the HHX Evolution, but if you want a slightly warmer sound the Zildjian A series will have you covered for years to come.