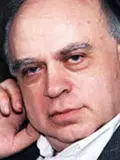 Sergey Petrovich Banevich (Sergei Banevich) |
Sergei Banevich
Date of birth
02.12.1941
Profession
composer
Country
Russia, USSR
The composer Banevich dedicated his generous and attractive talent to children. He himself defines his task as follows: "To write operas and operettas for children based on modern intonations. At the same time, use the experience of S. S. Prokofiev, but combine his conquests with the music of modern life, taking the best that is in it. Banevich's works are distinguished by fresh intonations, original solutions, sincerity and purity, a bright attitude and good humor.
Sergey Petrovich Banevich was born on December 2, 1941 in the city of Okhansk, Perm Region, where his family ended up during the Great Patriotic War. Upon the return of the family to Leningrad, the boy studies at the regional music school, then at the Musical College at the Conservatory in the class of compositions by G. I. Ustvolskaya. In 1961, Banevich entered the composition department of the Leningrad Conservatory, from which he graduated in 1966 in the class of Professor O. A. Evlakhov. He also served as an assistant for the next two years.
Already from the first steps of composing activity, Banevich turned to composing music for children. With the exception of the cantata "Grenada" to the verses of M. Svetlov, which became his diploma work, all his music is addressed to children. Among his works are the operas The Lonely Sail Whitens (1967) and Ferdinand the Magnificent (1974), the chamber opera How the Night Turned On (1970), the radio operas Once Upon a Time Kolya, Forest Adventures and The Sun and Snow little men", operetta "The Adventures of Tom Sawyer" (1971), radio operetta "About Tola, Tobol, unlearned verb and much more", music for the radio program cycles "Guslin Conservatory" and "Invites Musicus", vocal cycles, songs for children's stage, musical "Farewell, Arbat" (1976), opera "The Story of Kai and Gerda" (1979).
Honored Artist of the RSFSR (1982).
L. Mikheeva, A. Orelovich