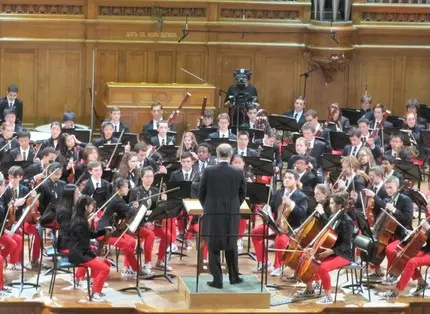 National Youth Orchestra of the United States of America |
National Youth Orchestra of the United States of America
City
New York
Year of foundation
2012
A type
orchestra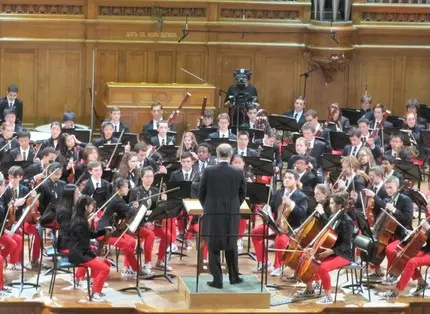 The National Youth Orchestra of the United States was founded at the initiative of the Weill Institute of Music at Carnegie Hall. As part of the institute's program, 120 talented young musicians aged 16-19 will travel annually from different regions of the United States for an intensive training course, and then tour under the baton of one of the famous conductors, who will change every year.
The National Youth Orchestra of the United States is the first youth orchestra in the history of modern America. This is a great opportunity for school-age musicians to take part in professional-level performances, establish personal and creative contacts with their peers, and adequately represent their city, and then their country, on the international stage.
In the first season, the orchestra includes orchestra members representing 42 of the 50 states. The selection and audition of candidates were held according to the most stringent criteria, so all orchestra members have the highest level of training. At the same time, the musical experience of the orchestra members differs in many respects, which reflects the richness of the culture of their native country. Participation in the program is absolutely free, therefore, during the selection, only the musical abilities of candidates were evaluated, and special financial assistance was allocated for their trips to New York and back.
Before each summer tour, the National Youth Orchestra of the USA will attend a two-week training course at New York University's Purchase College, where they will be taught by leading musicians from America's most famous orchestras. The tour program is compiled and practiced under the guidance of conductor James Ross, a teacher at the Juilliard School of Music and the University of Maryland.
In 2013, individual masterclasses, group rehearsals, and music and personal development classes will be led by musicians from the Los Angeles Philharmonic, the Metropolitan Opera Symphony, the Philadelphia Symphony, the Chicago, Houston, St. Louis, and Pittsburgh Symphonies.
Each summer, the US National Youth Orchestra will perform in different parts of the world, supplementing their concerts with various forms of cultural exchange whenever possible.