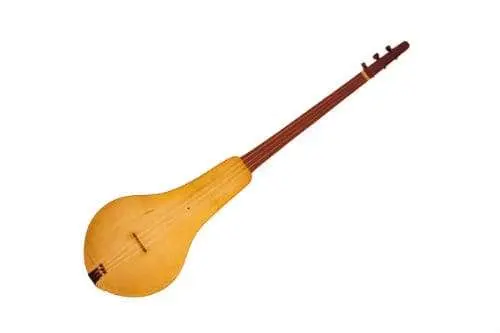 Komuz: instrument description, composition, history, legend, types, how to play
Kyrgyz national music is authentic. A special place in it is occupied by legends, tales, laments set to music. The most popular musical instrument of the Kyrgyz is the komuz. His image even adorns the national banknote of 1 som.
Tool device
A member of the plucked string family consists of a diamond-shaped or pear-shaped body and neck. Length – 90 cm, width in the most significant part – 23 cm. Old copies were smaller for ease of use by nomadic riders.
Komuz has three strings – medium melodic and two bourdon ones. Traditionally, they are made from the intestines or veins of animals. The case is wooden, solid, hollowed out from one piece of wood. Apricot gives the best sound. In mass production, other types of wood are used: juniper, tut, walnut. The appearance is reminiscent of a lute.
History and legend
The researchers managed to find the oldest description of komuz, dated 201 BC. Professional musicians actively began to use it at the turn of the XNUMXth-XNUMXth centuries. In Kyrgyzstan, the chordophone sounded in every house, the komuz accompanied the singing of akyns, and was used at holidays.
A beautiful legend tells about the origin of the instrument. On the bank of the river, a young man who fell in love with a beautiful girl was once sad. He did not know how to express his love. Suddenly the guy heard a beautiful melody. It was the wind playing on the threads tangled in the crown of the tree. The outlandish strings turned out to be the dried intestines of a dead animal. The young man broke off part of the trunk, made a tool out of it. He charmed the beauty with a melody, confessed his feelings, and she fell in love with him.
Types
The second half of the XNUMXth century is the time when komuz began to be mass-produced according to the State Standard in factories. The orchestral performance uses komuz-bass in the E scale of the large octave. The people of the Kyrgyz villages most often play the alto instrument with a small sound range from E small to A large octave. The komuz-second and komuz-prima are used less frequently.
Play technique
The musicians play while sitting, holding the chordophone at an angle of 30 degrees. A soft, quiet sound is extracted by plucking with all the fingers of the right hand. Rhythm is created by simultaneous blows to the body. Virtuosos use various techniques: barre, flageolets. When playing, the performer can turn the komuz upside down, juggle, demonstrating skill.
The Kyrgyz people cherish the traditions of playing the national musical instrument. It is beautiful in solo sound, often used in folklore ensembles and orchestras, reflecting the inner world of a person and the spiritual component of the nation.
ХИТЫ на КОМУЗЕ! Музыкальный Виртуоз Аман Токтобай из Кыргызстана!
Комуз vs Балалайка / Путин менен Жээнбеков кол чабышты