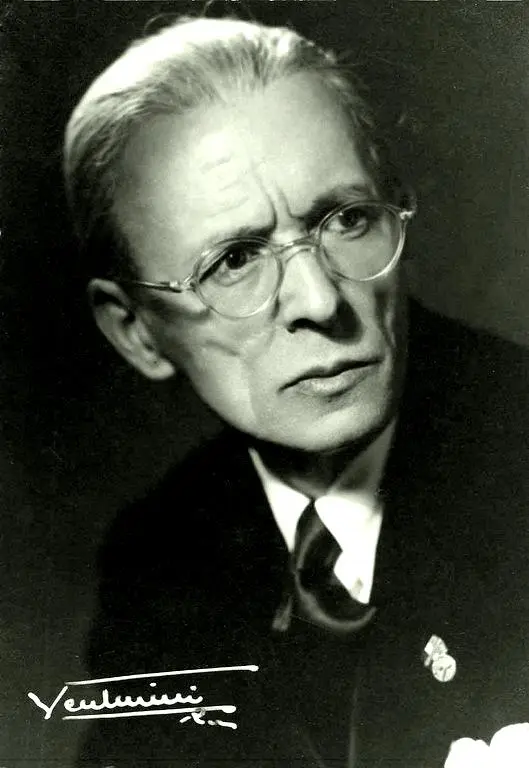 Ildebrando Pizzetti
Date of birth
20.09.1880
Date of death
13.02.1968
Profession
composer
Country
Italy
Italian composer, conductor, musicologist, music critic and teacher. Member of the Italian Academy (since 1939). He studied as a child with his father – Odoardo Pizzetti (1853-1926), a teacher of piano and musical theoretical subjects, in 1895-1901 – at the Parma Conservatory with T. Riga (harmony, counterpoint) and J. Tebaldini (composition). From 1901 he worked as a conductor in Parma, from 1907 he was a professor at the Parma Conservatory (class of composition), from 1908 – at the Florence Music Institute (in 1917-24 its director). From 1910 he wrote articles for Milanese newspapers. In 1914 he founded the music magazine Dissonanza in Florence. In 1923-1935 director of the Milan Conservatory. Since 1936, head of the composition department of the National Academy "Santa Cecilia" in Rome (in 1948-51 its president).
Of the works of Pizzetti, the most significant are operas (mainly on ancient and medieval subjects, reflecting religious and moral conflicts). For 50 years he was associated with the theater "La Scala" (Milan), which premiered all of his operas (Clytemnestra had the greatest success).
In Pizzetti's works, old operatic forms are combined with the techniques of operatic dramaturgy of the 19th and 20th centuries. He turned to the traditions of the music of the Italian Renaissance and Baroque (choral parts – in the form of a freely interpreted madrigal), used the melodies of the Gregorian chant. In terms of genre, his operas are closer to Wagnerian musical dramas. The basis of Pizzetti's operatic dramaturgy is free, non-stop dynamic development, not limited by closed musical forms (this is reminiscent of R. Wagner's "endless melody"). In his operas, vocal chant is combined with melodic recitative. The metrorhythm and intonation of the vocal parts are determined by the peculiarities of the text, so the declamatory style prevails in the parts. Some aspects of his work Pizzetti came into contact with the course of neoclassicism.
Pizzetti's operas were staged in other countries of Western Europe, as well as in South America.
---
Compositions:
operas – Phaedra (1915, Milan), Deborah and Jael (1922, Milan), Fra Gerardo (1928, Milan), Outlander (Lo straniero, 1930, Rome), Orseolo (1935, Florence), Gold (L'oro, 1947, Milan), Bath Lupa (1949, Florence), Iphigenia (1951, Florence), Cagliostro (1953, Milan), Yorio's Daughter (La figlia di Jorio, by D'Annunzio, 1954, Naples), Murder in the Cathedral (Assassinio nella cattedrale , 1958, Milan), Silver Slipper (Il calzare d'argento, 1961); ballets – Gizanella (1959, Rome, also an orchestral suite from music for the play by G. D'Annunzio, 1913), Venetian Rondo (Rondo Veneziano, 1931); for soloists, choir and orchestra — Epithalames to the words of Catullus (1935); for orchestra – symphonies (1914, 1940), overture to a tragic farce (1911), Summer Concerto (Concerto dell'estate, 1928), 3 symphonic preludes "Oedipus Rex" by Sophocles (1904), dances to "Aminta" by T. Tasso (1914) ; choirs – Oedipus at Colon (with orchestra, 1936), Requiem Mass (a cappella, 1922); for instrument and orchestra – Poem for violin (1914), concertos for piano (1933), cello (1934), violin (1944), harp (1960); chamber instrumental ensembles – sonatas for violin (1919) and for cello (1921) with piano, piano trio (1925), 2 string quartets (1906, 1933); for piano – Children's album (1906); for voice and piano – 3 sonnets of Petrarch (1922), 3 tragic sonnets (1944); music for drama theater performances, including the plays of D'Annunzio, Sophocles, W. Shakespeare, K. Goldoni.
Literary works: The music of the Greeks, Rome, 1914; Contemporary Musicians, Mil., 1914; Critical Intermezzi, Florence, (1921); Paganini, Turin, 1940; Music and drama, (Rome, 1945); Italian music of the nineteenth century, Turin, (1947).
References: Tеbаldini G., I. Pizzetti, Parma, (1931); Galli G., I. Pizzetti, (Mil., 1954); Damerini A., I. Pizzetti – the man and the artist, "The musical Landing", 1966, (v.) 21.
L. B. Rimsky