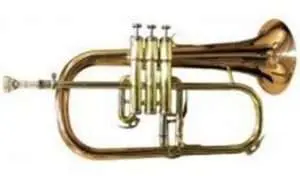 History of the flugelhorn
Flugelhorn – a brass musical instrument of the wind family. The name comes from the German words flugel – "wing" and horn – "horn, horn".
tool invention
Flugelhorn appeared in Austria in 1825 as a result of improvements in the signal horn. Mainly used by the military for signaling, excellent for commanding the flanks of infantry troops. Later, in the middle of the 19th century, the master from the Czech Republic V.F. Cherveny made some changes to the design of the instrument, after which the flugelhorn became suitable for orchestral music.
Description and capabilities of the flugelhorn
The instrument resembles the cornet-a-piston and trumpet, but has a wider bore, tapered bore,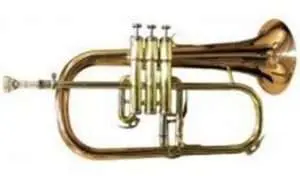 which resembles the mouthpiece of a trumpet. The flugelhorn is designed with three or four valves. It is more suitable for improvisation than for musical parts. The flugelhorn is usually played by trumpeters. They are used in jazz bands, using its possibilities for improvisation. The flugelhorn has very limited sonic capabilities, so it is rarely heard in a symphony orchestra.
The flugelhorn is more popular in Europe than in America. At the performances of symphony orchestras in Italy, four rare varieties of the instrument can be heard.
Flugelhorn can be heard in the works "Adagio in G minor" by T. Albioni, in "The Ring of the Nibelung" by R. Wagner, in "Firework Music" by R.F. Handel, in Rob Roy. Overture" by G. Berlioz, in "The Thieving Magpie" by D. Rossini. The brightest part of the instrument in the "Neapolitan song" P.I. Tchaikovsky.
Jazz trumpeters love the instrument, they appreciate its French horn sound. Talented trumpeter, composer and arranger Tom Harrell is known for his virtuoso mastery of the instrument. Donald Byrd is a jazz musician, he was fluent in trumpet and flugelhorn, in addition he led a jazz ensemble and wrote musical works.
Today, the flugelhorn can be heard at the concerts of the Russian Horn Orchestra from St. Petersburg under the direction of conductor Sergei Polyanichko. The orchestra consists of twenty musicians. Arkady Shilkloper and Kirill Soldatov perform flugelgorny parts with talent.
Nowadays, the largest manufacturer of professional flugelhorns is the Japanese company Yamaha.