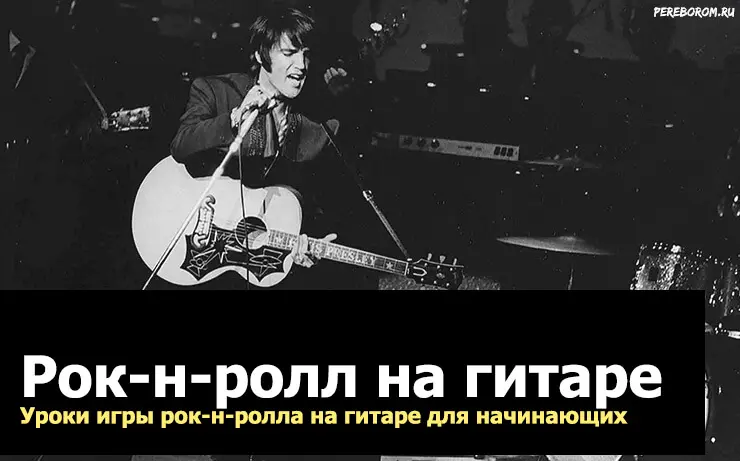 How to play rock and roll guitar. Rock and Roll Lessons for Beginners

Rock and roll guitar. general information
Rock and roll is considered one of the most influential and oldest musical genres, from which almost all modern guitar music later went. With his standards, he set the vector for the development of both pop compositions and hard rock and metal. If a guitarist really wants to understand how his favorite genre works, then it is worth getting acquainted with this direction in the first place. In this article, we will explain in detail how to play rock and roll on the guitar, as well as give practical exercises and sample songs that will help you understand how this genre works in general.
How to play rock and roll guitar

As rock and roll evolved from blues, rhythm and blues, and country, it has adopted a lot of techniques from those genres. Therefore, if you like to listen and play country or blues, then it will be easier to navigate in rock and roll.
Rhythmic drawings
In rock and roll on the guitar standard 4/4s are used, but they are played differently. The most classic pattern is the shuffle, which is often used in the blues. Other rhythms usually involve danceability and constant movement. Classical ballads are played in eighth notes with a slight acceleration in the rhythm of "One-and-Two-and-Three-and-Four", where the support is on the account, and on the "and" – intermediate notes.

Pentatonic
Like the blues, rock and roll is based on the pentatonic scale. Recall that this is a type folk music mode, in the scale of which there are no IV and VII steps – in the case of a major, or II and VI in the case of a minor. Accordingly, unlike the usual scale, it contains only five notes. It is the pentatonic scale that creates the very characteristic sound and motive characteristic of all North American music.

blues square
Another thing that has crossed over from blues to rock and roll is the blues square. Recall that it looks like this:
Four measures – tonic

Two measures – subdominant, two measures – tonic

Two measures – dominant, two measures – tonic.
If necessary, compose an accompaniment using rock and roll chords on the guitar, you can use this classic technique in the rhythm pattern you want.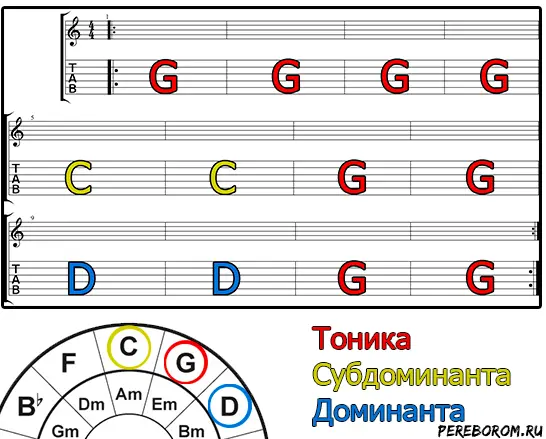 Used chords and positions
Unlike its ancestor genre, rock and roll uses blues chords in a simplified version. Very often in songs you can hear the usual chord forms, or seventh and sixth chords. In addition, power chords are actively used in rock and roll, in combination with string muting and a variable stroke. You can read more about them in the article "How to play rock guitar».
Rock and roll can be played in a position where the bass string is left open while the higher strings play the main melody. That's when the muting comes in. At the same time, the melody goes clearly inside the box of the pentatonic scale of the key you need, and often does not move almost along the fretboard, instead moving up the strings.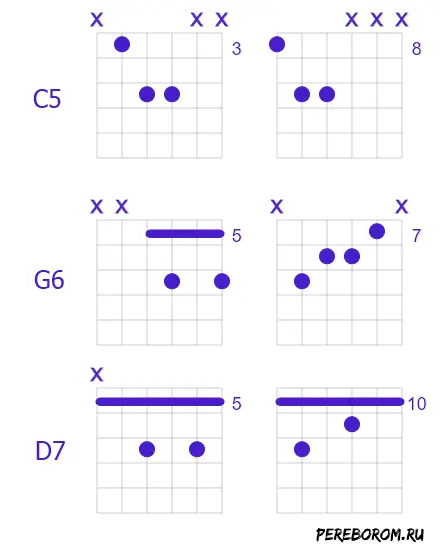 See also: guitar speed
Rock and Roll Guitar – Exercises

Exercise #1
This exercise is designed to help you understand the basic principles of how to play rock 'n' roll on the guitar. Here you can hear the classical rhythm pattern for this genre, as well as the basic principles of harmony movement.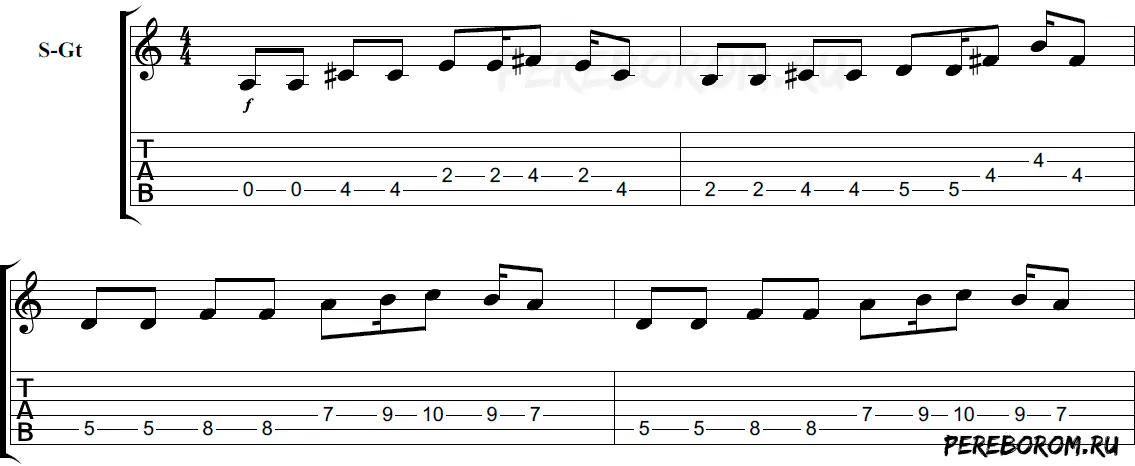 Exercise #2
Now consider the classic chord pattern – E, A, Bm. Note that at the end of each bar, the chords change into their 7th form. Remember it for future reference.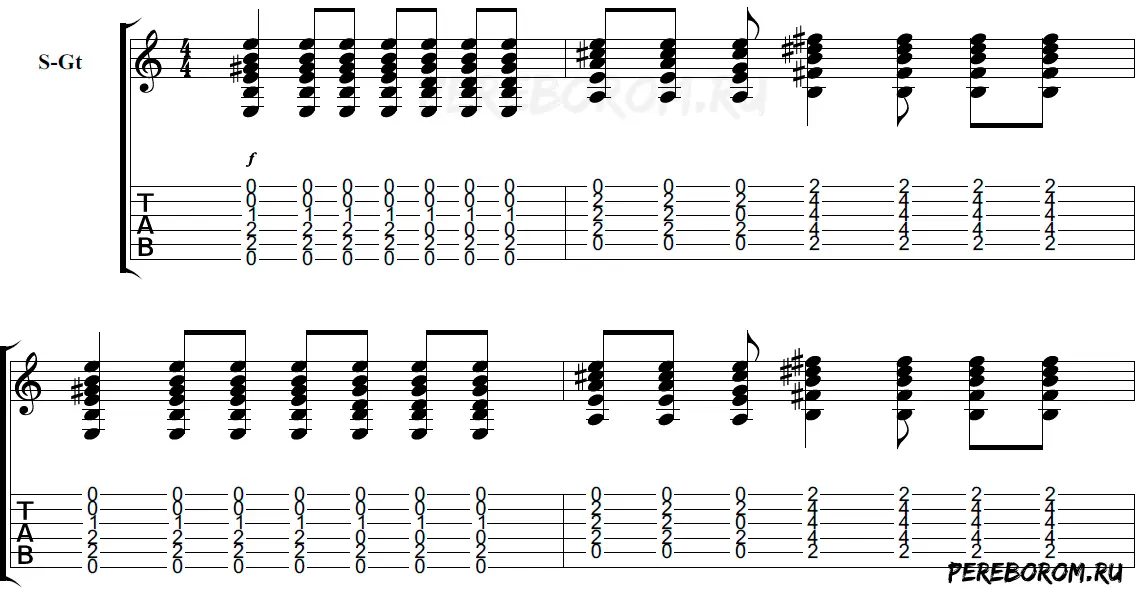 Exercise #3
Now let's combine the previous exercises a little. Your task is to play a melody that starts on classic fifth chords, but then turns into string-driving. If you can't do it at the indicated pace, try starting with less.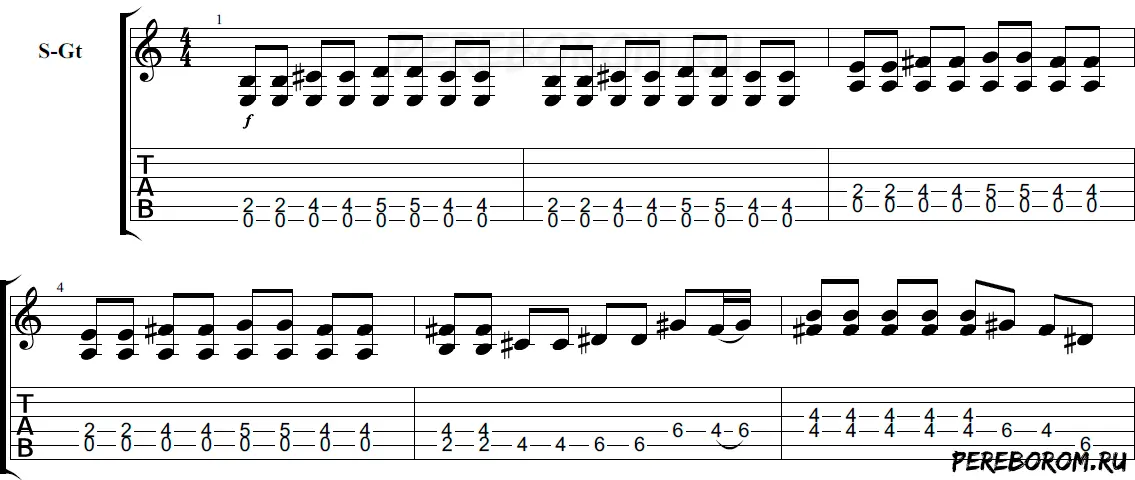 Exercise #4
Now your task is to play a pattern that quickly transitions from a melody on one string to chords. This is quite difficult, so we recommend that you start at a low pace and gradually increase it.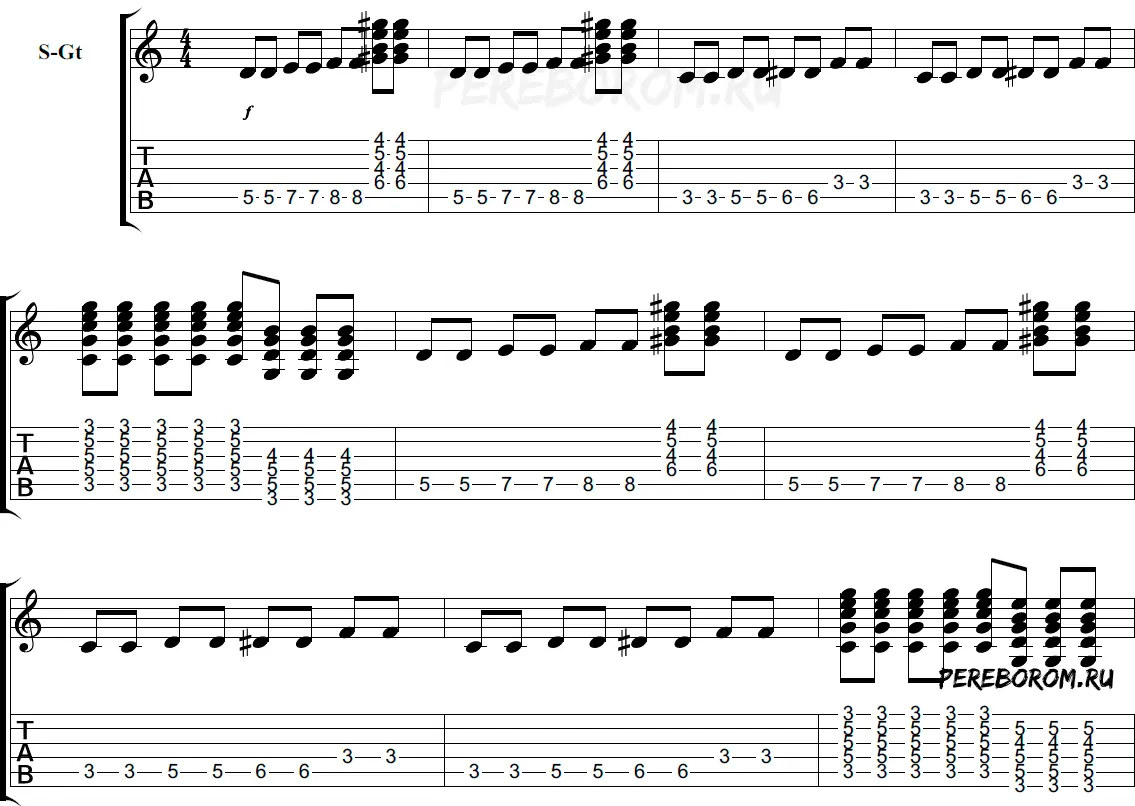 Classic rock and roll performers
In order to better understand the genre and how it sounds, we recommend that you listen to the classic rock and roll artists who set the standards for the genre:
Chuck Berry

Elvis Presley

BB King

Buddy holly

Bill Haley
Tablature of popular songs
Below are the tablature of the most popular rock and roll songs, which are also worth learning in order to fully master all the tricks of playing this genre.
Chuck_Berry-Johnny_B_Goode.gp3 — Download (11 Kb)

Chuck_Berry-Roll_Over_Beethoven.gp3 — Download (26 Kb)

Chuck_Berry-You_Never_Can_Tell.gpx — Скачать (26 Kb)

Elvis_Presley-Burning_Love.gp5 — Download (89 Kb)

Elvis_Presley-Jailhouse_Rock.gp4 — Download (9 Kb)

Johnny_Cash-Cry_Cry_Cry.gp5 — Download (19 Kb)

Little_Richard-Tutti_Frutti.gp5 — Download (30 Kb)

Ray_Charles-Hit_The_Road_Jack.gp5 — Download (63 Kb)

Rock_Around_The_Clock.gp4 — Download (34 Kb)