How to choose a DJ controller
A DJ controller is a device that connects to a computer via USB and copies the operation of a standard DJ set. The standard set of a DJ is two turntables (they are called turntables), on which various compositions are played in turn and a mixer is located between them (a device that helps to make a smooth transition without pauses from one composition to another).[moreviews]
The dj controller is made in a monolithic case and outwardly also resembles a standard dj set, with the difference that it has jog wheels on the edges – round discs that replace vinyl records. Dj controller works together with programs that are installed on the computer – Virtual Dj, NI Traktor, Serato Dj and others.
The computer monitor displays a list of songs that the DJ is going to play during the performance, as well as all the basic functions of the controller, such as song time, speed, volume level, etc. Some controllers have a built-in sound card (a device for recording music on a computer). If this feature is not available, it must be purchased separately.
In this article, the experts of the store "Student" will tell you how to choose the DJ controller that you need, and not overpay at the same time.
Common elements and functions of DJ controllers
Modern controllers typically include:
Control panel with buttons, knobs, jog wheels, sliders/

faders

for manual control of software and settings. System status, volume level and other parameters are reflected on the display and using color indicators.

Audio interface for transmitting sound and MIDI signals to a laptop, controlling processors and sound reinforcement systems, depending on connectivity.

Some new models also have the ability to control iOS devices.
Almost all DJ software can be controlled with a mouse and keyboard, but the need to scroll through a large number of menus to find functions, enter parameters and other actions is too laborious, time consuming and can negate all the efforts of a DJ. That is why the vast majority of DJs prefer hardware controllers .
Modular or versatile?
Modular DJ controllers consist of a set of separate components: turntables and CD/media players, an analog mixing console, and sometimes a built-in sound card. Modular stations are controlled using DJ software. Although most modern DJs use universal all-in-one controllers that connect to a laptop, some still prefer a modular approach. Many aspiring DJs learn the basics of DJing through apps on their iOS devices before moving on to more expensive professional equipment.
Universal all-in-one controllers combine media players, a mixing console and a computer/iOS audio interface in a monolithic form factor. Such a station is equipped with traditional knobs, buttons and sliders for full manual control based on software and applications installed on a computer, tablet or smartphone. Of course, you can control all this with the keyboard, mouse or touchscreen, but once you try the good old faders and wheels, you will not return to GUI control. Real buttons and sliders ensure smoother, faster and more professional content management.
An all-in-one controller running the software of your choice is simpler both in design and operation. Many models allow you to perform offline DJ functions without connecting to a computer or mobile device. DJs who regularly order songs from CDs or flash drives will appreciate the ability to switch between "analogue" music and a digital signal from a laptop.
If suddenly your laptop or tablet breaks down in the middle of a set, offline mode will save the situation. However, many DJs eventually find that the CD/Flash card reader functionality, if provided in the controller, is hardly ever used. For the most part, they work with samples , effects, and the myriad other features of their digital workstations.
Key factor: software
While the controller provides operational control of programs and applications, the sound revolution in the world of DJing has come about thanks to a breakthrough in software development. It is the software that does all the basic work, allowing you to manipulate music files. In addition to loading your music library into your computer's memory, the software manages file transfer and playback, and creates virtual mixing decks. The software, along with DJ applications, keeps track of all mixing operations, applies filters, allows you to select and apply samples , record and edit mixes, change the waveform, and also performs dozens of other "smart" functions that in the past were not available or required a heavy external equipment.
First of all , decide what software you need. We'll help you get your bearings and introduce some of the most popular programs that are compatible with various controller models.
Tractor Pro
Native Instruments was one of the first companies to see the potential of simultaneously being present in the markets for both hardware and software. By integrating powerful software with increasingly advanced controller models, Traktor Pro and Traktor Scratch Pro sound stations have become the leading DJ applications. (Traktor Scratch Pro is compatible not only with DJ controllers, but also with Traktor-branded digital vinyl systems.)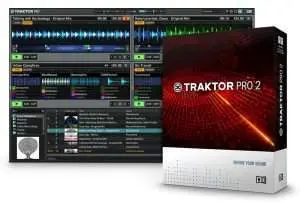 One of the strengths of Traktor is the Remix Deck environment, which allows you to load and play musical fragments in various modes, apply effects to them, edit the playback speed and rhythmic grid, as if it were a regular file in a track deck. Each downloaded fragment can be played in a circle in loop mode, play in reverse (reverse) or just sound from beginning to end. Something similar is implemented in Ableton Loops. The Traktor sound station has a flexible interface that is easy to customize to the needs of a particular user.
In principle, any controller can be compatible with Traktor, however, many DJs tend to believe that the combination of software and hardware from Native Instruments has an advantage over controllers that do not have software from the same developer. As an example, they note a clearer operation of the "wheels". For DJs who plan to scratch or have experience with vinyl, this aspect is of no small importance.
DJ software from Serato
Unlike Native Instruments, Serato has focused on software development in partnership with hardware manufacturers. Thanks to this approach, Serato software demonstrates excellent compatibility with controllers from different manufacturers. Modesty functionality more than pays for ease of use. Serato is friendly with iTunes and also handles non-electronic music well. The only possible disadvantage of programs from Serato can be considered the lack of an offline mode – it requires connection to a controller or audio interface to work.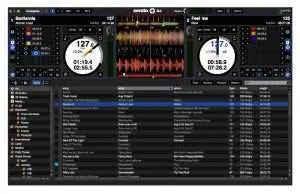 Serato DJ software covers all aspects of DJing and is built on spectacular audio visualization through Waveforms technology. The sequence of operations performed is also presented in a simple and visual form. Add-on packs expand the possibilities of applying effects, processing samples , and creating beats . For example, Serato Flip is a powerful beat editor , and the DVS extension gives you the feel of real mixing and scratching . The DJ Intro version is bundled with entry-level controllers, while the full version of Serato DJ Pro comes as official software bundled with more sophisticated controller models.
By integrating the functions of the Scratch DJ application with the advanced DJ/DVS platform, the developers have provided full compatibility with previous versions of libraries and control vinyls. The Serato DVS Digital Vinyl System lets you play digital files on special vinyl-simulated discs, so you can combine real scratching with all the digital file processing capabilities. Interfaces from Rane and Denon that are compatible with digital vinyl systems are available in a variety of I/O kit configurations to connect to different types of DJ stations.
Ableton Live
While not strictly a DJ software, Ableton Live has been popular with DJs since its release in 2001. While DJs who simply want to create beats and grooves may find the powerful functionality of a serious digital audio station to be overkill. , the incredibly simple and user-friendly user interface will definitely attract anyone and everyone. You can decorate the set with expressive orchestral inserts and a string section in the Arrangement mode, where the composition is created by arranging musical fragments (clips) on the timeline. Using the usual drag and drop of elements (drag and drop) you can create complex, multi-layered mixes.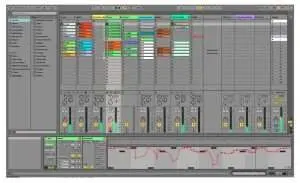 The Session mode allows you to work in a graphical environment and create your own fragments along with the use of all functions, as well as preset and custom libraries of effects, samples , etc. An efficient browser will help you quickly find the desired element. Combining grooves into full-fledged tracks is made easier with excellent automation support.
Third party software
So far, we have only touched on DJ software from two leading manufacturers, although it is worth paying attention to other brands. Here is some of them:
Virtual DJ: The web-only app has been rated highly for functionality, but the free home version currently only works with the mouse and keyboard of a Windows/Mac computer.
DJAY: Exclusively compatible with Mac OS, the application has an attractive interface and works well with iTunes libraries. There is also a great version for iOS devices.
Deckadence: Developed by the company behind the popular FL Studio digital audio workstation/ sequencer , Deckadence can run either standalone or connected to a Windows/Mac computer. It has the functions of automatic synchronization, stutter (to generate a double trigger) and scratching .
Mixed In Key Flow: A simplified algorithm allows you to create tracks by mixing in semi-automatic mode. Integrates with most controllers, works under Windows/Mac.
The One: Not the easiest program to learn with a modular interface based on multiple screens. Supports real-time (on-the-fly) mixing and mix sorting previews.
How to choose a DJ controller
Examples of DJ controllers