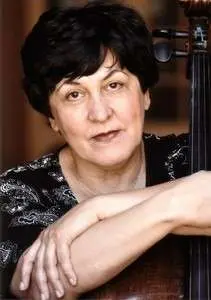 Natalia Gutman
Date of birth
14.11.1942
Profession
instrumentalist
Country
Russia, USSR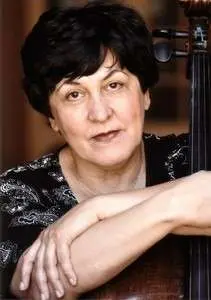 Natalia Gutman is rightfully called the "Queen of the Cello". Her rare gift, virtuosity and amazing charm captivated the listeners of the most famous concert halls in the world.
Natalia Gutman was born into a family of musicians. Her mother, Mira Yakovlevna Gutman, was a talented pianist who graduated from the conservatory at the Neuhaus department; grandfather Anisim Alexandrovich Berlin was a violinist, a student of Leopold Auer and one of the first teachers of Natalia. The very first teacher was her stepfather Roman Efimovich Sapozhnikov, a cellist and methodist, author of the School of Playing the Cello.
Natalia Gutman graduated from the Moscow Conservatory with Professor G.S. Kozolupova and postgraduate studies with M.L. Rostropovich. While still a student, she became a laureate of several major music competitions at once: the International Cello Competition (1959, Moscow) and international competitions – named after A. Dvorak in Prague (1961), named after P. Tchaikovsky in Moscow (1962), the competition of chamber ensembles in Munich (1967) in a duet with Alexei Nasedkin.
Among Natalia Gutman's partners in performances are wonderful soloists E. Virsaladze, Y. Bashmet, V. Tretyakov, A. Nasedkin, A. Lyubimov, E. Brunner, M. Argerich, K. Kashkashyan, M. Maisky, outstanding conductors C. Abbado , S.Chelibidache, B.Haytink, K.Mazur, R.Muti, E.Svetlanov, K.Kondrashin, Y.Temirkanov, D.Kitaenko and the best orchestras of our time.
Special mention deserves the creative collaboration of Natalia Gutman with the great pianist Svyatoslav Richter and, of course, with her husband Oleg Kagan. A. Schnittke, S. Gubaidulina, E. Denisov, T. Mansuryan, A. Vieru dedicated their compositions to the duet of Natalia Gutman and Oleg Kagan.
People's Artist of the USSR, laureate of the State Prize of Russia, the Triumph Prize and the D. D. Shostakovich Prize, Natalia Gutman conducts an extensive and diverse activity in Russia and European countries. Together with Claudio Abbado for ten years (1991–2000) she directed the Berlin Meetings festival, and for the last six years she has been taking part in the Lucerne Festival (Switzerland), playing in an orchestra conducted by maestro Abbado. Also, Natalia Gutman is the permanent artistic director of two annual music festivals in memory of Oleg Kagan – in Kreut, Germany (since 1990) and in Moscow (since 1999).
Natalia Gutman not only actively gives concerts (since 1976 she has been a soloist of the Moscow Philharmonic Society), but is also engaged in teaching activities, being a professor at the Moscow Conservatory. For 12 years she has taught at the Higher School of Music in Stuttgart and is currently giving master classes in Florence at the music school organized by the renowned violist Piero Farulli.
The children of Natalia Gutman – Svyatoslav Moroz, Maria Kagan and Alexander Kagan – continued the family tradition, becoming musicians.
In 2007, Natalia Gutman was awarded the Order of Merit for the Fatherland, XNUMXth Class (Russia) and the Order of Merit for the Fatherland, XNUMXst Class (Germany).
Source: Moscow Philharmonic website