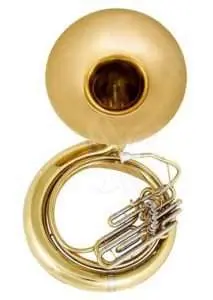 History of the sousaphone
Sousaphone – a brass musical instrument of the wind family. It got its name in honor of John Philip Sousa, an American composer.
History of invention
The ancestor of the sousaphone, the helicon, was used by the US Army Marines band, had a smaller diameter and a small bell. John Philip Sousa (1854-1932), an American composer and bandmaster, thought about improving the helicon. The new instrument, as conceived by the author, should be lighter than its predecessor, and the sound should be directed upwards above the orchestra. In 1893, Sousa's idea was brought to life by the composer James Welsh Pepper. In 1898, the design was finalized by Charles Gerard Conn, who founded the company for the production of a new tool. They named it sousaphone, in honor of the author of the idea, John Philip Sousa.
Development and design changes
The sousaphone is a valved musical instrument with the same sound range as the tuba. The bell is located above the player's head,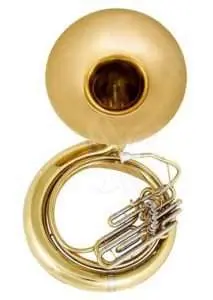 in its design, the instrument is largely identical to classical vertical pipes. The main weight of the instrument falls on the shoulder of the performer, on which he was "put on" and conveniently located so that it was not difficult to play the sousaphone while moving. The bell can be separated, which made the tool more compact than analogues. The valves are located in such a way that they are above the waistline, directly in front of the performer. The weight of the sousaphone is ten kilograms. The total length reaches five meters. Transportation can cause some difficulties. The design of the sousaphone has not changed much from its original appearance. Only the bell looked at first vertically upwards, for which it was nicknamed the "rain collector", later the design was finalized, now it looks forward, the standard dimensions of the bell – 65 cm (26 inches) have been established.
Sousaphone is an ornament of any orchestra. For its manufacture, sheet copper and brass are most often used, the color is yellow or silver.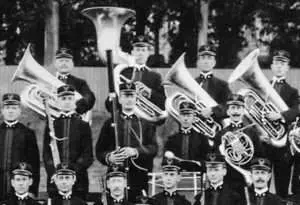 Details are decorated with silver and gilding, some of the elements are varnished. The surface of the bell is located so that it is almost completely visible to the audience. For the production of modern sousaphones, some companies use fiberglass. As a result of these changes, the life of the tool increased, it began to weigh and cost noticeably less.
The instrument was not widely used in pop and jazz performances due to its large size and weight. It was believed that heroic strength was needed to play it. Nowadays, it is mainly heard in symphony orchestras and parade processions.
To date, professional sousaphones are manufactured by companies such as Holton, King, Olds, Conn, Yamaha, some parts of the instrument produced by King, Conn are universal and fit each other. There are analogues of the tool, produced in China and India, which are still inferior in quality.