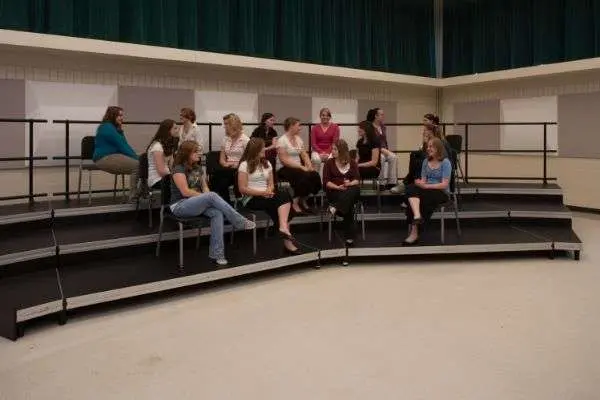 See Stage structures in the Muzyczny.pl store. See Lighting, disco effects in the Muzyczny.pl store
Organizing a concert, festival or other outdoor event requires a huge amount of work and is not limited only to inviting artists and hanging posters with information about the event. A great responsibility rests on the shoulders of the organizer, and the first priority should always be the safety of the participants taking part in a given event, i.e. the artists performing on the stage, the audience and all the guests.
Of course, security must be supervised by a whole team of specially trained people, and in the case of mass events, it is usually a security agency. This is, of course, taking care of the so-called social order between people, but we should not forget that also the entire infrastructure must be properly prepared. Adequate evacuation routes, medical facilities and all those services that will be able to enter and operate in the event of some random events. It is very important to have appropriate technical facilities, an integral part of which will be the stage.
Stage structures
The stage where everything happens is always such a center of attention in all kinds of events. And it is here that we should be particularly careful when choosing and constructing such a scene. Of course, we can outsource everything to an external company that will arrive, set up and roll up the entire stage after the event. However, in this case, it is also worth asking in detail about all issues related to the security of such a scene, and it is best to check the technical documentation personally. All construction elements from which such a scene is constructed should have the necessary approvals required by law. It should be remembered that such a scene must be properly matched to the type of performances, it is best to be overly cautious in this matter, rather than too reckless. Of course, for quiet recitation performances, they will not need such a powerful and durable structure as for performances of large dance groups. That is why we, as organizers, need to know exactly how many of all the artists there will be, what kind of performances will be presented and how big the stage must be, so that, for example, at the end of the event, all performers can enter the stage and say goodbye to the audience together.
Construction and material of the scene
Most of this type of stage structure is currently made of aluminum, which has replaced heavy steel structures mainly due to its much lower weight. Each of the elements creates a separate module, hence, building such a scene is a bit like building with bricks. Thanks to this modular solution, we can put together scenes of any number and adapt them well to the size and needs of a specific performance. Also a big plus of such modular scenes is that they are mobile. With some smaller scenes, the entire structure can fit into a delivery vehicle or a trailer.
Types of stage scenes
Scenes for performances can be divided into two basic types: stationary scenes, i.e. those that are part of the infrastructure of the entire environment, such as the Forest Opera in Sopot and mobile scenes. We, of course, focus on the mobile ones that are decomposed only for a given event, and after its end they are disassembled and can be transported to another place for another event. As we have already said, we can construct such scenes according to our expectations. Platforms for such scenes can be equipped with fixed or adjustable legs. Such a stage may have a traditional rectangular shape or, due to the possibility of extending it, additional catwalks may be created to the main stage.
Elements of the stage scene
Our stage should not be limited to the landing itself. A very important element is an appropriate roof, which not only protects against hot sun or heavy rain, but its structure is most often used for stage lighting. Other elements are steps and railings that are appropriately matched to the height of the stage, which protect against an undesirable fall.
summarizing
If we occasionally organize the same type of celebration or a performance, we can try to hire an external company that will take care of the stage. If, on the other hand, we often organize various types of events, where this stage is necessary, it is worth thinking about supplying your own stage.